Calcutta Soft Cooler Review
---
Last Updated by Brandon F. on June 20, 2019
We recently reviewed Calcutta's hard-sided Renegade Coolers.  They proved to be quite capable and had a few clever tricks up their sleeves including a really cool LED light built into one of the drain plug ports.  For those of you who are interested in a hard-sided cooler by Calcutta, you can read our full review here.
In this review, we will be testing out Calcutta's soft-sided coolers.  Calcutta was nice enough to send up some products to test and this included their soft-sided cooler.  We will put this soft cooler through an ice retention test, discuss its various features, analyze its build quality, and much more. 
Finally, we will give it a rating of 0 to 5 based off of our internal "TheCoolerZone" metrics.  And with this, you will know whether or not the Calcutta Cooler is a good option for adding to your cooler lineup.
The table below will give you a brief overview of some of the best Calcutta soft coolers.  And for those who want to get into the details, scroll on below!
Maximum Ice Retention



Convenience of a Backpack


Model
Calcutta CRC-45 Renegade Rolling Cooler 45L with Retractable Handle
Calcutta Renegade Prym1 Multi-Purpose 35 Liter / 37 Quart Soft Cooler
Calcutta Renegade 30 Liter Cooler with Shoulder Strap Blue
Calcutta Renegade Gray 25 Liter / 26 Quart Backpack Soft Cooler
Calcutta Renegade Prym1 Shoreline 15 Liter / 16 Quart Soft Cooler
Estimated Ice Life (Hours)
Maximum Ice Retention

Model
Calcutta CRC-45 Renegade Rolling Cooler 45L with Retractable Handle
Estimated Ice Life (Hours)

Model
Calcutta Renegade Prym1 Multi-Purpose 35 Liter / 37 Quart Soft Cooler
Estimated Ice Life (Hours)

Model
Calcutta Renegade 30 Liter Cooler with Shoulder Strap Blue
Estimated Ice Life (Hours)
Convenience of a Backpack

Model
Calcutta Renegade Gray 25 Liter / 26 Quart Backpack Soft Cooler
Estimated Ice Life (Hours)

Model
Calcutta Renegade Prym1 Shoreline 15 Liter / 16 Quart Soft Cooler
Estimated Ice Life (Hours)
---
Calcutta Soft Cooler Lineup
Calcutta offers a range of soft cooler sizes.  This starts with their smallest model, the 15L Renegade. From here, you may up to 25L, 30L, 35L, and finally, a large 45L model that actually rolls on the ground.  You can likely tell from the above image that there are some pretty significant design differences from model to model.  However, you can rest assured knowing that Calcutta put a lot of thought into the design of every sized soft cooler that they sell.
---
Calcutta Soft Cooler Features and Build Quality
We will be focusing on the features on our particular test model, the Renegade 25L.  However, we will also go over some of the notable features that other sized Calcutta Soft Coolers have as well.
When you receive your Calcutta Soft Cooler, it will come in a typical box and wrapped in protective plastic.  This small step is something that not every soft cooler manufacturer does (and we certainly appreciate Calcutta going the extra mile and including it).
The lid of the cooler has a bungee installed.  This is a great place to fasten various items while hiking with the cooler.  This can include things such as your keys, flashlight, bug spray, or really anything else that has a hook or string attached to it.  You can also use the bungee as a fastener: you can slide items underneath it and tighten the bungee to provide a nice squeeze to help keep those items in place.
You may be tempted to try to pick up the cooler by this bungee cord.  We don't recommend doing this as it can potentially break the bungee or the hooks holding the bungee in place.  Stick to the shoulder straps or side handles while transporting (more on those in a few paragraphs).
On the front of the soft cooler are two vertical rows of molle webbing.  This webbing is a great place to store fishing gear or hang additional items off of.  Some readers have also reportedly slide bullets into these molle slots for easy access.
Right above the molle webbing is an external zippered pocket.  This pocket is on the outside of the insulation so it won't be a good place to store items that need to stay cold.  Instead, it is a good place to slide personal items such as your wallet, cell phone, trail map, or small food items that you wish to keep dry and out of the cold insulated storage area.
For transportation, there are actually two different ways to carry this Calcutta Soft Cooler.  This is the 25L Renegade model which is Calcutta's version of a backpack cooler.  In other words, it tries to combine the convenience of a backpack design with the functionality of a cooler.  So as you might expect, the most predominant way to carry it will be with its backpack-like shoulder straps.
We found these shoulder straps to be quite comfortable.  They are extremely wide which helps to support the load over a larger area.  And when this cooler is completely full of ice and drinks/food, it can be quite heavy so that is very appreciative!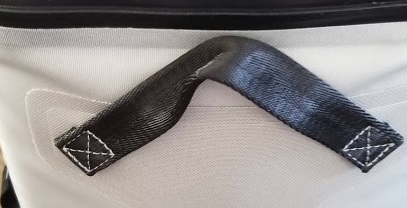 Outside of these rear shoulder straps are more traditional side carrying handles.  These handles allow for you and potentially another person to carry the soft cooler in your hands as you might a regular hard-sided cooler.  We prefer to carry using the shoulder strap but understand that some people may prefer to carry this way if they have medical issues that don't allow for them to put significant amounts of weight on their back.
The zipper assembly on the Calcutta Soft Cooler is quite robust.  It is a very large zipper that is also pretty difficult to open and close.  This can be attributed to how it interacts with the rubber sealing components on both sides of it (which helps with ice retention).  It is also quite water resistant so you won't get your stored items soaked in the case of a sudden rain shower while out on the lake or campsite.  But the strong zipper it does mean that you will have to put some extra effort into zipping and unzipping.  On the zipper, there is also a handy bottle opener with the Calcutta name engraved on it.
Once you unzip the zipper, you are welcomed with a vivid blue inner liner.  This blue liner actually served a purpose: it is waterproof and bacteria-resistant.  This is always a welcome feature since the inside of a cooler can be a breeding ground for bacteria since food and drinks may be spilled in them from time to time.
The other aspect that you will likely notice is that these walls are thick!  Calcutta Soft Coolers are made up of around 1.25" of thick closed cell insulation.  This provides the essential heat barrier that a soft cooler needs to retain ice (which we will discuss in the next section).
You will also notice that there are no stitching or heat welds.  This is one-piece construction.  This means that leak paths or weak points that may exist with inner liners that have stitching or welds won't be an issue here.
The underside of the lid is also coated in this inner liner.  The lid itself is hinged in a way that makes it very easy to open and provide excellent access to stored items.  Calcutta calls this feature their "flip top".
If you decide to go with one of the other Calcutta Soft Cooler models, you will find a few model-specific features that aren't present here.  The soft cooler totes (15L, 30L, and 35L models) will have a single shoulder strap handle instead of the dual shoulder straps.  In addition, they will have overhead carrying handles that allow you to carry them like you would a briefcase.
The largest model, the 45L Renegade, comes with a host of additional features including wheels at the base, and extending pull handle, and molded-in cup holders on the lid.  The extra mobility of the 45L model is a great addition as, when full, it could be quite challenging for a single person to easily carry.
The overall build quality of the Calcutta Renegade Soft Coolers is excellent.  The stitching used is very impressive and almost overdone in some cases.  This means that you shouldn't have to worry about the handles coming unstitched after a short period of time.  The outer fabric is made of a tough rubber-like material that is extremely resilient to scratching or tearing.
Our only complaint with the build quality is in regards to the warranty.  After searching Calcutta's website, we could only find mention of a 30-day return policy.  We certainly hope that Calcutta offers a more impressive warranty on their soft coolers than 30 days but we have yet to find out. 
And we would assume that if there was a good warranty in place, that Calcutta would proudly advertise out. That being said, we found no reason to suspect that there would be any significant quality issues with these soft coolers based on our observations and in-house testing.
---
Calcutta Soft Cooler Ice Life
Next, we wanted to put the Calcutta Soft Cooler through an ice retention test.  We have found that cooler companies are notorious for vastly exaggerating their ice life (or in some cases, not even stating an ice life).  So to get to the bottom of this, we put all of our tested coolers through our own ice retention tests.
This process consists of filling the cooler up with the recommended amount of ice, leaving it in a normal outdoor environment, and occasionally opening it.  This helps to emulate more "real life" results.
On paper, we suspected that the Calcutta Soft Cooler should perform quite well.  This is thanks to the 1+" thick insulated foam walls combined with the very tight zipper.
You can see how the Calcutta Renegade Soft Cooler fared in the images and chart below.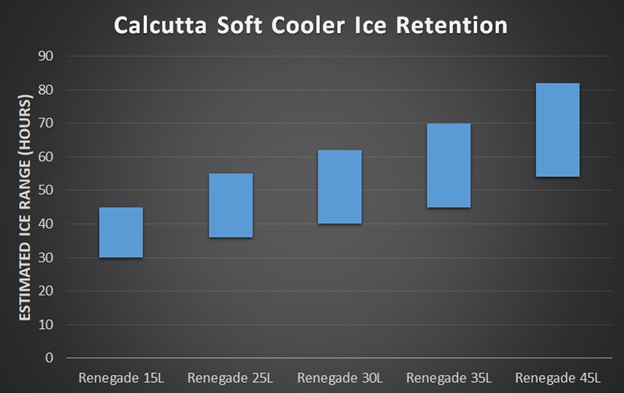 As you can see, Calcutta did a good job of keeping ice for an acceptable period of time.  Compared to other premium soft coolers on the market, these numbers are competitive.  We have seen slightly longer ice times with a few other brands but the differences are mostly negligible.  How much ice you use, where you store the cooler, and how often you access it will be the big driving factors to whether you see on the lower end or the upper end of the spectrum for a given soft cooler.
Specifically, you should enjoy anywhere from a full day all the way up to over 3 days of ice retention depending on which model you go with and how much ice you use.  This means that a Calcutta soft cooler is set up to handle your typical weekend outings.  If you need a cooler that can keep ice for more than 3 days, then your best bet is to probably go with a traditional larger hard-sided cooler.
---
Calcutta Soft Cooler Aesthetics
The design of a soft cooler can come into play for some people in the buying process.  And for others, it is almost a non-factor.  But we thought it was worth briefly discussing.
Calcutta Soft Coolers typically come in 2 color choices.  This includes a traditional gray and an eye-catching blue and black camouflage design.  While both colors look great, we do wish that there were a few more to choose from.
Color choices aside, the styling of these soft coolers is quite modern. They give off a feeling of "quality" thanks to the thick material used and clever design of the various straps and handles.  The impressive stitching we mentioned above also helps when it comes to appearance.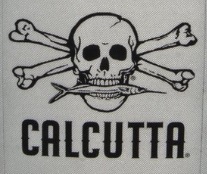 We also think that Calcutta's logo is really cool.  You can never go wrong with a design that consists of a skull and crossbones eating a fish!
Another aspect that is missing from Calcutta's products is a custom shop.  We like custom shops because they can produce specialized colors, special team or work logos, etc.  Some of the larger cooler companies are starting to roll out with these but unfortunately, Calcutta has not followed suit quite yet.
---
Calcutta Soft Cooler Price
While premium coolers will always fetch a higher asking price, there can still be a pretty large range between the most expensive premium coolers and the more budget-friendly examples that can still be considered premium.
One of the big negatives that cost Calcutta's hard-sided coolers from scoring better was their price.  They were towards the top of the price sector despite not having enough features or performance qualities to justify the higher asking price compared to the sea of other high-end cooler brands on the market.
In regards to Calcutta's soft coolers, they also follow suit to some extent (however, not quite as bad).  The Renegade Soft Coolers are towards the top of the price category compared to other brands.  And when it comes to their features, ice retention, and build quality, there are some other brands that are comparable but at a lower price point.
But we still feel that these coolers are competitively priced given just how good they are across the board.  There aren't any major red flags (outside of the questionable warranty coverage).  And for a soft cooler that does just about everything right, we don't see a problem in asking for a bit extra.  But for those who care strictly on price vs. performance: there are more economic brands out there.
---
Calcutta Soft Cooler vs. Yeti
The age-old debate that we are asked about is how a certain cooler compares to Yeti. In this case, we will be comparing the Calcutta Renegade Soft Coolers to Yeti's flagship soft cooler line: the Yeti Hopper.
And conveniently, Yeti actually offers an extremely similar model to the Calcutta 25L Backpack Cooler.  This is their Hopper Backflip 24. 
Both models come with nearly identical storage space, extremely similar features (Yeti has a more molle webbing while Calcutta has a bungee cord, front zipper, and bottle opener), and almost equal build quality.  Both models also have very similar tested ice retention values.
Where Yeti does have a slight edge is in regards to warranty and reputation.  Yeti backs their soft-sided coolers with 3-year warranty compared to an unknown warranty for Calcutta. 
But Yeti does cost quite a bit more.  And this is saying a lot seeing how Calcutta is also towards the top of the price spectrum.
So which is better?  If you are on a tight budget, then the Calcutta Soft Cooler provides extremely similar performance for quite a bit less.  But if you are more concerned with reputation and a guaranteed warranty, then spending the extra money on the Yeti might tempt you.
No matter which brand you decide to go with, you will get to enjoy a high-quality soft cooler that won't disappoint.
---
Calcutta Soft Cooler Review
Pros: Good build quality, Acceptable ice retention, A few clever features
Cons: Can be expensive, Questions about the warranty, Limited color choices
Features: Flip-top, Reinforced stitching, Front pocket, Watertight zipper, Padded shoulder straps, Closed cell insulation, Bungee cord, Bottle opener, Extendable handle (certain models), Wheels (certain models), Cupholders (certain models)
Features/Build Quality –
Many of the features that we are used to seeing on high-end soft coolers are present.  Since this is a backpack cooler, you will enjoy nice padded dual shoulder straps. This is helpful for carrying the cooler when it is full of ice and drinks.  On the front of the cooler is an additional front pocket.  There are molle webbings on the front as well.  This gives plenty of places to hang various items such as fishing gear (and even bullets).  On top of the lid is a bungee cord for even more places to store items. 
We are impressed with the zipper quality (and it comes with a bottle opener which is nice as well).  But the zipper can be a bit stubborn to open and close.  Inside the cooler is a food-friendly blue liner that is water resistant.
As for overall build quality, we are more than content.  There is fantastic stitching to attach the handles to the body.  And the external fabrics that are used are very resilient to scratching and tearing. 
Our only concern is with the warranty.  We couldn't find any specifics about the warranty on Calcutta Soft Coolers other than a 30-day guarantee.  If the warranty is in fact only 30 days then that is very underwhelming.
Ice Retention –
Ice retention is about what we would expect for a higher-end soft cooler. Depending on which model you go with, how much ice you fill it with, and where you store it, you should anticipate anywhere from 1.5 days up to over 3 days of ice life.  In our specific testing, we saw on the higher end of this since we left the soft cooler indoors.  At these retention levels, this soft cooler is great for a weekend outing (even in warm summer months).
Visual Appeal –
We find the styling of Calcutta's Renegade Soft Coolers to be quite nice.  It is modern but not to the point of looking too futuristic.  We do wish that there were more color choices, however.  At the time of this writing, we only saw two different colors to pick from.  In addition, there is not anything in the way of a custom shop for specialized decals or team logos.
Cost –
Similar to Calcutta's hard-sided coolers, their soft-sided coolers are towards the top of the price spectrum, even within the premium bracket.  You do get a lot of cooler but if you are focusing on "bang for your buck", there are other cooler brands with similar performance that can be had for cheaper. But we do feel that you get a slight step up in quality compared to some of those other brands.  And that could be the difference between a cooler that lasts 6 years and a cooler that lasts 8 years.
Overall Rating –
We came away overall happy with how the Calcutta Soft Coolers fared in our testing.  We liked the lineup of features presents and the build quality was quite impressive.  Ice retention is what we would like to see for this price point.  But speaking of price points, these are a bit higher than some other brands.  And we do have some issues with the lack of warranty present.  Finally, it would be nice to see a few more color choices.  But either way, if you decide to go with a Calcutta Soft Cooler, you won't be disappointed in its performance.