Yeti Cooler Review
Updated by Brandon F. on December 3, 2021
A conversation about premium coolers is rarely completed without mentioning "Yeti" somewhere in it.  Yeti has been one of the industry leaders in ice chests for many years now and their proven approach has won over a very loyal fan base.  Yeti has one of the most diverse product lineups of any cooler company.  Not only do they have a large selection of hard-sided coolers but they also offer many different soft-sided coolers, drinkware, bags, buckets, and more.
This review will be focusing on the Yeti hard-sided cooler lineup.  Specifically, these ice chests have been dubbed the Yeti Roadie Series, the Yeti Tundra Series, the Yeti Tank Series, and the Yeti Silo Series.  If you want to learn more about the Yeti soft-sided coolers, you can check out our huge review located here.
Before we get into our huge discussion of the many different types of Yeti Coolers, check out our table below that lists what we feel are the best Yeti Coolers.
Incredible Ice Retention

Good Balance of Price and Performance




Model
YETI Tundra 350 Cooler, White
YETI Tundra 125 Cooler, White
YETI Tundra 65 Cooler, Ice Blue
YETI Tundra 45 Cooler, Charcoal
YETI Roadie 20 Cooler, Desert Tan
Incredible Ice Retention

Model
YETI Tundra 350 Cooler, White
Good Balance of Price and Performance

Model
YETI Tundra 125 Cooler, White

Model
YETI Tundra 65 Cooler, Ice Blue

Model
YETI Tundra 45 Cooler, Charcoal

Model
YETI Roadie 20 Cooler, Desert Tan
---
Yeti Cooler Lineup
As we mentioned earlier, Yeti has an enormous array of hard-sided coolers to choose from.  They have arguably the largest and most diverse selection of anybody in the industry.  No matter what size, shape, and application you are looking for, Yeti likely has a product that will fit your needs.  We will break down the various lineups blow.
Yeti Tundra Cooler
The Yeti Tundra is where it all started.  These are Yeti's standard hard-sided coolers and come in a huge size range.  You can find options that include the Yeti Tundra 35, Tundra 45, Tundra 65, Tundra Haul, Tundra 75, Tundra 105, Tundra 110, Tundra 125, Tundra 160, Tundra 210, Tundra 250, and Tundra 350.  This massive selection spans from small-sized coolers up to some of the largest that you will find in the industry.
It is worth noting that the number designation in the product name does not coincide with a quart storage volume.  We aren't sure what the number represents! For your convenience, we have displayed the approximate actual storage volume for each size below.  We also include how many cans of beer Yeti states that you can state as well as how many pounds of ice you can fill it with.  This may be helpful for you for the next camping trip or tailgate that you have planned with your Yeti Cooler.
As you can tell, many of Yeti's hard-sided coolers are capable of some serious storage ability.  There are plenty of Yeti Coolers that fall into our "giant" size category.
---
Yeti Roadie Cooler
The Yeti Roadie Series is comprised of just one model: the Yeti Roadie 20.  Outside of the overhead carrying handles as opposed to side handles, this cooler follows a similar design approach as its larger brothers in the Tundra Series but is reduced down to a very compact and mobile design.  And while the number in its name ("20") doesn't exactly correspond to the storage volume in quarts, it is much closer to matching.  Specifically, you will enjoy around 18.5 quarts of storage volume. This is large enough to store 16 chilled cans of beer or 20 pounds of ice.
Yeti Tank Cooler
While not technically a cooler in the sense we are used to seeing, the Yeti Tank still falls under their hard-sided cooler section and is worth mentioning in this review.  This product is a robust ice bucket that allows for quick and easy access to chilled items at the expense of ice life.  There are two models to choose from: the Yeti Tank 45 and the Yeti Tank 85.
Both of these models have much lower storage volume than the number in their name suggests.  Specifically, the Tank 45 has around 37.3 quarts and the Tank 85 bumps things up to nearly 75 quarts.  And this is assuming you fill it to the brim.  This is large enough to carry either 52 cans of beer (with ice) or 43 pounds of ice only in the Tank 45 and either 102 cans of beer (with ice) or 83 pounds of ice only in the Tank 85.
Due to the unique nature of the Tanks and that they aren't enclosed coolers, we won't be testing them in this review.  But they are still really cool and worth mentioning!
Yeti Silo Cooler
The Yeti Silo Cooler is a sort of hybrid product that combines the ice-retention ability of a traditional Yeti Tundra Cooler with the water-displacement ability of a water jug.  This makes the Yeti Silo a great solution for people who aren't necessarily looking to store chilled items but rather looking to hydrate people for long periods.
There is currently one size available.  Storage volume is around 29 quarts which makes it very close in size to a Yeti Tundra 45.  However, Yeti has dubbed it a 6 Gallon model (which is only 24 quarts).  This is likely because they don't encourage you to fill it to the top (which we agree with).
---
Yeti Cooler Features
With such a huge selection of coolers to choose from, it is no surprise that Yeti also has many notable features to discuss.  It is worth stating that depending on which size and model you go with, the specific features may vary.  We will go over some of our favorite Yeti Cooler features and be sure to highlight which specific Yeti hard-sided coolers will contain those features.
No matter what type of Yeti Cooler you go with, you will enjoy thick rotomolded walls.  These walls have been dubbed the Yeti "Fatwall" design and are comprised of Permafrost insulation.  Specifically, you will find around 2" wall thickness in nearly every model.  This is about average compared to other premium cooler brands and is at a level that finds a happy medium between maximizing ice retention and storage volume while minimizing bulkiness and extra weight.
And to help tap into the power of these thick walls, all Yeti hard-sided coolers will come equipped with a freezer-grade COLDLOCK gasket.  This thick rubber gasket provides a seal between the lid and the body and is a feature that is almost mandatory in any premium cooler that hopes to compete at the highest level.
The other necessary component of a great lid-to-body seal is an effective latching system.  Yeti solves this challenge thanks to their T-Rex lid latches.  They have a fancy name, but they are essentially the traditional rubber T-latches that we have seen many other cooler brands use.  They are simple and effective.
Attached to the bottom of these ice chests are four rubber feet that have multiple purposes.  First, they provide a better grip on hard surfaces than the plastic on the cooler body.  This helps to avoid your cooler from sliding around in the case you aren't able to tie it down.  Also, it helps to avoid scratching and scuffing up the paint or finish on your truck or boat. 
Finally, it raises the entire cooler off of the ground which makes cleaning underneath easier and also improving ice life since the cooler itself isn't directly touching the hot surface of the ground, boat, truck, etc.
In addition to the lid latches and roto-molded construction are the Yeti NEVERFAIL Hinge System, the Yeti Interlock Lid system, and the Yeti LIPGRIP Handles.  All of these components are made of the highest-quality materials and work in conjunction with the body to last for many years.
Yeti stands behind their products with their impressive 5-year limited warranty.  This, combined with their IGBC (Interagency Grizzly Bear Committee) Certification, is proof that they are delivering a lineup of products that are designed to last.
For those who prefer to take advantage of other carrying methods, the Yeti Tundra also has double haul handles.  These handles are made of military-grade polyester and come with comfortable rubber grips.
The smaller Yeti Roadie replaces the side handles with an overhead carrying handle.  This is a common approach for coolers of this size since two-person carrying usually isn't necessary.   The handle itself is made of quality metal and has a water-resistant grip handle in the middle.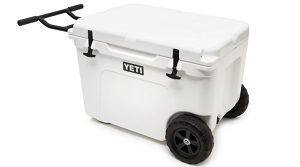 And for those after increased levels of mobility, the Yeti Tundra Haul forgoes both methods and taps into its built-in oversized NEVERFLAT wheels.  This ice chest is towed around with its rotating adjustable STRONGARM handle.
The Yeti Tank and Yeti Silo are also a bit different than most Yeti Tundra Coolers.  The Yeti Tank, because of its round design, sticks to the side rope handles.  While the Yeti Silo forgoes rope handles altogether and utilizes built-in side handles used in conjunction with its trademarked STEADYSTEEL handle for better pour control.
And while we are on the topic of the Yeti Silo Cooler, it has an additional feature that helps it to thrive much better than other coolers that have been converted into drinking coolers.  It comes with a high-flow SUREPOUR spigot that is much easier to use than a traditional drain plug.
That being said, some features are noticeably missing on Yeti Coolers.  Pressure-release valves, fish scales, built-in bottle openers, and other features we are used to seeing are nowhere to be found.  These are things that Yeti doesn't need to meet the needs of most people when it comes to premium coolers.  Whether or not this is cause for concern will be up to the individual but we certainly wouldn't mind them.
---
Yeti Cooler Accessories
It is worth mentioning the huge array of Yeti Cooler accessories on the market as well.  Simply put, Yeti has the largest selection of cooler accessories that we have ever seen.  They include things such as a seat cushion, their specialty ice packs, dividers, rod holders, tie-down kits, beverage holder kits, baskets, and more.  This opens up what your cooler is capable of and makes it great for just about any situation that you can throw at it.
---
Yeti Cooler Ice Life
So we have gone over many of the Yeti hard-sided cooler features and accessories, but how does this translate to ice life?  All of the ice-retention components that we like to see are present: thick rotomolded walls, freezer-grade gaskets, and great latches, but do Yeti Coolers have what it takes to hang with the best in terms of holding ice?
Yeti is surprisingly quiet on how long they believe their ice chests will hold ice.  Many brands will proudly display their ice retention rate in hours or days while Yeti seems to simply say that their ice retention is "unmatched".
To test this, we decided to put them through some of our in-house testings.  This entails filling up the ice chest with a recommended amount of ice, leaving out in the Texas sun, and occasionally opening it for short periods.  This gives us a more accurate real-life number.
If you have visited our site before, you may have seen our huge write up on RTIC Coolers vs Yeti.  In it, we tested a handful of the Yeti products included some of their smaller hard-sided coolers.  Since writing that article, we have amended our specific ice tests to be even more similar to real-life usage.  Specifically, we have decreased the amount of ice to a more "normal" amount and we also open up the ice chest more often (since a cooler on the lake or out camping will typically be opened quite a bit).  Because of this, the ice numbers here are going to be a bit lower than in that article.
The results we found can be seen in the chart below:
As you probably would have guessed, there is a huge range in how long ice lasts.  In almost all cases, a larger cooler will out-perform a smaller cooler.  This is because a larger cooler holds more ice and, once the temperature is stable, takes a lot longer for outside heat to have a significant effect.
For instance, the Yeti Tundra 350 is designed to hold over 300 pounds of ice.  That is a ton of ice!
But overall, no matter which model you are looking at, Yeti performs near the top of the industry in terms of ice retention.  We saw a bit of a boost to ice life compared to some testing that we performed a few years ago.  So it is obvious that Yeti has honed in on what works and doesn't work.
Specifically, you will enjoy around 3 days of ice life with the smallest model, the Roadie 20.  This progressively scales up until you reach the enormous Yeti Tundra 350 which, in optimal conditions, can keep items cold for nearly 2 weeks!  This is some serious ice retention and is one of the many reasons why Yeti has enjoyed the success that it has.
---
Yeti Cooler Aesthetics
We have mixed feelings about Yeti Cooler's aesthetics.  From a design standpoint, the overall shape and curves on the various Yeti Ice Chests are very traditional.  You won't find the aggressive curves or eye-popping edges that some of the more progressive cooler brands have implemented.  In fact, in terms of sheer shape, Yeti has one of the plainest cooler designs in the premium cooler industry.
Also, there are relatively few colors to choose from.  Most of the larger cooler sizes only come in one color: white.  The smaller sizes do open things up a bit.  For instance, the Yeti Tundra 45 has 4 colors to pick from: white, desert tan, ice blue, and coral. (12/3 Update: we have discovered some additional color options for certain sizes).
We understand that many people prefer the simple design and would rather the cooler performance do the talking.  But for others who want something that stands out at the lake, this might be an issue.
Of course, the Yeti name itself carries quite a bit of prestige.  And simply having a cooler with those letters on it is all the attention that some people need.
That being said, from a customization standpoint, Yeti is incredibly diverse.  Due to their size and the connections that they have built over the years, they have an enormous selection of coolers with team logos, school logos, and NASCAR logos.  This includes schools such as Auburn, TCU, Rutgers, and more. They also have a full custom shop where corporations can reach out to get their own catered order with whatever type of design they want.
This is something that very few other cooler brands can offer and it is one of the many ways that Yet can stand out from the crowd.
---
Yeti Cooler Price
Yeti is known for a lot of good qualities.  Unfortunately, their asking price isn't one of them.  There is no other way to put it: Yeti Coolers are extremely expensive.  You do get a lot for your money, however.  You will enjoy an ice chest that has among the longest ice retention in the industry.  This product will also be very well built and will be backed by a fantastic Yeti warranty.  Also, there are plenty of accessories and features that you can add to your Yeti Ice Chest to truly make it unique.
But for those on a tight budget, affording a Yeti may simply be too much of a financial burden.  If you check out our Cooler Comparison Chart, you will find several other premium cooler brands that, while still expensive, perform very similarly to a Yeti but for a lower asking price.a
That being said, Yeti has begun to cut some of their prices.  We believe that they are starting to feel the pressure from other cooler brands such as RTIC, Engel, Orca, and Grizzly.  While the Yeti name does carry quite the reputation, other brands are entering the market and making a splash.
And while the price-cutting does help to lessen the blow, Yeti Coolers are still typically among the most expensive in the industry.
---
Yeti Cooler Review
Pros: Fantastic Ice Life, Great Build Quality, Tons of Accessories/sizes, Impressive Warranty, Yeti Reputation
Cons: Very expensive, Somewhat bland styling
Features: Fatwall design, Rotomolded construction, Permafrost insulation, T-rex lid latches, Vortex drain system, Bearfoot non-slip feet, Doublehaul handles, Lipgrip handles, Coldlock gasket, Surepour spigot (Silo)
The enormous lineup of Yeti hard-sided coolers has been one of the most popular in the industry for many years.  You can choose between the Yeti Tundra Series, the Yeti Roadie Series, the Yeti Tank Series, and the Yeti Silo Series.  In terms of size selection, Yeti simply can't be beaten.  You will also enjoy great performance and more accessories than you know what to do with.  Yeti also has a special relationship with many schools and sports teams that other brands can't match.  But all of this comes at an extremely high asking price.
Insulation Ability – 
Yeti has and continues to be among the industry leaders when it comes to ice life.  This is thanks to a multitude of features.  Notably, their Fatwall design, Permafrost insulation, T-rex lid latches, and oversized rubber gasket are big reasons why.  Also, the availability of some of the largest cooler sizes in the industry allows Yeti to produce astronomical ice numbers.  For instance, their gargantuan Tundra 350 model can hold ice for nearly 2 weeks in many cases!
While you won't see quite these numbers in the smaller models, they are no slouches either.  Depending on which size you go with and the conditions you put it in, you can anticipate anywhere from approximately 50 hours to 325 hours of ice life.
Mobility and Durability – 
From a construction and reliability standpoint, Yeti can't be beaten.  These coolers are proudly made in the USA and utilize quality components and precise manufacturing processes.  This allows all Yeti hard-sided coolers to be IGBC Grizzly Bear certified and also comes with an impressive 5-year warranty. These coolers are designed to last!
As for features, there are a few notable ones but Yeti falls a bit short compared to some of the other premium cooler brands out there.  Notable features include multiple types of handles, a high-flow drain, non-slip feet, and various features that help with ice retention.  But missing are things such as fish rulers, built-in bottle openers, and pressure release valves.
Yeti does make up some additional slack thanks to their enormous selection of accessories.  Things such as dividers, seat cushions, fishing rod holders, and more can help to open up the capabilities of your Yeti Cooler.  And they recently rolled out (pun intended) with a wheeled cooler that they call the Tundra Haul.
Visual Appeal – 
In terms of the shape and aesthetic additions on the body of a Yeti Ice Chest, they are quite tame.  Yeti has decided to not add a lot of eye-catching curves or edges that we are seeing more often in other cooler brands.  Also, base color options are quite lacking.  The smaller models may have 3 or 4 color choices but most of the larger models only come in white.
Where Yeti makes up for some of this is in their impressive selection of specialty coolers with a team and school logos.  Due to their immense influence, Yeti has secured branding rights with dozens of universities as well as organizations such as NASCAR.  You can purchase Yeti Coolers with your favorite school or team logo printed right on the lid.  This is something that few other cooler brands have managed to achieve.  Furthermore, Yeti has a full custom shop for those businesses that want to order special coolers with their work color/logo printed on them.
Cost – 
Yeti Ice Chests have and continue to be some of the most expensive in the industry.  We can't deny Yeti's impressive ice retention numbers, their great build quality, or their storied reputation.  But this does come at an extremely high asking price that may be more than many people want to spend on a cooler.
But for those that are able and willing to do so, you will enjoy an investment that will last for many years and should help absorb some of the high initial costs.
Overall Rating – 
Yeti Coolers are constantly expanding and currently house the largest selection of hard-sided coolers you will find anywhere.  From the Tundra Series that started it all to their newer Silo and Tank models, Yeti continues to push the envelope in cooling performance and reliability.  And no matter what size or application you desire, Yeti has a product that will fit your requirements.
But this does come at an extremely high asking price.  And with the premium cooler industry as cutthroat as ever, Yeti is having a harder and harder time justifying their expensive costs.  While they do excel in performance and reliability, their features and color choices could use a bit of an update.
But we can't deny the reputation and respect that the Yeti brand symbolizes.  And we can confidently say that anybody who decides to go with a Yeti Ice Chest won't be disappointed.