Coleman Xtreme Cooler Review
Updated by Brandon F. on October 10, 2022
The lineup of Coleman Xtreme Coolers takes the tried and tested Coleman Cooler and bumps it up a notch thanks to its Xtreme technology.  This includes upgrades such as an insulated lid, extra insulation in the walls, and tweaks to the looks.  The result is a product that Coleman proudly states will make "the fun last longer".
We will break down the various types of Coleman Xtreme Coolers below.  But first, here is a table that lists out some of our favorite Xtreme Coolers for your convenience.  This will list out some of the key sizes, features, and specifications for the best Coleman Xtreme Cooler models.

Popular Choice

Tons of Storage


Coleman Coastal Xtreme Series Marine Portable Cooler , White, 70 Quart
Coleman Rolling Cooler 62 Quart Xtreme 5 Day Cooler with Wheels Wheeled Hard Cooler Keeps Ice Up to 5 Days, Blue
Coleman Coastal Xtreme Series Marine Portable Cooler , White, 120 Quart
Coleman Xtreme Cooler, 28-Quart, Dark Gray/Orange/Light Gray Overmold
Tested Ice Life Range (Hours)
The Coleman Xtreme Cooler Series is comprised of both generic as well as marine coolers.  Within these groups are a variety of coolers that vary in size, features, and price points.  Let's go over each below.
---
Coleman Xtreme Coolers
You have several sizes and configurations to choose from if you decide to go with a Coleman Xtreme Cooler.  They include 28-quart, 52-quart, 62-quart, 70-quart, 100-quart, and 120-quart models.  The 62-quart and 100-quart models come in wheeled configurations while all other sizes do not come with wheels.
There is a common name designation among all Xtreme Coolers that needs to be discussed.  After the storage volume, Coleman has included a number ranging from 3 to 6.  For instance, they offer the 62 Quart Xtreme 5, 28 Quart Xtreme 3, 120 Quart Xtreme 6, etc.  This number represents how many days your items will stay cold.  So for instance, the 62 Quart Xtreme 5 will supposedly keep items cool for 5 days.
The supposed day ranges go from 3 to 6 days.  As you might expect, these numbers are higher than what Coleman states their non-Xtreme coolers are good for.  We will test the accuracy of these ice numbers further below.
Coleman Xtreme Cooler Features
Several features make Coleman Xtreme Coolers stand out from other Coleman products so let's go over a few.
First and foremost are the thicker insulated walls and insulated lids.  Coleman Xtreme Coolers offer up thicker walls.  Depending on the size, we typically found the walls to be around 1.5" thick (including the lid).  This is noticeably thicker than traditional Coleman coolers and plays a huge role in extending the ice life.  Because at the end of the day, ice life is the top consideration most people make when searching for their next ice chest.
Other great features include a leak-resistant drain that helps you to remove melted water.  This is more common on larger-sized coolers as smaller ones are much easier to tilt over yourself.
Also, you will find that all Xtreme Coolers have the Coleman Have-A-Seat Support Lid.  This robust lid design allows you to put up to 250 pounds on top of it.  This makes it a great makeshift seat or, in a pinch (and with proper support), it can also be used as a temporary step stool.  We have also found this feature helpful when you need some extra seats around the campfire.
Also worth noting are the embedded cup holders found on most models.  All but the 28-quart Xtreme Cooler come with four cup holders.  The 28-quart, due to having a much smaller lid, only has two.
There are a variety of handle options depending on which model you go with.  For the 28-quart model, there is an overhead comfort-grip bail.  This is a very comfortable bail and does a good job of controlling this relatively small cooler.
As you step up, the larger sizes all have side-mounted comfort-grip handles that can rotate almost 180 degrees.  This gives you a good angle to grab the cooler.  That being said, when it is full, we recommend finding a buddy to help you move it.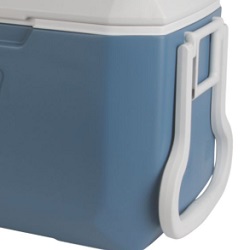 The wheeled options come with a large tow handle that allows you to pull the cooler behind while utilizing the handle wheels.  In addition to this, there is also the same side-mounted comfort grip handles used in the other sizes for those times when you are unable to use the wheels.  This may happen if the slope is too steep, the terrain is too rough, or you simply need to lift it off of the ground.
And we couldn't mention the Coleman Wheeled Xtreme Coolers without discussing the wheels!  You will find robust plastic wheels that have semi-aggressive grooves in them for added traction.  They are attached directly to the underside of the cooler body by metal pins.  While you won't find in the insane grip and traction of some of the more expensive coolers on the market, these are still a nice compromise. 
That being said, they will eat into some of the storage volume of the cooler, hence why the storage volume of the wheeled coolers is a bit less than other similar-sized Coleman Xtreme Coolers without wheels.
Coleman Xtreme Cooler Aesthetics
Depending on which size and type of Coleman Xtreme Cooler you go with, they will come with a unique color scheme as well as design.  They seem to be in the process of updating the design of some of their Xtreme Coolers.  You will find pretty noticeable differences in looks between, say, the 52-quart Xtreme 5 Cooler and the 120-quart Xtreme 6 Cooler.
The latest design offers up a much more modern look.  You will find sharp edges, slick lines, and a very streamlined look.  While the earlier generation is more of a curvy, traditional look.  Which is a better style will be up to the individual but we must say that the newer models have caught our eyes.
As for color options, they are a bit limited.  Depending on which size and model you go with, you will be able to choose between the traditional Coleman blue and white color scheme, the brown and white option, or the attractive and eye-popping gray and orange accent color option.
---
Coleman Xtreme Marine Coolers
In tandem with the Coleman Xtreme Coolers are the Coleman Xtreme Marine Coolers.  The Coleman Xtreme Marine Coolers take the advanced ice retention features offered up via the Xtreme technology and apply them to coolers specially designed for Marine settings.
The Coleman Xtreme Marine lineup is available in 4 sizes: 28-quart, 100-quart, 120-quart, and 150-quart.  You will likely quickly notice that the Coleman Xtreme Marine Coolers are mostly geared toward larger sizes.  This is because marine-related coolers typically require a lot more storage space.
Oftentimes you will be storing beverages and/or food for a large group of people over a large period so having plenty of storage volume is quite important.  Also, these coolers can be used for storing caught fish and the last thing you want to happen is to catch the "big one" only to find that you don't have anywhere to store it!
Coleman Xtreme Marine Cooler Features
The Coleman Xtreme Marine Coolers follow a similar naming pattern, with a single number coming at the end of the product name.  This number represents how many days it can keep items cool.
It is worth mentioning that not every single one of the Coleman Xtreme Marine Coolers has yet been updated to follow this standard.  Currently, only the 120-Quart Xtreme 5 and 150-Quart Xtreme 6 do.  However, Coleman states that their 100-Quart and 28-Quart are capable of 5 days and 3 days, respectively.
To achieve these numbers, Coleman Xtreme Technology is at the heart of it.  This comes with the thicker insulation walls and insulated lid we have already discussed.  You can expect around 1.5" of insulation on all walls, a noticeable improvement compared to traditional Coleman Marine Coolers.
Also, all Coleman Xtreme Coolers come with the Have-A-Seat feature which can handle up to 250 pounds sitting on the lid.  This is particularly helpful on the Xtreme Marine Coolers as they can double as extra seats or benches while on the boat.
You will also enjoy UVGuard material and stainless steel hardware for all components.  These are necessary to better handle the harsh marine environment.  Things such as constant direct sunlight and salt water can spell disaster for coolers not designed for these environments.  By going with stainless steel, you will be better prepared to fight the onset of rust and corrosion.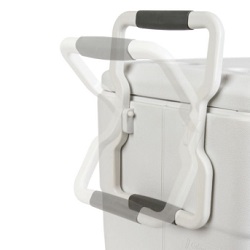 For carrying, all Coleman Xtreme Marine Coolers come with either a comfort-grip bail handle (28-quart model) or a comfort-grip swing handle (100, 120, and 150-quart models).  These handles are very intuitive and allow for 180 degrees of rotation.  Since there are no wheeled options, you won't find any that have tow handles.  And all models also come with either 2 or 4 cup holders for added convenience.
There are a lot of features for a reasonable price which is why many consider Coleman Xtreme Marine Coolers to be a good bang for your buck.
Coleman Xtreme Marine Cooler Aesthetics
All Coleman Xtreme Marine Coolers are only available in white.  This is likely due in part to the UV-resistant coating that is on them.  A colored cooler will likely fade over time and become less attractive so Coleman avoids this issue by simply making them all white.
As for styling, there are essentially two designs to choose from right now.  The 28-quart and 120-quart have been through facelifts and possess the sharp edges and defining features of a more progressive cooler.  While the other sizes still retain the more traditional Coleman Cooler design with softer edges and embedded grooves.
---
Coleman Xtreme Cooler Ice Retention
So with the Xtreme name comes increased ice retention.  But how much?  Coleman states that they will keep items cool for anywhere from 3 to 6 days, depending on which model you go with.   But is this best-case where you aren't opening it?  What about if you are out in 100-degree heat and opening the cooler every 30 minutes?
To get a better idea of real-life results, we did some of our in-house tests.  Our go-to method is to fill the cooler approximately ½ full with ice and leave it outside.  We will then open it every half hour or so to emulate real-life use.  The results were as follows:
While we didn't see quite the numbers that Coleman stated, they weren't too far off.  This does bring up an interesting point, however.  Coleman simply states that their coolers will "keep food cold" for up to a certain period.  This could be interpreted differently from how long it keeps ice, as even cold water could do a good job of keeping items cold.  Because of this, we feel that their stated cooling performance is pretty accurate.  And the results, particularly in the larger sizes, show that Coleman Xtreme Coolers can keep up with the ice retention values on some of the more popular premium coolers on the market.
---
Coleman Xtreme Cooler Price
You will find that the Coleman Xtreme Cooler lineup is very reasonably priced.  There will be a slight up-charge for the Marine line but even it is still much cheaper than many of the other options out there.  This more affordable asking price does result in slightly lower ice life and fewer features than much of the premium competition.  Also, the coolers themselves won't be quite as tough.  However,  it is a good compromise.
Check out below to see our full reviews of both the Coleman Xtreme Cooler and the Coleman Xtreme Marine Cooler after research and first-hand use.
---
Coleman Xtreme Cooler Review
Storage Size: 28, 52, 62, 70, 100, and 120 quart sizes
Construction: Plastic composition
Cost: Budget-priced
Features: Xtreme insulation technology, ThermOZONE insulation, Hinged lid, Built-in cup holders, Two-way rotating handles, Wheeled configurations
Pros: Good price for what you are getting, Decent insulation, Has optional wheels for easy transport
Cons:

Weak handles, Hinges can come loose
Check Current Prices on Amazon
The Coleman Xtreme Coolers are an upgraded version of their conventional chest coolers and are intended for those people looking for cooling power that needs to last for several days.  It contains extra thermozone insulation that will reportedly keep items cool for up to 6 days.  It comes in a couple of color options, has wheeled configurations, and is available in 28, 52, 62, 70, 100, and 120-quart options.  All choices have attached handles for convenience and are made of plastic.
Insulation Ability –
The insulation ability of these products is noticeably better than the standard, non-Xtreme options.  This is likely due to the thicker layer of plastic insulation as well as including insulation in the lid.  The lid fitting snugly also plays a big role and helps to keep cold air in and warm air out.
However, the posted cooling numbers are a bit exaggerated.  This is especially true if you plan on taking this to the beach or lake in the summer.  Depending on which model you go with, you should expect around 70 to 80% of the reported numbers in real-life applications.  This translates to between 40 and 110 hours, with the larger coolers almost always outperforming the smaller ones.
Mobility and Durability –
All Coleman Xtreme Coolers have easy-to-grab handles (either side handles or overhead handles) which should help with moving. There are also wheeled configurations for a couple of the larger sizes which can help to move around when the cooler is full (it can get heavy!).
We also really like the added cup holders and the ability to use the cooler as a backup seat as necessary (as long as you are under 250 pounds).  That being said, we did have some issues with the handles breaking off and the hinges coming undone prematurely.  There were also quite a few complaints about this happening online.
This is because all of the components of this cooler are made of plastic (most likely to keep costs low) and, unfortunately, these plastic pieces don't have the life of higher-quality materials such as steel.  They could also use a little beefing up to prolong their life.
Visual Appeal – 
With the recent updates, the color choices have expanded a bit (outside of the original Coleman blue and white) but are still overall quite limited.  Depending on which size and model you go with, you might be able to pick it up in a brown/white layout or a gray/orange layout as well.
There have also been some updates to the styling of certain sizes.  The conservative and "bubbly" curves not are much sharper and give off a level of modernity that the older style doesn't possess.  But it is still a work in progress and we would like to see an increase in color choices.
Cost – 
Online prices vary quite a bit with these products, but almost all fall in the budget category.  You will find some small fluctuations depending on which size you go with.  Typically, smaller sizes will have a higher dollar per quart rate and you will also pay a small upcharge for wheeled models.
But overall, all of these coolers are very reasonably priced and it helps us to overlook some of their minor shortcomings.
Overall Rating – 
The Coleman Xtreme Coolers perform pretty well for the price.  While they are a bit more expensive than the standard Coleman chest coolers, you can enjoy significantly longer ice life which we feel is worth the slight up-charge.  Build quality is acceptable outside of the plastic handles and hinges being known to prematurely fail. It would also have been nice to have a few more color options (although that is a minor issue).  But overall this series is a good, affordable starter cooler for someone needing to keep their things cool for a short weekend.
---
Coleman Xtreme Marine Cooler Review
Storage Size: 28, 100, 120,  and 150-quart sizes
Construction: Plastic Composition
Cost: Intermediate-priced
Features:
Xtreme insulation technology, Antimicrobial additive in plastic, UV inhibitors, Rotating handles, Cupholders
Pros: 

Good ice life, Relatively tough, Higher quality materials
Cons:

 Lid can be too tight, Lacks small sizes, Screws can strip, Pricey for a Coleman
Check Current Prices on Amazon
The Xtreme Marine line is Coleman's updated and improved offering for those in the market for marine coolers.  They come with the patented Thermozone insulation but in higher amounts than the conventional Coleman marine products.  Also, upgrades to the frame itself have been implemented which results in a slimmer, more aesthetic body while also being much more rigid.  There are multiple selections of shapes and sizes.  The larger sizes can come with either 4 molded cup holders while the smaller ones come with 2 and all sizes come with carrying handles.  Sizes available include 28, 100, 120, and 150 quarts and all products are made of plastic.
Insulation Ability –
The insulation of these iceboxes is much improved from the base Coleman Marine coolers.  The relatively thick insulation that was added and including insulation on the roof helps out a lot here.  The issues of lids opening accidentally are no longer an issue and in some cases, the lids can close TOO tight!  While this might be a minor inconvenience, it results in a very tight seal that helps to maximize ice life.  In terms of ice performance, you can expect anywhere from 40 to nearly 120 hours.  While this isn't quite as high as Coleman states, it isn't far off and is plenty acceptable for a cooler at this price range.
Mobility and Durability –
These coolers, despite their updated slim design, are a bit heavier than most budget coolers.  This is likely due to the improved levels of insulation which we think are worth it.  Reinforced lids and steel hardware have also been used, meaning that they can take a pretty good beating and you can even put up to 250 pounds on top of them without an issue.  They also come with the specialized UV coating that protects the cooler from harsh conditions from the sun as well as stainless steel hardware that combats rust.
 The major issue here is that, despite the decision to use stainless steel hinges (which is a good one), Coleman decided to screw these directly into the plastic and not provide a strap to hold the lid open.  The result of this is that when you open it and apply any significant force to the lid you will slowly pull out the screws holding the strap down!  This can be a huge headache and essentially ruin the cooler much faster than we would have hoped.
 Once they fix this issue, these will be extremely tough competitors.
Visual Appeal – 
The Coleman Xtreme Marine iceboxes come in a variety of shapes and sizes and all enjoy a noticeably sleeker look than their predecessors.  The higher-quality metal hardware is also noticeable and makes it feel more like a premium product.  All sizes have cup holders on top and it is done in a way to keep the sleek look intact.  For being a simple cooler, it comes through as being surprisingly attractive.  The only issue is that there is a lack of color choices (just white), but this is necessary as the ocean sun is likely to fade most other colors over time.
Cost – 
Expect to pay in the high intermediate tier for this product, depending on size and availability.  Remember that our value figures are based on dollars per quart.  So smaller sizes will tend to fall higher into the intermediate price tier while lower ones will be closer to the budget price tier.  This is a respectable price point for these coolers given their performance and features.
Overall Rating – 
The major issues such as poor insulation, lack of mobility, and a "boring" look have been improved with the Xtreme Marine series.  And this was accomplished while being able to maintain (if not lower) prices in many instances.  The major design flaw in the hinges is important to note, however, and something you need to be aware of while using the icebox if you want it to last a long time.
But other than the hinge issue, you have a solid offering with enough sizes to meet most people's needs.