Ozark Trail Cooler Review
Updated by Brandon F. on January 11, 2022
Ozark Trail has an increasingly popular lineup of hard-sided coolers, soft-sided coolers, and drinkware.  They are mostly sold at Walmart (as far as we can tell, they are a Walmart company) but they are also sold at online marketplaces such as Amazon.
The idea behind Ozark Trail Coolers is to try to incorporate some of the premium components and impressive ice life of more expensive brands but price it at a point that is more affordable by the Average Joe.  In addition to this, Ozark Trail also has some more mainstream designs for those who are simply on a tight budget and looking for a product to pack their lunch or picnic in.
Before we go into our huge review of Ozark Trail Coolers, check out our table of some of the best Ozark Trail Coolers below.
Best Ice Retention and Storage Volume


Good Performance for Soft Cooler


Model
Ozark Trail 73-Quart High-Performance Cooler, Grey
Ozark Trail 26-Quart High-Performance Cooler,
Ozark Trail Premium 36-Can Jumbo Cooler
Ozark Trail Premium Backpack Cooler, Gray
Our Rating (out of 5)




---
Ozark Trail Cooler Lineup
As we mentioned above, Ozark Trail has both hard-sided and soft-sided coolers.  The hard-sided coolers are measured in quarts while the soft-sided coolers are typically measured in how many cans that they can hold.  We will break down the size selections available to you in the next section.
Ozark Trail Hard-Sided Coolers

Ozark Trail currently offers 3 sizes in their hard-sided coolers.  You can choose between 26-quart, 52-quart, and 73-quart options.
As is typical of most other cooler brands, the smaller coolers will utilize an overhead carrying handle while the larger coolers will stick to traditional side rope handles.  We will go into more detail about the specific features later in this review.
In terms of size election, having three sizes is a bit lackluster.  But Ozark Trail has managed to incorporate sizes that are most common for people to want.  You have a small cooler, a medium cooler, and a large cooler.  The only noticeable gap will be people who are after a huge ice chest (100+ quarts) that is capable of storing items for an entire family event or someone planning a week-long camping excursion.
Ozark Trail Soft-Sided Coolers
Ozark Trail's soft-sided coolers have gone through quite a bit of variation over the past couple of years.  Many of their models have undergone facelifts and new sizes of soft-sided coolers have also been introduced to the market.
Currently, you can choose between a 6-can cooler, 12-can cooler, 24-can cooler, 36-can cooler, 42-can cooler, premium backpack cooler, and premium tote cooler.  There have also been some other sizes available over the years but we are going to focus on these models.
This is a much larger and diverse selection of products than the Ozark Trail hard-sided coolers.  Also, you will find a larger variety of layouts and cooler types.  For instance, you will have the small, simple coolers that are designed to hold people's lunch for the day as well as higher-end premium coolers for those who are after longer ice life.
---
Ozark Trail Cooler Features
Depending on if you go with an Ozark Trail hard-sided cooler or an Ozark Trail soft-sided cooler, you can expect different features.  We will break down the specific features for each type of ice chest in the sections below.
Ozark Trail Hard-Sided Cooler Features
The hard-sided coolers are designed to try to compete with the top-tier of the premium cooler world.  Instead of trying to create a lower-range or mid-range model, Ozark Trail has attempted to incorporate many of the features you are used to seeing in brands like Yeti, RTIC, and Engel, but at a much lower asking price.
The most important factor for being able to hang with the best is rotomolded construction.  This seamless, one-piece construction is essential for a cooler that aims to be tough and hold ice for long periods.  And sure enough, all Ozark Trail hard-sided coolers are rotomolded!
In terms of wall thickness, it varies from size to size.  But you can anticipate the walls to be between 2.5" and 3" thick.  This is about average among premium coolers that we have tested in the past.  And these thick walls are coated in a UV-resistant layer that helps to protect the cooler from sun damage over time.
The next essential piece to a cooler that can hold ice for long periods is a thick rubber gasket.  Sure enough, Ozark Trail has sourced a freezer-grade gasket that is eerily similar to what you will find on much more expensive coolers on the market.
And to maximize how much squeeze the gasket produces, having strong latches that provide a lot of clamping force is necessary.  You will find the popular "T-latch" design on Ozark Trail coolers.  While some brands will have the base of the "T" be what catches the pin, Ozark Trail has instead decided to have a hole in the middle of the latch that catches onto the pin.  Both approaches work the same from our experience.
It is also worth mentioning that all of the metal components you will find are comprised of quality stainless steel.  This helps to minimize the change of corrosion or breaking, even after many years of use.
So it is no surprise that Ozark Trail Coolers have achieved an IGBC (Interagency Grizzly Bear Committee) seal of approval.  In other words, they are tough enough to handle a mauling by a grizzly bear!
So it is obvious that Ozark Trail has components related to ice life and toughness covered, but what about features that make using their products easier?
To start with, you will find an oversized drain that makes short work of any melted ice that is inside.  The threaded drain can easily be removed and will be held in place thanks to the mounted chain it is on.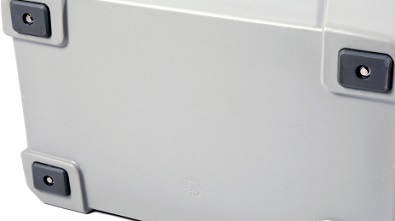 You will also find anti-skid feet in all sizes.  These feet help to protect the paint or finish on your table, truck bed, or floor.  Because a cooler full of drinks and ice can be quite heavy and dragging it along the ground can be the perfect recipe for a scratched surface!
Next, Ozark Trail has included a stainless steel locking plate at the center of the base.  This locking plate also doubles as a bottle opener.  We love when cooler companies include a bottle opener as there are few times when you are outdoors that somebody won't need one!
For the fishermen out there, you will enjoy the molded-in fish ruler on the lid of the cooler.  There are also molded drink holders (4 on the 52 and 73-quart models and 2 on the 26-quart model).
Also included in the 52 and 73-quart models is an internal wire basket.  Oftentimes, this basket doesn't come with the cooler and costs extra as an accessory.  So we appreciate Ozark trail going ahead and throwing that in free of charge.

Lastly, being able to safely and comfortably transport the cooler is extremely important.  A premium cooler is heavy, to begin with.  And when you fill it up with drinks, food, and ice, it can weigh 100 pounds or more!  You will find an overhead stainless steel handle with a comfort grip on the 26-quart model and the 52/73-quart models will come with heavy-duty side handles with comfort grips.
Ozark Trail Soft-Sided Cooler Features
While the Ozark Trail Hard-Sided Coolers are mostly designed to compete with the premium coolers of the industry, their soft-sided coolers are more balanced.
You will find both low-cost models as well as a "premium" lineup.  The low-cost model won't wow you with features, build quality, or long ice life but instead tries to find a happy medium while still being extremely cost-effective.  The premium lineup will cost more but will also utilize features that help it to hang with other premium soft-sided coolers.
No matter which model you go with, you will get to enjoy multiple storage options.  This comes thanks to both the large, insulated area as well as storage pockets on the front and/or sides.  The pockets on the front will be zippered while any on the sides will be open and mesh.  These are perfect for sticking your cell phone, keys, wallet, or anything else that you don't want to get potentially cold and/or wet in the insulated area.

You will also find plenty of room to store items.  Several models come with an expandable top that can increase the storage height by up to 3".  This makes it large enough to easily fit a 16-liter bottle or even stack 12oz cans on top of each other.  So no matter what type of bottle you tend to carry, they have you covered.
For mobility, you will find that most models have a padded shoulder strap.  But certain models will build upon this in some cool ways.  For instance, the 42-can model has wheels and an extendable telescoping handle.  And the backpack cooler, as you might expect, has comfortable shoulder straps that allow you to wear it like a backpack.  And the premium cooler tote comes with two methods to carry it: both overhead carrying handles as well as a padded removable shoulder strap.
Having structure is important for protection in soft-sided coolers.  A cooler without a hardliner is more prone to having its stored items be damaged while moving.  Thankfully, Ozark Trail includes a removable hard liner in most of their soft-sided coolers.  And the premium cooler backpack and cooler tote take this up a notch by having an EVA compression molded base.
And while we are on the subject of the premium soft-sided coolers, there are a few additional features specific to them.  They include built-in bottle openers, daisy chain attachment points, compression strap, thicker insulation, and a wash-friendly 600D outer coating.
---
Ozark Trail Cooler Ice Life
Ice life is an essential metric when analyzing any cooler.  And Ozark Trail's diverse selection of coolers means that we are going to have results that are all over the place.
Their low-cost, soft-sided cooler options don't have a lot of storage volume or insulation to help them out.  Because of this, their ice life will be severely limited.
On the contrary, the premium soft coolers and particularly their hard-sided coolers have more of the traditional features we look for when we think of long ice life.  So you can expect them to allow for much longer ice retention.
Ozark Trail is pretty quiet about ice life on all but their hard-sided coolers.  For those, they exclaim that, in optimal conditions, you can achieve around 4.5 days with the 26-quart, 7 days with the 52-quart, and 9 days with the 73-quart.  These are very impressive numbers, but how accurate are they?
To test this, we filled the products up with approximately 1/3 ice.  We then left them out in the heat and occasionally opened them.  This gives a better representation of real-life use.  We display the results in the chart below: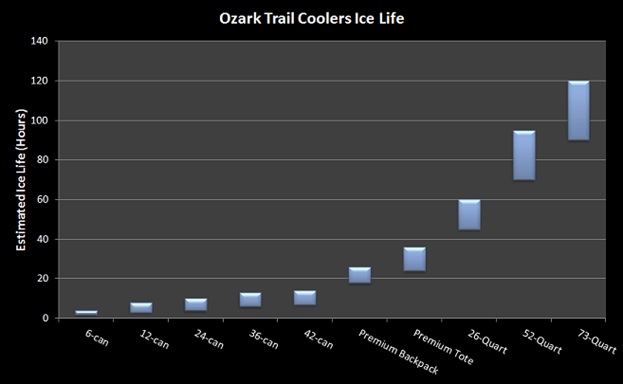 As is expected, the larger hard-sided coolers had a clear advantage over the soft-sided coolers.  They are not only larger but utilize thicker insulation, rubber gaskets, and an overall more ice-friendly design.
That being said, the two premium soft-sided coolers were no slouches.  The tote, in real-life conditions, should hold ice for around 1 ½ days while the backpack should last a full day.
The lower-end soft-sided coolers struggled some with holding ice.  In our opinion, they aren't designed for more than a few hours of operation.  This isn't a bad thing: they are perfect for lunch or a small picnic outing.  But if you need something to last for a full weekend without having to top off with more ice, you may be a bit disappointed.
But back to the hard-sided coolers.  The ice life, well not bad, was not near what Ozark Trail stated in their specifications.  We have a hunch this is because their testing was performed under more optimal conditions.  Sure, if we were to fill the cooler up to the brim with nothing but ice, never open it, and leave it in a cool/dark area, the ice life would go way up.  But that simply isn't how most people use their cooler.
Depending on which model you go with, you should see between 2 days and 5 days of ice life.  That is still plenty impressive and should meet most people's needs.  But it does fall a bit short of the top-tier premium coolers in the industry.
---
Ozark Trail Cooler Aesthetics
Depending on which model you go with, you will find the appearance of these ice chests to differ quite a bit.  The most affordable models, the non-premium soft-sided coolers, come in a very safe, solid color.  There may be some subtle grays or white pieces of fabric but, for the most part, the primary color will dominate.
An example of the color choices for the popular 24-can soft cooler is shown in the image below.
It is worth noting that various models will have differing numbers of color choices.  For instance, the premium cooler backpack and tote only come in one color: gray.  It is a great-looking color but we would prefer more color options.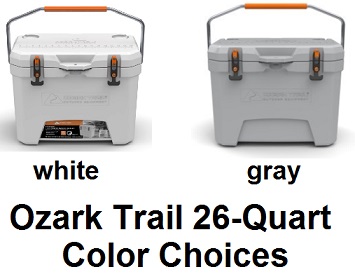 As for the hard-sided coolers, the styling is much more modern.  The sharp edges and attractive features make it an eye-catcher.  In particular, we like the subtle orange accents on the handles and latches.  As for color options, there are just two: white and silver.
Overall, we are satisfied with the aesthetics.  We enjoy the premium soft coolers and hard-sided coolers the most.  But all models could make do with a few additional color choices.  Also, there is nothing in the way of custom colors, decals, etc.
---
Ozark Trail Cooler Price
The asking prices for the various Ozark Trail Coolers will fluctuate quite a bit depending on which model you are going with.  But seeing how Ozark Trail is in the business of making cost-effective products, all models should be affordable (particularly when compared to their industry competition).
But this does come at a cost (outside of money).  To achieve these asking prices, some shortcuts in manufacturing and quality were necessary.  We will discuss these in greater detail in our reviews below.
---
Ozark Trail Cooler vs. Yeti
Yeti makes some of the toughest coolers on the market.  And their ice retention abilities are quite impressive.  But let's face it: they are extremely expensive!
Because of this, a lot of people look to alternate brands.  Ozark Trail is one of the most common brands we have been asked about as a potential "Yeti replacement".  We must admit that the huge price cut and supposed similar ice retention and features are tempting.
So which is better?
Ozark Trail, despite their best intentions, doesn't quite live up to the level of ice retention and toughness of a Yeti.  While they do have many of the same features, there are more notable quality issues with Ozark Trail models.  This can include things such as premature leaking, warping of the lid, and stitching coming undone.
Yeti Coolers, on the other hand, has a rock-solid reputation. Its ice life is among the best in the industry and its products are designed to last a lifetime.
If you are on a tight budget, Ozark Trail makes an acceptable substitute.  You can almost think of them as 80% of a Yeti for 25% of the price!  Many of the features that you see in Yetis are present here and the ice life, while not industry-leading, isn't terrible.  But still: it isn't a Yeti!
If you are after the absolute best and are willing to open up your pocketbook to achieve it, Yeti is still the way to go.
---
Ozark Trail Cooler Review
Pros: Great Value, Plenty of Features, Good Ice Retention
Cons: Some Quality Issues, Few Color Choices
Features: Stainless steel locking plate/bottle opener, Anti-skid feet, Threaded drain plug, Wire basket, Integrated drink holders, Fish ruler
The Ozark Trail Cooler series is trying to make some waves by taking all of the good things about high-end coolers (long ice life, tough construction, plenty of features) and avoiding the primary bad thing (expensive).  They have harnessed this into their small but potent lineup of hard-sided coolers.  These coolers are available in 26-quart, 52-quart, and 73-quart and fall somewhere in the intermediate to lower premium price tier.
Insulation Ability – 
All of the ice retention features that we like to see in a premium cooler are here: rotomolded construction, freezer-grade gasket, and powerful T-latches.  The results are solid, with ice life varying from around 2 days and up to 5 days on the larger models.
While this isn't quite as high as we have seen in other premium coolers, the much lower asking price helps to justify it.  For most people, being able to keep ice for 3 days or more is plenty.  And it makes Ozark Trail Coolers great for any weekend outing.
Mobility and Durability – 
We are impressed with the lineup of features you get to enjoy here.  They include things such as non-skid feed, internal wire basket, fish ruler, and comfort-grip handles.  And the construction utilizes proven rotomolding technology and stainless steel hardware.
On paper, this is the perfect high-end cooler.  But in reality, there are some noteworthy quality issues.  To achieve the extremely attractive price point that they did, Ozark Trail likely had to sacrifice a few things in the quality department.  The result is a cooler that doesn't have quite the level of fit and finish as, say, a Yeti or an Engel.
Because of this, there have been notable areas for concern.  Specifically, this can include things such as the lid being warped and leaking, hardware coming loose prematurely, and the handles coming undone
Still, if you happen to get an ice chest that has these kinks ironed out, you will enjoy a solid competitor.  These are IGBC certified and that certification isn't possible without a tough product.
Visual Appeal – 
We like the sharp edges and progressive appearance of the Ozark Trail Coolers.  Also, the stainless steel hardware and orange accents on the latches and handles look very sharp.  You are a bit lacking in color choices, however.  Currently, you can only pick between white and gray.  We hope that in the future, Ozark Trail decides to expand on the color choices and perhaps have some customization options as well.
Cost – 
While these aren't "budget" coolers, compared to their competition, Ozark Trail ice chests are a bargain.  Many of their peers can cost 3, 4, and 5 times as much.  And many of them utilize essentially the same construction techniques, features, and ice life.
If you are lucky and receive a model that has the quality issues discussed above ironed out, Ozark Trail Coolers are one of the best bargains in the industry right now.
Overall Rating – 
Ozark Trail Coolers showed us that it is possible to achieve the impressive ice numbers and rock-hard features of many of the top ice chests in the industry, but at a fraction of the price.  But it does come with some shortcuts in construction.  Whether or not these fit and finish issues haunt you almost seems like luck of the draw.
But even if you do deal with a minor quality issue, the amount of money you'll save compared to comparable coolers is huge.  And it may be worth the slight headache.  And who knows?  Maybe you'll get lucky and receive one without these problems.  In which case, congratulations!  You get to enjoy one of the best cooler bargains in the industry right now.
---
Ozark Trail Soft Cooler Review
Pros: Great Asking Price, Large Selection, Decent Ice Life in Premium Models
Cons:  Cheaper models lack in performance, A few quality issues
Features: Multiple storage pockets, Expandable top, Multiple carrying methods, Built-in bottle opener, Removable hardliner, Daisy chain attachment point, Compression strap
Ozark Trail's lineup of soft coolers tries to adhere to their "affordability first" approach.  But they do come in a bit more variety.  This includes simple lunch boxes and tiers up to premium totes and cooler backpacks.  Specifically, you will find 6-can, 12-can, 24-can, 36-can, 42-can, totes, and cooler backpacks.  As for prices, the lower-end models are easily into the budget price tier while the premium creeps up to intermediate.
Insulation Ability – 
Outside of the premium models (with their thicker insulated shell), these coolers aren't designed to keep ice for long periods.  Rather, they are a good companion for a lunch outing or small picnic.  Specifically, the smaller models will have ice life that starts at just a couple of hours and creeps up to around half a day.  The more capable premium models should keep ice for up to a day and a half.
Mobility and Durability – 
Our favorite feature of the Ozark Trail Soft Coolers is their additional storage options.  Every model will come with at least one separate zippered pocket and many will have multiple zippered pockets in addition to mesh side pockets.  Another great feature is mobility.  All models are super easy to transport thanks to multiple carrying methods including optional wheels, padded shoulder straps, and more.
The premium models step up the game both in available features as well as build quality.  You will find built-in bottle openers, daisy chain attachment points, compression straps, and more.  And for toughness, thicker insulation and a wash-friendly 600D outer coating await you.
We have been receiving a lot of complaints as of late from people who are mentioning that the zippers on their soft-sided coolers are going out after 6 to 12 months.  We are looking into this problem in more detail and may adjust this review accordingly once we get to the bottom of it.
Visual Appeal – 
The lower-end can models take a very traditional approach in styling.  Also, there aren't a lot of colors to choose from (3 is the maximum we have found for a particular model).  The tote and cooler backpack look much more progressive but are limited to just one color choice.  We would welcome some additional color choices and perhaps a slight facelift to the more plain-looking models in the future.
Cost – 
One of the best selling points (pun intended) of Ozark Trail Coolers is their great asking price.  You will find that nearly every model is extremely affordable.  This is a big reason why this company has been so popular over the past few years and it makes it easier to overlook any issues that we may have with them.
Overall Rating – 
The Ozark Trail Soft Cooler lineup is a solid contribution to this ever-growing company.  There are enough size options and configurations to make most people happy.  For those who need something simple and cheap, the 12-can and 24-can models are great.  And for those who want a bit more ice life and toughness, the premium backpack and tote are going to be worth checking out. And while no models will be able to keep up with the impressive ice life and toughness of some of the premium brands on the market, the competitive asking price makes that much easier to swallow.