Corona Cooler Review
Last Updated by Brandon F. on October 7, 2022
Corona beer is one of the most popular beers on the market, and just about every beer drinker has tried one before.  It is synonymous with the outdoors, summer, and anything related to the beach or pool and, for many people, they can't see a lime in the grocery store without a bottle of Corona beer coming to mind!
For those that are extra passionate about their Corona beers, there is actually a cooler made specifically for you.  Corona has partnered up with Coleman to make an exclusive Corona Coleman Stainless Steel Insulated Cooler.  It is designed and optimized to transport and keep cool all of your Coronas for your next pool or beach party and also looks the part.
The Coleman Name
When you go with this Corona Cooler you are taking advantage of the Coleman name.  Coleman is one of the most respected and established cooler brands on the market, and when it comes to coolers they know what they are doing.  If you want to read up on our other Coleman Cooler reviews you can check them out here.
Specifically, Coleman is known for specializing in a wide range of cooler sizes and cooler materials and they also are able to incorporate many helpful features into their products that make them much more user-friendly.  In addition, they are typically able to do this for a very reasonable price.  All of these components combine to make it a no-brainer to go with a company like Coleman for your specialized cooler.
Plenty of Room for Your Corona Beers
What good would a Corona cooler be if it couldn't even hold all of your Coronas?  No need to fear, as this product is capable of storing up to 54 quarts, or in terms of beer that is 85 cans!  So no matter how large of a gathering you are looking to have, this ice chest should be able to meet your needs.  It is also good for fitting other items, even including food if you want to have a pool picnic or BBQ as well.
Great Looks
This Corona cooler not only has all the storage space you would need but it also has the looks to match.  It comes in attractive semi-gloss steel that really makes it stand out from other coolers and gives it a much higher-quality look.  In addition, the Corona label is stamped on the outside so anybody who sees this cooler will know what it is intended for!  It all comes together very nicely and is one of the most attractive coolers we have come across.
Impressive Quality
The steel isn't just for looks, either.  Being a high-quality metal it is actually quite tough and can handle being dropped or bumped into things without causing cracking or breaking.  Furthermore, you don't have to worry about the metal rusting or corroding over time as it is rust-proof (because what good would a beach cooler be if it easily rusted?!). 
The hardware that it uses is made of metal, including the latch which is matching stainless steel.  Oftentimes cooler manufacturers will go with plastic hardware to try to save money but you don't have to worry about that with this cooler.  The higher-quality hardware should hold up much longer than typical plastic and allow you to get more uses out of this product.
Helpful Features
Attached to the front of the cooler is a built-in bottle opener.  This will make opening your Corona beer or any beer that isn't a twist-off much easier, and you don't have to worry about trying to keep up with a mobile bottle opener.  There are also built-in handles as well as rotating side handles that can make this product easily carried by either a single person or two people.
Unique Gift Idea
We have found that this Corona cooler makes a great gift for birthday parties or wedding gifts.  So if you are trying to shop around for a friend or loved one and can't think of something to get, we recommend considering this product.  It is a very unique idea and will definitely get some use out of it!
A Lot of Accessories
Can't get enough of Corona even after purchasing the Corona Cooler?  There are tons of accessories on the market that will complement your new ice chest quite well, and make your beach or pool experience even more enjoyable.  Some of these can even be used in conjunction with your Corona Cooler.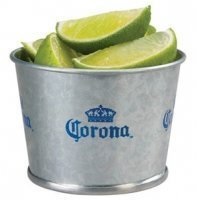 Limes and Coronas go hand in hand, and enjoying a Corona without a lime just feels like it is missing something!  To help with this, Corona has made a special mini bucket that is perfect for storing your limes.  It comes in an attractive steel look with the Corona label on the outside, so it will make a nice match with your steel cooler.
This is a good way to transport a few Coronas without having to lug the entire cooler.  This is great for those times you don't want to get up during dinner or hop out of the pool to go get another beer, but you still want the beers near you to stay temporarily cold.  It also comes in an attractive steel look and makes an excellent match for your cooler.  An included bottle opener on the outside of the bucket is a nice touch as well.  Because we all know how essential a bottle opener is when you have Coronas around!
If you are looking for a more permanent solution for your bottle-opening woes, you could consider going with a Corona Wall Mounted Bottle Opener.  It comes in the same attractive semi-gloss steel with the Corona label tagged on it, and it can be easily mounted to any wall with two small screws.  It will hold up to as many beers as you can throw at it and maintain its nice steel finish for as long as you want it to.