CoolersbyU Cooler Review
---
Last Updated by Brandon F. on June 20, 2019
With so many different cooler brands out there these days, it is important for a new company to think outside of the box if they hope to succeed.  That is exactly the case with CoolersbyU.  CoolersbyU has decided to focus on a very unique niche: paintable coolers.  Their coolers come ready-made to be painted without the added hassle of sanding, priming, etc.  Seeing how painting coolers is a common event for fraternity formals, tailgates, etc., this is an idea that we really think may stick.
In this review, we will try out the CoolersbyU Cooler.  We will check out its features, accessories, ice retention, and finally give it an overall rating.
The table below gives a quick rundown of the key points of the CoolersbyU Cooler.  If you wish to read the full review, hop on below!

Model
COOLERSbyU 26qt Paintable Cooler

Model
COOLERSbyU 26qt Paintable Cooler
---
CoolersbyU Cooler Lineup
At the time of this writing, there is only one size of CoolersbyU Cooler to choose from: their 26.4-quart model.  This is a nice size for a one-night formal or for a day at the tailgate.  However, for longer applications, you may find that the space requirements are a bit lacking.  The dimensions fall in at around 18" wide, 13" deep, and 14" tall. 
This means that this cooler is quite small and won't take up much space.  It is at a nice size for throwing in the back of your car for your next weekend adventure.
---
CoolersbyU Cooler Features
When analyzing the features on a CoolersbyU Cooler, it is important to remember what its intentions are.  A cooler that is loaded with features typically means having non-smooth and non-flat surfaces.  And as you might expect, this greatly increases the complications associated with trying to prepare and paint such a cooler.
The easiest ice chest to paint is one that is simple with consistent, flat walls.  And that is exactly what you will get with this product.  But this does mean that it will be severely lacking when it comes to features.
When your cooler arrives, it will come in a really attractive box.  This is something that very few other cooler brands can say that they have (even the big boys).  The box will provide all of the information that you would typically want to know about the product.
Once you open the box and pull out your cooler, you will instantly be reminded of how Spartan it really is.  You will find 6 flat, smooth walls that are ready to go to be painted.  Missing are features such as built-in bottle openers, pressure release valves, fish scales, cup holders, or many of the other features that you may be used to seeing on other cooler brands. 
But again, that isn't the intention of the CoolersbyU Cooler.  While a fish scale, cup holders, and all of those other things might be handy in certain situations, could you imagine the headache trying to paint around them?!
Really the only "typical" cooler feature that you will notice is the overhead carrying handle.  At this size, it is pretty normal to have an overhead carrying handle as opposed to side handles.  Plus, side handles would require the side walls to not be flush, making it much more challenging to paint them.
And it is worth mentioning the walls one more time.  A great benefit of this cooler is that the walls already come smoothed down.  If you were to run your hands across most hard-sided coolers, you will notice that the outer walls are very bumpy.  These types of walls are not a very good surface for painting on.  They can result in premature cracking and general inconsistencies in the texture of the paint that you are applying.  By having smooth walls, you have a great surface for painting on and it should greatly increase the life expectancy of your artwork.
The inside of this cooler is equally simplistic in nature.  There isn't a rubber gasket for sealing nor latches for clamping down.  Rather, it is a traditional snap lid that is typical of more of your budget coolers.  This will impact ice life (which we will discuss in the next section).
The inside storage area is also very simple.  As we mentioned above, you won't find a drain port on this model so all of the inside walls are smooth and flush.
Now on to build quality.  Many hard-sided coolers these days come with extremely thick walls, rotomolded construction, and metal hardware.  You won't find any of those here.  The walls are around 1" thick and the few pieces of hardware that are present appear to be made of plastic.
But despite not being overly impressive on paper, the cooler still "feels" well made.  The lid and the body snap together quite well and have consistent gaps across all the sides.  There aren't any jagged edges or corners (which is common in cheaper mass-produced coolers when they are taken off of their molds).  This goes to show that just because a cooler isn't Grizzly Bear Proof, it doesn't mean that it can't still be of good quality.
And while there aren't many features to note, we are extremely impressed with the accessories available through CoolersbyU.  You can purchase acrylic paints, sealers, and paint brushes directly from them.  And all of these products came pre-label with the CoolersbyU brand name. 
While we don't know how the quality of these accessories stack up to other brands, the fact that they come with the company labeling gives a much more overall professional feel to it.  And with the including packages, you will find all of the colors and paint brush sizes that you would possibly need.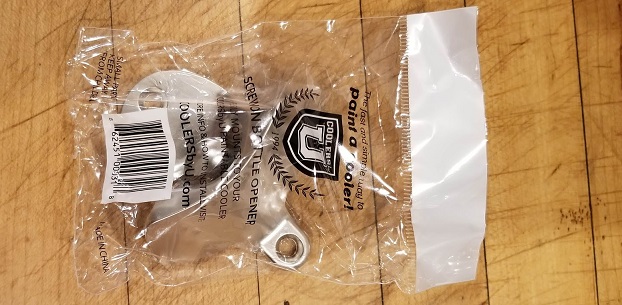 And you know how we mentioned the lack of a bottle opener earlier?  You can actually purchase a bottle opener accessory that allows you to screw a bottle opener on to one of the faces of your CoolersbyU Cooler.  Obviously, we would recommend doing this after you finish painting it as the bottle opener would likely get in the way during painting, in addition, to create a hole on the smooth painting surface.  And not surprisingly, even the bottle opener comes with the CoolersbyU labeling on it.
---
CoolersbyU Cooler Ice Retention
No cooler review would be complete without an ice retention test. But due to the combination of relatively small storage size, thin walls, and lacking a sealing gasket, we weren't expecting eye-popping numbers from the CoolersbyU Cooler.  But we want to again emphasize that this cooler isn't designed with maximum ice retention in mind. 
The idea behind this product was to have a simple cooler that you can easily paint and take to a fraternity formal, tailgate, etc.  At these type of events, you usually only need a few hours of ice retention.  If you are after a huge cooler that can hold ice for a week or more, then there are plenty of options out there for you…but this isn't one of them.
For the ice testing, we filled the cooler up around halfway with approximately 14 pounds of ice.  Since it is cold outside, we decided to leave the cooler inside (where it is actually warmer) and occasionally open the cooler to emulate real-life usage.
The images below will display our findings.
It is kind of hard to see, but all of the ice melted somewhere between 36 and 48 hours.  And this was in indoor conditions and with only opening the lid once every few hours.  In a summer outdoor setting and/or when the cooler will be accessed much more often, these numbers will be even lower.
If we had to put a range on it, we will say that you can expect anywhere from 24 to 48 hours of ice life, depending on the conditions mentioned above (and others).  In other words, this cooler is great for a single night at the hotel or on the back of your truck's tailgate for the big game.  But for anything longer than that, be sure to pack extra ice.
---
CoolersbyU Cooler Aesthetics
Aesthetics is another category that is sort of unique for the CoolersbyU Cooler.  In terms of the cooler itself, it has to be one of the most "boring" coolers that we have ever tested.  There are essentially no attractive curves or visual features anywhere on the cooler.  Nor are there any color options: all you can pick from is white.
But that is just half of the story.  Because the real aesthetic capabilities of this cooler will only be limited by your imagination and artistic skills.  Under the right hands, this cooler can become one of the most visually stunning ice chests that you will find anywhere.  Want a custom cooler with your favorite team's logos on it?  Simply paint them on yourself to achieve the perfect look.  After a cooler that shows off your favorite memories from the last couple of years of college?  Paint them on yourself and create a one-of-a-kind result.  These are things that no other cooler brand can offer you.
And there is also the "fun" factor.  A common tradition among fraternities and sororities is that the fraternity brother will give their cooler to their date to formal to decorate beforehand.  This is the perfect package to give that special someone (and they will certainly appreciate not having to deal with all of that prep work!).
We aren't exactly the most artistic people in the world, but we did want to show off some of the results that others have accomplished painting their CoolersbyU Cooler.  This is just a small sample of the endless possibilities that you can achieve.  And no matter how good (or bad) the end result is, you will have a great time and make some awesome memories doing it.
---
CoolersbyU Cooler Price
Pricing is always towards the top of considerations when someone is shopping for a new cooler.  And seeing how the larger premium coolers can cost 3 and even 4 figures, it can be quite an investment.
Thankfully, you won't have to pay anywhere near that to enjoy the CoolersbyU Cooler.  This cooler is priced in the budget price range.  And when you lump in the complete cooler painting kit, you will save additional money compared to purchasing the individual components separately.
Obviously, a big reason that this product is so affordable is due to its simplistic nature.  It doesn't have a huge list of features, long ice life, roto molded walls, or high-end metal components.  Its simplistic design makes it super easy to paint and also much cheaper to manufacture.  And a lot of this savings is passed on to you.
---
CoolersbyU Cooler vs. Yeti
We like to compare cooler brands to the granddaddy of them all, Yeti.  But making a comparison between these two brands is almost pointless since their target audiences are so different.  Yeti will blow CoolersbyU out of the water when it comes to ice life, cooler toughness, features, size selection, etc.  But CoolersbyU has a clear edge when it comes to being able to paint the cooler and also the huge cost savings.  Both brands are great, but for different applications.
---
CoolersbyU Cooler Review
Pros: Very affordable, Easy to transport, Ready to be painted out of the box
Cons: Limited ice life, Very few features, Aesthetics will be governed by your artistic ability, Only one size to choose from
Features: Ready-to-paint surfaces, Overhead carrying handle, Paints/paintbrushes/bottle opener able to be purchased separately
CoolersbyU takes a unique approach in their ready-to-paint cooler.  Rather than forcing you to have to prep the cooler to be painted yourself, they have instead designed the cooler to be ready to go out of the box.  The simple design also results in huge cost savings.  But it also means there are few features and the ice retention and overall toughness won't be up to the level of more expensive premium coolers.
Insulation Ability – 
The walls of the CoolersbyU Cooler are on the thin side at around an inch.  And you won't find a rubber gasket or T-latch clamp system like most of the higher-end hard-sided coolers have.  And this results in less than stellar ice retention numbers.  Depending on the application and how much ice you use, you can anticipate between 1 to 2 days of ice life with this cooler.  This makes it great for a night in the hotel or for a day at the lake but if you want to use it for more than that, be sure to anticipate buying more ice.
Features/Durability – 
The simplistic nature of this cooler is a sort of double-edged sword.  One on hand, it makes it the perfect cooler for painting: The walls are all flush and flat and come pre-sanded so as to allow for a great surface to paint on.  But it also means that you won't find any of the features that you are used to seeing on other ice chests such as cup holders, drain plugs, etc. 
That being said, we are very impressed with the accessories that CoolersbyU sells.  This includes paints, sealers, paint brushes, and a bottle opener.  And all of these accessories come with the brand labeling on them (giving it a much more professional feel).
As for build quality, it is not bad despite using thin components.  No, this cooler won't hold up to a grizzly bear attack.  But will it handle the demands of a hotel room or truck bed?  We think so.
Visual Appeal – 
On the surface, this is an incredibly simple cooler when it comes to its design.  Flat walls, no color options, and essentially nothing in the way of visual enhancements will be found on it.  But that makes it the perfect medium for letting your artistic side run wild.  Under the right hands, this can be a fantastic-looking cooler.  And one that will stand out among the sea of Yetis, RTICs, etc.  And more importantly, the process of painting it will be sure to be a lot of fun (which is really what it's all about).
Price – 
Your wallet won't be hit too hard if you decide to pick up a CoolersbyU Cooler.  This great asking price can be attributed to several factors: being small in size, not utilizing a lot of premium components, and offering little in the way of features.  And we recommend going ahead and picking up the paint kit from the brand as the Paint Package comes with even more cost savings.
But while you will save a lot here, you are also sacrificing quite a bit in the way of ice retention and overall toughness.
Overall Rating – 
The CoolersbyU Cooler presents a perfect medium for those after a very specific thing: a small cooler that is ready to be painted for a fraternity formal, football tailgate, etc.  The fact that the cooler is ready to paint out of the box and can also come with all of the paints that you would need is an excellent idea for that niche. 
But for someone after a more capable cooler with tons of storage space, super long ice life, and all of the features that you are used to seeing on a cooler, this won't be the product for you.  Still, we feel that there is a large enough target audience out there looking for something like this.
Becase of the unique characteristics of this cooler, it was tough to give it a rating.  For someone after a cooler specifically designed for painting, this cooler makes a strong argument as being a 5 out of 5.  But for someone who has no intention of painting their cooler and simply wants to maximize ice retention, this cooler will score far lower.  We feel like 4 out of 5 stars is a happy medium considering this.