Vibe Cooler Review

Last Updated by Brandon F. on June 18, 2019
Vibe Coolers are another somewhat new cooler lineup for us and this extensive review will break down the performance specs, pros, and cons of the Vibe Cooler lineup.



Model
Vibe Element 110 Quart Rotomolded Hard Shell Cooler with Bottle Opener | Alpine Gray
Vibe Element 70 Quart Rotomolded Hard Shell Cooler with Bottle Opener, Alpine Gray
Vibe Kayaks Vibe Element 45Q Cooler with Bottle Opener, Alpine Gray

Model
Vibe Element 110 Quart Rotomolded Hard Shell Cooler with Bottle Opener | Alpine Gray

Model
Vibe Element 70 Quart Rotomolded Hard Shell Cooler with Bottle Opener, Alpine Gray

Model
Vibe Kayaks Vibe Element 45Q Cooler with Bottle Opener, Alpine Gray
Vibe is actually traditionally known for their kayaks but has since expanded the business to also sell coolers.  Their current lineup includes a 20-quart, 45-quart, and 75-quart model that are dubbed the Vibe Element 20, Vibe Element 45, and Vibe Element 75, respectively.  There is also a 110-quart model that we hope to try out soon.
We see a lot of overlap between Vibe coolers and many other brands that we have tested.  For instance, the shape of the body and the pressure release button are very similar to nICE Coolers.  The T-latches remind us of Yeti and RTIC Coolers.  The steel bottle openers that are built into the sides are very similar to Kysek Coolers.  We could go on and on.
While adopting features similar to other brands is nothing new, Vibe tries to stand out by offering a total package at a very reasonable price.  When you get into the premium cooler world, asking prices in some of the larger cooler sizes can be astronomical and Vibe apparently is trying to change that.
---
Insulation Ability/Ice Life
One of the most important aspects of a cooler is how long it will retain ice.  A cooler that can't hold ice is nothing more than an expensive box!
The Vibe Coolers utilize all of the traditional features that we like to see in a cooler that is trying to maximize ice life.  Roto-molded construction is used throughout every Vibe Cooler and the shell is made of high-quality plastic insulation that is up to 3" thick in some places.  Thick walls are extremely important for retaining ice as it minimizes the heat conduction that occurs.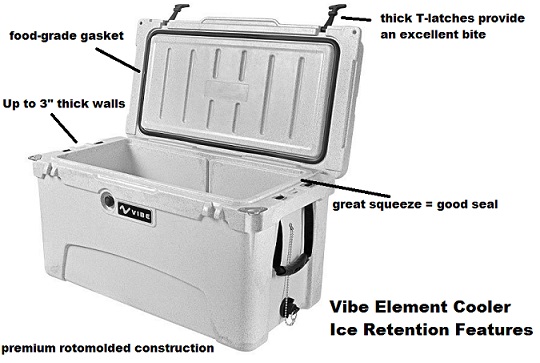 Check Out Vibe Coolers on Amazon
For hardware related to ice retention, Vibe Coolers have thick freezer-grade gaskets that have a ton of squeeze and adequately seal in the inside air from the warm, outside air.  The rubber T-latches are thick and provide an excellent bit to maximize how much squeeze you get between the lid and body.
After testing, the results for ice life in a Vibe Cooler are competitive with the rest of the industry in regards to premium coolers.  We display graphs of the type of ice life that you should expect below.
As always, it is important to remember that how long ice life is will vary greatly depending on a number of variables.  The external temperature, how often you are opening the cooler, how much ice you put inside the cooler, the volume of the contents you put in the coolers, and other variables come into play and can significantly affect your real-life ice life expectation.  Cooler companies will advertise that their cooler can hold ice for X number of days.  But oftentimes that number is based on ideal conditions that most people won't ever expose their cooler to in the real world.
Because of that, we like to stick to numbers that are more aligned with what you will see in normal scenarios.  From there, we will create a range of estimated best-case and worst-case scenarios.  Typically, your actual results will fall somewhere in between.
---
Vibe Cooler Ice Life Results
Check Out Vibe Coolers on Amazon
After our testing, you can expect approximately the following ice life for each Vibe Cooler:
Vibe Element 20: 40 to 60 hours
Vibe Element 45: 60 to 86 hours
Vibe Element 75: 90 to 135 hours
These results are very similar to the results we have seen from other brands with similarly sized coolers.  Specifically, the results are extremely close to what we saw with nICE coolers (which coincidentally share many of the same features and also have the same cooler sizes).
The most obvious correlation that you probably immediately see is that cooler size is directly related to ice life.  Coolers with larger capacity typically can hold more ice and can also sustain ice for longer periods of time.  While we have tested coolers that have had 200+ hours of potential ice life, they were much larger.  We have no hesitation in saying that if Vibe decided to roll out a 100+ quart size cooler that it would enjoy similar success.
---
Vibe Cooler Toughness
Since the Vibe cooler is targeted at competing with the very best coolers in the industry, it needs to be equally tough.  Cheap, thin plastic parts and poor construction can spell disaster for cheaper coolers and Vibe hopes that they can meet the demand while offering up a competitive price.
As we mentioned earlier, the thick rotomolded walls are great for keeping ice cool.  However, it also is beneficial in making a cooler extremely tough.  The fewer parts there are on a cooler, the fewer things that can break.  So by making the entire cooler shell in a single piece, it results in an extremely resilient piece of material that really doesn't have any major weak points.
The hardware that Vibe Coolers use is also of high quality.  The rod that holds the lid to the body is plenty thick and T-latches are made of thick, premium rubber that should handle thousands of cycles without ripping.
Check Out Vibe Coolers on Amazon
When you shut a Vibe Element cooler, it gives off a sense of security and toughness that makes you feel comfortable putting it in any outdoor situation.  This cooler is very simple in its approach: there aren't a lot of moving parts or additional components.  Keeping things simple helps to maximize toughness.
The one (minor) complaint we have is that Vibe has not gone through the process of having their cooler International Grizzly Bear Committee (IGBC) Certified.  While this doesn't contest how tough of a cooler they have, it is a very popular achievement that many other premium cooler companies have pursued and it is great from a marketing perspective.  Also, we feel that Vibe wouldn't have a problem in getting their coolers to pass.
---
Vibe Cooler Features
We really like the array of features that Vibe Coolers offer.  Pretty standard ones including skid-resistant supports on the base, high-flow drain tube, integrated locking system, and molded tie-down slots.  However, Vibe also has some other tricks up their sleeve that a lot of other coolers can't offer.
There are 2 built-in bottle openers on each side of the front face of the body.  These are made of stainless steel and not only add an extra layer of convenience, but look great as well.
Furthermore, there is an integrated fish ruler on the lid for those who plan to use their Vibe Element Cooler in their next fishing excursion.
Check Out Vibe Coolers on Amazon
Probably our favorite feature (and one that is rarely seen) is the pressure release valve on the face of the cooler.  The only other brand that we have reviewed that offered this cool feature is the nICE Cooler.  The pressure relief valve comes in handy for those times when there is a big temperature difference between the inside of the cooler and the outside air (which, quite frankly, it should also be!).  This can cause a pressure lock, making it difficult to open the lid.  The pressure release button helps to equalize pressure inside the ice chest and outside, alleviating this problem.
As for additional features, there is an optional carrying cooler basket, cooler divider, and an external cup holder that can be purchased separately.
---
Vibe Cooler Visual Appeal
The contours on the outside of Vibe Element coolers are simple, yet effective.  They are subtle enough to stand out from RTIC, Yeti, Orca, etc. but still conservative enough to not look gaudy.
The stainless steel corner bottle openers and black pressure release button further help to make these ice chests stand out.  The button, in particular, looks really cool and you will probably find people asking you what the purpose of it is the next time you are at the lake or a tailgate.
Our one issue is the lack of color choices.  At this point in time, the only colors we could come across were the Alpine Gray and Hunter Camo.  Nearly every other premium cooler manufacturer has many more color options than this.  In fact, many also offer custom colors, team logos, and much more.
We hope that Vibe plans to expand their color options to more popular colors in the future.
---
Vibe Coolers Price
The asking price of a cooler is always one of the top considerations.  People have budgets that they need to keep and the top coolers in the industry can oftentimes run well into the multiple hundreds of dollars.
We are happy to report that the Vibe Element Coolers are fantastically priced considering what you are getting.  While they are still by no means a "budget" cooler, compared to other brands that offer similar ice life, toughness, and features, they are a steal.
When comparing to the many other premium cooler brands on the market (RTIC, Yeti, Grizzly, Engel, Pelican, Orca, nICE, Siberian, Canyon, Everest, K2, etc.), Vibe has positioned themselves as being one of the most affordable for a given size.
---
Final Thoughts
We always love trying out a new cooler brand and Vibe definitely impressed us.  The ice life is right in line with what we expect from a premium cooler and, no matter which size you go with, you should expect multiple days of ice life in typical settings.
The combination of thick rotomolded walls, premium hardware, and careful construction means that Vibe Element Coolers are also plenty tough.  They are right at home in the great outdoors and many people also use their Vibe Coolers in conjunction with the popular Vibe Kayaks.  We do wish that Vibe would go through the effort of having their ice chests IGBC Certified, however.
As for features, there are plenty.  All the typical ones are there but there are also some rather unique accessories such as the built-in stainless steel bottle openers and the pressure release valve.  There are also some additional features that can be purchased separately.
While the cooler does look nice, it is a bit lacking in color options.  We hope that Vibe improves upon this metric in the future.
All of this comes together at a very attractive price that is among the most affordable you will see out of premium coolers.  All in all, we really like what Vibe is doing and are content with their balance between performance and price.
---
Vibe Cooler Review
Check Out Vibe Coolers on Amazon
Vibe Coolers are a relatively new product from the Vibe Kayak Company.  These coolers are out to compete with the very best and come with all of the build features and accessories we are looking for.  Vibe believes that their extremely competitive asking price will make you, the consumer, choose them over the many other options out there.  The Element Series Coolers come in 20-quart, 45-quart, and 75-quart options.
Insulation Ability – 
We are content with the ice performance across the board for the Vibe Element Coolers.  You can expect between 40 hours and 140 hours of total ice life depending on which size cooler you go with and the environment you plan on putting it in.  The primary driving force behind these numbers is the thick plastic shell, premium food-grade gasket, and nice squeeze from the T-latches.
Mobility and Durability – 
The thick and simple approach is used here.  Thick walls and simple construction that minimizes how many pieces are required for construction results in an extremely tough competitor that can handle the outdoors with ease.  There are also plenty of great features that we typically see in premium coolers as well as some additional ones that are rather unique.  The two features that stand out the most to use are the built-in stainless steel bottle openers on the corners and the pressure release valve on the front face of the cooler.  When compared to other high-end coolers, Vibe is above average in the number and type of features that they offer.
Visual Appeal – 
These ice chests utilize a very straightforward but attractive design that has curves and aesthetic additions in all the right places but without making the entire package look too ostentatious.  The pressure release button and bottle openers really help to make these products stand out from the cooler crowd.  Our only complaint is the lack of color choices and, as far as we can tell, no options for custom decals or emblems.
Cost – 
The asking price for Vibe Element Coolers is simply fantastic considering what you get.  Great ice life, tough construction, and loads of features make this a great premium cooler at any price.  But seeing how it is among the most affordable premium coolers you will come across, this is a home run in our book.
Overall Rating – 
The Vibe Cooler lineup really impressed us with its ability to give us everything we want and need in a cooler but at a very attractive price point.  While the size selection is a bit lacking in just 3 choices and there aren't as many color options as we would like, the most important aspects of a cooler (ice life, toughness, and price) are all rock solid.  If you are in the market for a high-end cooler but want to stick to a budget then we highly recommend that you check out a Vibe Cooler.