Under Armour Cooler Review
Last Updated by Brandon F. on July 28, 2020
Just about all of us have heard of Under Amour.  Over the years, they have become a household name when it comes to athletic gear and shoes.  However, were you aware that they also make coolers?  Semi-recently, Under Armour expanded its product lineup to include a small selection of soft-sided coolers and hard-sided coolers.  These coolers are designed and priced in a way to compete with other mid-range to upper-range coolers on the market.
In this review, we will try out Under Armour's coolers and see if they are worth your hard-earned money.  We will go over their features, discuss their build quality, put them through an ice test, and finally give them a TheCoolerZone ranking of 0 to 5 stars.
If you are in a hurry and just want to see a brief overview of the available Under Armour Coolers and a link to buy them, check out the table below.  If you want to dig into the juicy details of how these coolers perform, just scroll on below!
Great Styling





Model
Under Armour Sideline 20 Quart Hard Cooler, Charcoal
Under Armour 36 Can Soft Sided Cooler, Black/Pitch Gray
Under Armour 24 Can Soft Sided Cooler, Blue/Black
Under Armour 24 Can Soft Cooler, Sprocket Camo
Under Armour 12 Can Soft Cooler, Blaze Orange
---
Under Armour Cooler Lineup
As of the time of this article, the selection of Under Armour Coolers is a bit limited.  As we mentioned earlier, the choices are limited to a few soft coolers and one smaller hard-sided cooler at this time.  Specifically, you can choose between a 12-can model, 24-can model, and 36-can model of soft coolers. 
The 12-can model has been dubbed the Under Armour Sideline 12-can.  For the 24-can model, there are two different versions to choose from: The Sideline 24-can and the Freedom 24-can.  Finally, the 36-can model is called the Freedom 36-can.  It is isn't obvious, the "can" designation represents how many cans that you can fit inside the cooler.  We found that the proposed numbers were a bit generous: if you plan on loading your Under Armour Soft Cooler up with ice or ice packs, the number of cans that it can store will be reduced quite a bit.
For the hard-sided coolers available, you just have on option: The Sideline 20 Quart.  This model takes a similar design approach to other smaller hard-sided coolers that you have come across but with some unique Under Armour twists.  It is worth mentioning that you may have an easier to finding the hard-sided cooler by searching within Thermos' catalog. For some reason, they seem to have categorized it under the Thermos branch instead of the Under Armour branch despite being molded with the Under Armour logo.  We also wanted to mention that we have seen rumors of a 50-quart Under Armour hard-sided cooler but were unable to locate that specific size for testing.
Noticeably missing from both the soft-sided and hard-sided selections are large coolers. Under Armour has decided to keep things on a smaller scale at this point.  Perhaps this is their attempt to "test the waters" of the cooler world.  Perhaps in the future, they will consider expanding to larger sizes.
---
Under Armour Cooler Features
These days, if a company wants to have a successful cooler, then it needs to have some features that will help it stand out from the crowd.  Under Armour does have the unique advantage of its name notoriety that will instantly attract people to it.  But that isn't enough to be successful these days.  In this section, we will go over some of our favorite features on Under Armour Coolers.
First, we will discuss some of the soft cooler features.  Depending on if you go with the Under Armour Sideline series or the Under Armour Freedom Series, you will enjoy either a single shoulder strap or dual hand straps.  This gives options for people who tend to transport their coolers on their shoulders and also for people who like to hold them the "traditional" way in their hands.  Certain models will also come with both options for added versatility.  You will be able to adjust the length of these latches and even remove the shoulder strap if you don't plan on using it.
Also, there are sewn on overhead carrying handles the allow for yet another way to carry certain models.  Talk about options!
Another clever feature is specialized hooks that are on these soft coolers.  You can see these features in the image above.  These hooks are designed to allow the cooler to hang off of fencing or other items to elevate the cooler off of the ground.  The below image shows a closeup of this feature in action.
The 12 can, 24 can, and 36 can models all come with a magnetic quick-access lid.  This allows for quick and easy access to stored items without having to fully unzip the lid.  This not only makes grabbing your favorite drink or food item a breeze but it also reduces how much exposure the chilled inside of the cooler has to the warm outside air.  This can help to boost cooling performance.
The outer shell is wrapped in durable 420D polyester and is lined with IsoTec foam insulation.  This provides an excellent protective barrier and the foam also boosts ice life (more on that in the next section).  Inside the cooler, you will find Flex-A-Guard liner.  This liner is strong, tear-resistant, and easy to clean and maintain.  This is the same type of material that you are used to seeing in other high-end soft coolers.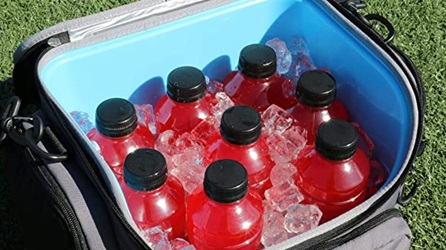 For added storage space, Under Armour Soft Coolers come with exterior pockets.  Certain models have pockets on both sides while other models ramp this up to include an additional front pocket.  This is a great place to store items that you don't want to keep cold and/or expose to the cold elements inside the cooler.
There is also Molle webbing found throughout the exterior walls of the coolers.  This provides additional attachment points for various items such as keys, flashlights, pepper spray, cell phones, and more.
As for the Under Armour Hard-Sided Cooler, there are a few tricks of its own.  Being a smaller cooler, the primary carrying method will be the rotating overhead handle.  This is pretty standard for 20-quart coolers.  This handle has a very unique and modern shape but we actually may prefer a more traditional style that includes a padded area.  The hard plastic handle here can become a bit uncomfortable to carry when the cooler is loaded up.  There are also molded in side-handles if you are someone that prefers to carry it in that method and/or you want to double team carrying it with a friend.
One clever feature of Under Armour's hard-sided coolers is how many bottle openers there are.  Not only are there bottle openers on the side (with included tie-down holes) but there is even a bottle opener located on the underside of the lid!  We can't recall a single other cooler that has a bottle opener in this location.  Overkill perhaps?  Maybe.  Clever?  Certainly!
In the below image, you can also see the embedded rubber gasket that is pretty typical of premium hard-sided coolers.  This gasket is designed to squeeze and seal when the lid is closed.  This helps to maximize ice retention, which we will go over in the next section.
Wall thickness is about average for high-end hard-sided coolers.  Depending on the specific wall in question, you are looking at anywhere from 1.5 to 2.5" thickness.  And these walls are made of HDPE construction and thick foam insulation.  This doubles as an extremely resilient outer shell while also giving a nice boost to ice retention.
The only major gripe that we have with this hard cooler is the lack of latches.  While latches can be stubborn to open and close sometime, they do provide some helpful clamping force that maximizes the amount of squeeze that the rubber gasket experiences.  Without these latches, cold air is more prone to escape.  Not only that, the cooler falling over can result in the lid accidentally opening which could spill out all of your contents.
Another great benefit of these products is their build quality.  The hard-sided coolers are proudly made in the USA (but the soft-sided coolers are imported).
---
Under Armour Cooler Ice Retention
While you may not associate "ice retention" with "Under Armour", you are likely to associate it with Thermos.  And Thermos is the brand name that the hard-sided coolers are advertised under (we assume that both companies are either owned by the same brand or have some sort of relationship for these coolers).  Whatever the case, Thermos has been in the business of keeping things cool for decades so their expertise here is essential.
We did briefly discuss some of the features that Under Armour coolers have put in place to help with ice life in the last section, but we wanted to reinforce them here.
On the soft coolers, ice performance will be boosted thanks to the IsoTec foam insulation.  If we had to put a number on it, we will say there is around .75" of insulation on most of these soft coolers.  That isn't a super thick wall but it does make a noticeable difference compared to a soft cooler that doesn't utilize foam insulation.
On the hard coolers, the rotomolded walls promise up to 2.4" thick foam.  This, combined with the rubber gasket on the lid, will help to boost performance.  But we are missing the latching system that most other hard-sided coolers of this caliber tend to have.
So how does this translate into ice retention?
To find out, we put these coolers under our standard ice tests.  This includes filling them up approximately ½ full with ice, leaving them in an outdoor setting, and occasionally opening them.  This helps to give a more "real-life" scenario compared to simply leaving them indoors and never opening them.
You can check out how these coolers fared in the below chart:
Overall, these numbers are about where we expected them to be.  Given the wall thickness that we were looking at and the other ice-retention-helping features (or lack thereof), we weren't too surprised with the results. 
As you might expect, the soft-sided coolers had shorter ice retention that the hard-sided cooler.  Another non-surprise was that the larger soft coolers fared better than the smaller coolers.  This is mostly due to the larger sizes being able to hold more ice.  More ice typically means longer ice life.  Depending on which soft cooler you go with, how much ice you put in it, and the environment you put it in, you can expect ice life to range from around 15 hours up to nearly 2 days.
The small 20-quart hard cooler enjoys better ice retention thanks to much thicker rotomolded walls.  Ice retention jumps up to around 2 to 4 days depending on environmental conditions.  This makes the Under Armour hard cooler a good candidate for a typical weekend camping trip or tailgate.  However, if you are after a cooler that can meet your needs for a week then this isn't the cooler for you unless you plan to reload the ice throughout the week.
---
Under Armour Cooler Aesthetics
Under Armour has been in the business of apparel for many years, most people would expect them to bring some unique ideas to the table in how they design their coolers.  And for the most part, this is quite true.
Their soft coolers have a more or less "standard" design.  But where they stand out is in the huge selection of color choices.  You can see a few of the large color schemes in the below image.
You will enjoy a nice selection of colors across all soft cooler sizes.  There are also more subtle color choices for those that prefer to have a more subdued look.
As for the Under Armour hard-sided cooler, it enjoys a very progressive almost "futuristic" look.  We love the aggressive corners and sharp edges.  While it won't be for everybody, the style truly does make it stand out from most of the other coolers on the market.  And you are sure to spark up some conversation based on the Under Armour logo alone since most people won't be aware that this brand even makes coolers.
Noticeably missing, however, is the ability to customize coolers with specialty colors or custom logos.  This isn't a deal-breaker by any means, but it is worth mentioning.
---
Under Armour Cooler Price
Price is always a consideration for just about everybody who is in the market for a new ice chest.  Depending on what types of features and storage size you are after, you may end up paying a pretty penny for certain quality coolers.  But that doesn't mean that there aren't better deals out there.
There is certainly a bump up in price for Under Armour coolers based on their name alone.  Thanks to years of proven quality, Under Armour has become a desired brand that many people like to show off.  So it is no surprise to us that front and center you will find the recognizable Under Armour logo on all of their cooler products.
When taking into account the overall performance features of these coolers relative to other products out there, we feel that the price is fair.  There are better budget items out there.  But if you are wanting a truly unique cooler that comes in some fun colors and designs then Under Armour may hit the right notes.
Another positive is that Under Armour's hard-sided cooler is made in the USA.  This almost always comes with a bump up in asking price.
---
Under Armour Cooler vs. Yeti Cooler
Many people wouldn't think to compare Under Armour to Yeti until they realize that Under Armour makes coolers as well.  Since Yeti is oftentimes the gold standard for premium coolers, we felt that it would be helpful to compare the brands.
There is no denying that Yeti blows Under Armour out of the water when it comes to selection.  Yeti Coolers offer an enormous range of sizes and models to meet anybody's needs. 
Also, from a quality and performance standpoint, Yeti does have a slight edge.  Their coolers outperformed Under Armour in ice life, warranty, and overall "feel".
But we do have to give the styling advantage to Under Armour.  While Yeti has plenty of fun colors themselves, Under Armour's selection is still larger.  And the styling of their hard-sided cooler is, simply put, awesome looking.
Also, Under Armour coolers are more affordable.  This is the case with nearly every brand compared to Yeti.  Yeti fetches a huge premium based on their quality and reputation.  And while there is an edge for performance, for many, it may not justify the larger asking price.
So which brand is better?  In this case, it is too close to call.  If you value styling, want to save some money, and know that you want a smaller cooler, then Under Armour may be the right choice for you.  But if you are after the highest quality coolers available, are wanting a larger size, and are willing to pay for it, then there is no denying Yeti's presence.
---
Under Armour Cooler Review
Pros: Awesome styling, Great selection of colors, Some clever features, Acceptable pricing
Cons: Limited size selection, May be too aggressive-looking for some, You do still pay a premium for the Under Armour name
Features: Built-in metal bottle opener, Side latches/tie-downs, Rubber gasket, Overhead and side handles, Side pockets (soft cooler), Molle webbing (soft coolers), Quick-access magnetic latch (soft cooler), Shoulder strap (soft cooler), hang hook (soft cooler), high-flow drain port (hard cooler)
Under Armour has branched out from their apparel to include a small selection of coolers.  This includes 3 different sized soft coolers (12-can, 24-can, and 36-can) as well as 2 hard-sided coolers (20 and 50-quart with the 50-quart not being available for this review).  You can see the apparel side of this company shine with some cool styling, particularly in the hard cooler.  A combination of traditional features combines with some more clever ones.  The overall performance is pretty standard for coolers at this price range.
Insulation Ability –
Typical ice-retaining features can be found with both the soft-sided and hard-sided Under Armour coolers.  For the soft coolers, there is an embedded layer of high-density foam.  This, combined with the inner and outer layers of fabric, help to maximize ice retention.
In the hard-sided coolers, you will find thick rotomolded walls (over 2" thick in some areas) along with a thick rubber gasket to help create a seal.  One feature noticeably missing is the inclusion of a latch system.  This not only makes the lid more prone to accidentally open if tipped over but it also produces less squeeze on the gasket which could potentially allow more cold air to escape. 
Ice tests showed that you should expect anywhere from 15 to 40ish hours of ice life on the soft coolers depending on the model size, ice levels, and outdoor conditions.  The hard-sided cooler increases this up to 35 to 60 hours of ice life.  These numbers are about average for high-end coolers based on our extensive testing.
Mobility and Durability –
There are multiple ways to carry both the soft coolers and the hard coolers.  For the soft coolers, there are traditional handles in addition to a detachable shoulder strap depending on which model you choose.  For the hard-sided cooler, there is an overhead carrying handle and molded side handles.  Both of these are pretty standard for coolers of this size.
Common features that we are used to seeing include multiple storage pockets, molle webbing, rubber gasket, etc.  But some features that do stand out include the magnetic quick-access latch on the soft coolers, specialty hooks that allow you to hang the soft cooler from a fence, a bottle opener on the underside of the lid on the hard cooler, and molle webbing.
We do wish that there was a latch system included on the hard cooler.  And the soft cooler could also include a built-in bottle opener of its own.  But overall, most of the features that we like to see are included.
The build quality is average for this level of cooler.  We do like that the hard-sided cooler is made in the USA.  But we aren't impressed with the warranty.  Other cooler brands oftentimes offer 3 or even 5-year warranties on their products so we aren't sure why Under Armour is skittish about doing the same!
Visual Appeal –
We are impressed by the huge selection of color schemes available on Under Armour's soft coolers.  There are some really fun colors along with more muted colors for those that prefer to go that route.  Being made by Under Armour, you know that they are going to make sure that you don't forget it: there are large brand logos front and center on all of these coolers.
The hard-sided cooler is much more limited in color choices.  But the shape and style of it are fantastic.  This gives is a futuristic look that is unlike anything else that we have seen.  But we wouldn't mind some more color options available for the hard cooler in addition to some customization options for both the hard and soft coolers.
Cost –
Under Armour Coolers are priced to be competitive with other premium coolers on the market.  You are paying a bit more because of the brand name.  But that is OK with us because if Under Armour is willing to put their brand on these products then you know that they are quality items that should last. 
But from a strictly cost vs performance standpoint, there are more affordable products out there.  It will depend on if you are trying to save as much money or possible or looking to make more of a statement with a truly unique cooler.
Overall Rating –
We have no major qualms with Under Armour's attempt at the cooler industry.  Their selection of soft and hard coolers is a bit limited but what they have brought to the table has some strong points.  We appreciate the inclusion of some clever features and the overall build quality and construction are certainly there.  Probably our favorite aspect is the cool styling, particularly in the hard cooler.  The performance, while not industry-leading, should meet the needs of most people as well. 
If you want to break the mold a little bit and are willing to pay a bit extra for it, the Under Armour coolers provide a fun avenue to help you stand out from the crowd at your next tailgate or lake trip.