Mammoth Cooler Review

Updated by Brandon F. on June 17, 2019
Mammoth Coolers have been around for quite some time (since 2006) and always come up in conversation when discussing what the best premium coolers are.  The original model, the Discovery Series, has been replaced by a couple of new hard-sided cooler models: The Mammoth Ranger and the Mammoth Cruiser.  In addition to this, Mammoth also offers up some drinkware and various accessories.
We will be focusing primarily on the Mammoth coolers (Ranger and Cruiser).  We will go over their features, ice performance, aesthetics, cost, and finally give them a rating based off of our internal rating system.
But before we get into this, here are a few of our favorite Mammoth Coolers.
Over 8 Days of Ice Retention

Good Value




Model
Mammoth Coolers Ranger MR125T Cooler, Tan
Mammoth Coolers Ranger MR65W Cooler, White
Mammoth Coolers Cruiser MC30T Cooler, Tan
Mammoth Coolers Ranger MR45W Cooler, White
Mammoth Coolers Cruiser MC25T Cooler, Tan
Over 8 Days of Ice Retention

Model
Mammoth Coolers Ranger MR125T Cooler, Tan
Good Value

Model
Mammoth Coolers Ranger MR65W Cooler, White

Model
Mammoth Coolers Cruiser MC30T Cooler, Tan

Model
Mammoth Coolers Ranger MR45W Cooler, White

Model
Mammoth Coolers Cruiser MC25T Cooler, Tan
---
Mammoth Cooler Lineup
As we discussed above, the now-retired Discovery Series has been replaced by two models: the Ranger Series and the Cruiser Series.  Both models have specific applications that will target different groups of outdoorsmen.
Mammoth Cruiser Cooler Series

The Mammoth Cruiser Series is the smaller of the two ice chest collections.  It focuses on being the go-to personal cooler for those who don't need a ton of storage volume but don't want to sacrifice significant ice life.  They are available in 4 different sizes: the Cruiser 15, Cruiser 20, Cruiser 25, and Cruiser 30.
Mammoth mentions that various desired applications for the Cruiser Coolers include picnics, baseball games, lunches, and short camping trips.  In other words, places where you may not need a ton of storage volume but still want something that is mobile and easy to use.
You will find that all sizes of the Mammoth Cruiser Coolers take a very similar design approach.  We will go into greater detail in the feature section below, but an obvious think you probably will quickly notice is that all of these models come with overhead carrying handles.
Mammoth Ranger Cooler Series

The larger models fall under what is called the Mammoth Ranger Coolers.  These ice chests come in the following sizes: Ranger 25, Ranger 45, Ranger 65, and Ranger 125.
Mammoth states that these larger models are designed for things such as camping, fishing trip, elk hunting, catering, and more.  In other words, applications that typically require larger amounts of both ice life and storage capacity.
You will also likely notice that instead of overhead carrying handles, the Mammoth Ranger Coolers come with side rope handles that are traditionally found on most larger coolers.  You may also notice that both the Ranger and the Cruiser series have "25" models available.  They will come with similar storage volume but will vary in their handle setup.
Overall, we are very content with the diverse size selection.  This is particularly true in the lower end.  You can find 4 different hard-sided cooler sizes that are 30 quarts or less.  This gives people after small, mobile coolers lots to choose from.
We do wish that Mammoth would have done a similar thing to their larger sizes, however.  They only have two models that can hold 50 quarts or more.  Sizes such as 75 quarts and 100 quarts would be welcome additions to the Ranger Series, in our opinion.
A Note on Sizing

Typically, when a cooler has a number in its name, that number represents storage volume in either quarts or liters.  For instance, the Mammoth Ranger 45 would come with 45 quarts of storage volume.
While this is the case for the Ranger Series, the Cruiser Series will not follow this.  Due to the design requirements, the actual storage volume for Mammoth Rangers will be a bit lower than the model name suggests.  For example, the Mammoth Cruiser 25 only comes with around 22 quarts of storage volume.
This may not be a big deal to many, but it was important that we at least mention it.
---
Mammoth Cooler Features
No matter what size and model of Mammoth Cooler you go with, you will find a very straightforward design approach.  Rather than try to wow the user with dozens of features (that they may or may not use), Mammoth instead prioritizes on making a tough cooler that can keep ice for long periods of time.  The rest is simply secondary.

As is expected, every Mammoth Cooler comes with rotomolded construction.  But Mammoth takes it up a notch by making their rotomolded walls double-sided.  In other words, there are both internal and external walls of rotomolded material.
Within these walls, you will find a thick layer of foam insulation.  This is where Mammoth's impressive ice retention comes from (we will test this in our next section).  To save on size and weight, the smaller Cruiser Series has around half the wall thickness of the Ranger Series.  This does impact ice life but also results in a much more lightweight final product.
Another key component of a long-lasting cooler is having a thick rubber gasket.  You will find that here, thanks to the thick freezer-grade gasket.  The deep channel combined with this thick rubber helps to minimize how much cold air is able to escape while the cooler lid is shut.
But a great gasket is nothing without a great latch to hold it down.  Mammoth has stuck with the proven T-Latch design (but with a twist).  Instead of having the bottom of the "T" be what holds the lid down, there is instead a hole cut in the middle of the latch.  This hole is then pushed through the steel rod on the body of the cooler to create a tight fit. 
From a longevity perspective, both the traditional T-latch design and the latch design used by Mammoth both seem to last for several years without issue.  And the latch can be easily replaced with nothing more than a screwdriver in the event that it does tear or crack over time.
You will find that all components on Mammoth Coolers are designed to last.  This is particularly true in the hinge system, which utilizes stainless steel and is extra thick.  Mammoth states that their hinges are designed to last for a lifetime.  That is quite impressive!
Additional features include a high-flow drain port and thick rubber non-skid feet.  We always prefer having a cooler that has rubber feet as it helps to minimize the likelihood of the bottom of the cooler scratching up the surface of your boat/truck bed/table/etc. when being moved.
Outside of size and wall thickness, the most notable difference you will find between the Ranger and Cruiser Series are in their handle designs.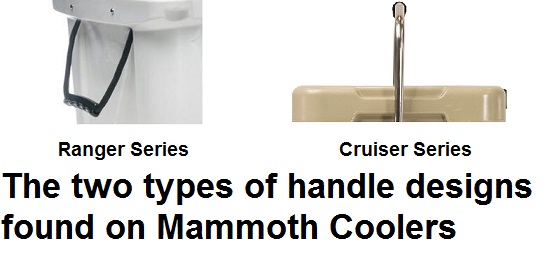 The smaller Mammoth Cruiser Series utilizes a swing-up overhead carrying handle.  These types of handles are typically found on smaller coolers and designed for one person to hold while carrying.
The larger Ranger Series coolers come with side carrying rope handles.  This makes it possible (and oftentimes encouraged!) to be carried by two people instead of one.  Both handle types will come with rubber grip handles for added traction.
You will have some flexibility if you decide to go with a 25-quart model.  Both the Mammoth Ranger and the Mammoth Cruiser have 25-quart models that come with their own respected handle type.
Beyond these things, you won't find many additional features (outside of cup holders on the lid).  Mammoth has decided to take a very conservative approach.  While other models from other brands may include things such as pressure release valves, molded fish scales, built-in bottle openers, and even internal lights, Mammoth has decided that they don't need all of those gimmicks.  They opted for a tough cooler that can hold ice.  Simple as that!  And that stand behind this with their impressive lifetime warranty.
---
Mammoth Coolers Ice Life
Ice life is always one of the top factors that play into making a premium cooler worth buying.  Mammoth's slogan is "the best cooler since the ice age", so it goes without saying that it needs to have impressive ice retention to justify such a thing!
We discussed the features that are in place to make this possible: super thick insulated walls, a thick rubber gasket, and a quality latch system.
But how does this translate into ice retention numbers?
According to Mammoth, their ice chests will last anywhere from 2 to 10+ days.  Specifically, their smaller coolers (such as their Cruiser 15 and Cruiser 20) will supposedly last 2 to 3 days while their large coolers such as the Ranger 125 are capable of a week or more.
This is obviously a huge range.  But a lot of factors go into ice life, so this is no surprise.  Cooler size, the amount of ice, outside conditions, how often you open it, and many more play a part.
We performed some of our own in-house testings to see just how accurate these figures are.  Specifically, we fill up our ice chests with around 1/3 of ice, leave them outside in the Texas heat, and occasionally open them.  This gives a more accurate representation of real-life usage.
The results we found can be seen in the chart below: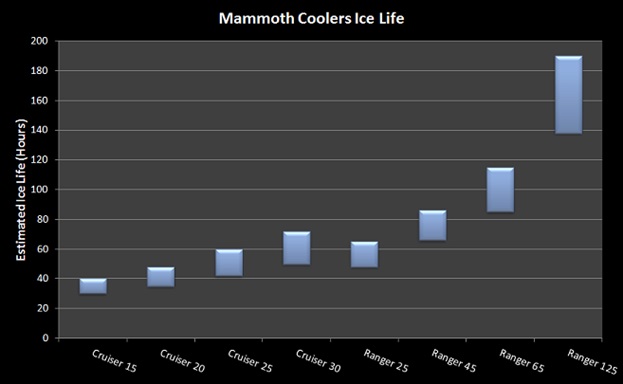 Overall, we are quite content with the results.  While we weren't able to get to quite the numbers that Mammoth advertised, this is likely attributed to our more "real-life" test that involved leaving the cooler outside and occasionally opening it.  We have no doubt in our mind that if we were to fill these ice chests to the top, leave them inside, and never open them, that the ice life would go up quite a bit.
But even when looking at our more challenging conditions, you can still get over a week of potential ice life in the largest sizes.  And the smallest sizes fared quite well compared to comparably-sized coolers on the market.
The extra wall thickness that you will find in the Ranger Series definitely pays off.  A good representation of this can be seen in the added ice life that you will get in the Ranger 25 compared to the Cruiser 25.  Despite having very similar storage capabilities, the Ranger 25 should enjoy around 10 more hours of ice life (all else equal) than the Cruiser 25.
---
Mammoth Coolers Aesthetics
Mammoth Coolers take a very conservative approach in their design.  So we aren't surprised to see them not put a lot of emphasis on making a cooler that is loaded with aesthetic additions.  In fact, Mammoth Coolers are one of the most plain-looking premium coolers that we have tested.
There is little in the way of curves or aggressive edges.  Mammoth Coolers are, more or less, nothing more than a square box with curved edges.  The only exception to this is the "Mammoth" logo embedded on the face of the ice chest body.
In addition to this, you are quite limited in your choices of color as well.  The Mammoth Cruiser comes in three color choices (white, tan, and seafoam) while the Mammoth Ranger comes in just two (white and tan).
There are also some special "Mossy Oak Edition" examples that will come with semi-camouflaged walls.  These extra choices are certainly welcome.  But overall, you are still quite limited in what colors you can choose from.
As for custom decals, colors, etc., we couldn't find any options available on Mammoth's website.  We also love when cooler manufacturers will include customization options and we hope Mammoth decides to do this as well in the future.
---
Mammoth Coolers Price
Mammoth Coolers are designed to be an investment rather than a purchase.  Their high-quality components, thick rotomolded walls, and lifetime warranty are evidence of that.  However, to achieve the level of ice retention and durability that they enjoy, it comes at a cost.
Mammoth Coolers, as you might expect, fall into the premium price tier.  This is simply the price you have to pay to be able to enjoy a cooler that is on the next level of performance.
Compared to other premium coolers, Mammoth coolers fall about in the middle in regards to price.  In other words, there will be more expensive models (Yeti, Pelican, certain models of Orca, etc.) as well as slightly more affordable models (RTIC, nICE, etc.).  But the prices, for the most part, are close enough to each other to be a pretty good comparison.
You will also see a small price decrease for the Mammoth Cruisers.  This is likely to do with having a thinner insulated wall.
But either way, we feel that the current asking prices are fair when considering the caliber of ice chest you will enjoy with a Mammoth.
---
Mammoth Coolers vs. Yeti
Both Mammoth and Yeti have been in the premium cooler business for well over a decade.  Both can offer long-lasting and reliable coolers in a variety of sizes.  But which is better between the two?
Mammoth is one of the few cooler brands that can say that they can almost keep up with Yeti when it comes to size selection.  This is particularly true in their smaller hard-sided coolers.  Also, in regards to ice life and toughness, they will perform just as well as a Yeti.  And the lifetime warranty that they offer is simply awesome.
However, Mammoth is limited in its available features.  And there aren't very many color choices to pick from.  Also, Mammoth doesn't have nearly the scope of product lines.  They don't currently offer any sort of soft-sided cooler and their drinkware selection is lacking.
Yeti has a great reputation as being a tough competitor and its ice life is long enough for most people's needs.  The sizes, color choices, and product selection is nearly endless it seems.  But the asking price is extremely high and will typically stretch most people's budget.
So which is better?
If you are after a hard-sided cooler (particularly a smaller one), then the slight economic advantage you will find with Mammoth puts them slightly ahead of Yeti.  But outside of this, Yeti is going to have a larger product selection to meet your needs.
No matter which brand you go with, you will definitely enjoy a cooler that will last for many years to come.
---
Mammoth Cooler Review
Pros: Impressive ice life, Extremely tough, Lifetime warranty
Cons: Not a lot of features, Lacking in color options, Pretty pricey
Features: Double-wall rotomolded construction, Freezer-grade gasket, Stainless steel hinge system, High-flow drain system, Non-skid feet, Built-in cup holders
Mammoth Coolers caught our eye with their now-discontinued Discovery Series and they continue to impress with their new Cruiser and Ranger Series Coolers.  The Cruiser Series is focused on those who want a small buy potent cooler while the Ranger comes in larger sizes, making it more suitable for group settings.  But not matter which series and model you go with, you are sure to enjoy great construction and impressive ice life.  They come in 15, 20, 25, and 30-quart options in the Cruiser Series and 25, 45, 65, and 125-quart selections in the Ranger Series.
Insulation Ability – 
You will find the walls of these coolers to be particularly thick.  This is thanks to quality double-layered rotomolded construction that is then injected with a thick layer of insulation foam.  This foam is particularly thick in the Ranger Series, which boasts twice the thickness of the Cruiser Series.  In addition to this, you will find a thick, freezer-grade rubber gasket and a T-Latch system that provides a lot of clamping force.
In terms of ice life, you will obviously see better numbers in the larger models.  This is due not only to simply being a larger cooler but also to the thicker insulation.  But the small models are no slouches, either.  In typical outdoor settings, you can anticipate anywhere from 25 hours up to an impressive 190ish hours of potential ice life in the largest sizes.  This is enough ice life for most people's needs and is very competitive within the industry.
Mobility and Durability – 
Mammoth Coolers have spent many years perfecting their craft and this is evident in the build quality.  The thick walls discussed above work along nicely with the quality stainless steel hardware to produce an extremely tough cooler that should last for years.  In fact, Mammoth stands behind their hard-sided coolers with an awesome lifetime warranty.
As for features, they are a bit lacking.  You will find the typical ones discussed above plug anti-skid feet and integrated cup holders on the lid.  But outside of this, there aren't a lot of notable specialty features.
It is worth mentioning that the smaller Cruiser series will come with an overhead carrying handle while the Ranger Series utilizes side rope handles.  Both handles come with a nice rubber grip which we appreciate.
Visual Appeal – 
Mammoth plays it very safe with their coolers so you won't find a lot of eye-catching aesthetic additions.  There are no major curves (outside of the logo embedded on the face) and the color is monotone and very lacking in choices.  The only notable exception to this is the Mossy Oak Collection which has a two-tone camo/solid color look that looks quite nice.  But for those looking for some "cooler bling", you may be a bit disappointed.
Cost – 
These ice chests will fall into the premium price range.  This is no surprise, as rotomolded construction and quality hardware don't come cheap.  In terms of performance, the asking price is more than justifiable as you will enjoy a tough cooler that can hold ice for many days.  And we really like the lifetime warranty that comes with these hard-sided coolers.
Overall Rating – 
Mammoth's cooler series, the Ranger and the Cruiser, are both successes in our book.  They are extremely resilient to wear and tear and ice life, depending on model and conditions, can last a week if not longer.  The approach that they take is very straightforward, however.  So you won't find a ton of features or colors to choose from.  This is a solid choice for those willing to spend money on a quality ice chest and that don't necessarily care that much about tons of fancy features or eye-popping colors.