Igloo Backpack Cooler Review
Last Updated by Brandon F. on 6/18/2019
The Igloo Backpack Cooler has been one of the more popular Igloo products for quite some time.  The series has gone through quite a few changes over the years but one thing has remained the same: Igloo strives to offer a high-quality and mobile backpack for a reasonable price.  We will go over all of the different types of Igloo Backpack Coolers below in our full review.  But first, here are some of our top choices for the best Igloo Backpack Coolers.
Ice Retention King



Ready for the Water

Model
Igloo Sportsman Waterproof Backpack Cooler, Tan/Black/Orange, 17 Quart (16 L)
Igloo Outdoorsman Gizmo Backpack-Sandstone/Blaze Red
Igloo MaxCold Cooler Backpack
Igloo Switch Marine Backpack-Gray/Seafoam, Grey
Ice Retention King

Model
Igloo Sportsman Waterproof Backpack Cooler, Tan/Black/Orange, 17 Quart (16 L)

Model
Igloo Outdoorsman Gizmo Backpack-Sandstone/Blaze Red

Model
Igloo MaxCold Cooler Backpack
Ready for the Water

Model
Igloo Switch Marine Backpack-Gray/Seafoam, Grey
---
Igloo Backpack Cooler Lineup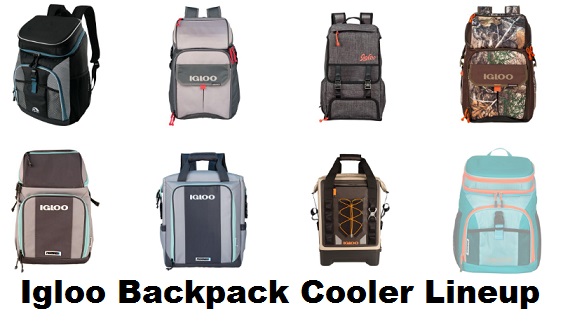 There are several different sub-series of backpacks to choose from.  Currently, you can choose between Maxcold Backpack Coolers, Outdoorsman Gizmo Backpack Cooler Bags, Daytripper Backpack Cooler Bags, Realtree Gizmo Backpack Cooler Bags, Marine Ultra Backpack Coolers, Sportsman Backpack Coolers, and Hard Top Backpack Coolers.
That is a lot of different products to choose from!
It might be overwhelming trying to figure out which model is best for you, but most of them share a lot of similar traits (we will discuss this in greater detail in the features section).
As for capacity, there is a decent size range.  But obviously, being a backpack, you won't find any huge coolers that hold 50+ quarts (that would make for a very large backpack!).
Size capacity ranges from around 17 quarts up to 32 quarts.  This is large enough to store anywhere from 18 to 32 cans or quite a few chilled lunch items.  If you are wanting something on the smaller side then stick with Sportsman Backpack or the Maxcold Backpack Cooler.  And if you need something a bit larger, we recommend the Marine Ultra Switch Convertible Backpack or the Outdoorsman Gizmo Backpack.
---
Igloo Backpack Cooler Features
Igloo has managed to squeeze in quite a few features into their backpacks.  As we mentioned earlier, there will be some specific traits that are exclusive to a given model but most of the features are commonly shared across most products.
Any quality backpack needs to be able to have adjustable straps for different people and different situations.  Igloo has this covered and offers very easy-to-use adjustable straps on all of their backpack coolers.
In addition, many models actually have multiple carrying methods.  This can include not only overhead carrying handles but also a padded shoulder strap.  And in some models, this shoulder strap can actually be tucked away in a pocket to get out of the way when not in use.
You will also find that the inner liner of Igloo Backpack Coolers is leak resistant and also coated in an antimicrobial material.  This helps to minimize the chance of bacteria or other nasty stuff growing on the liner.
Outside of this liner, you will find Maxcold insulation on nearly every model.  Also, Igloo has recently increased the thickness of their Ultratherm foam by up to 25%.  This gives these backpacks a nice boost in ice retention.
One of the best qualities of these products is the huge number of storage options you will enjoy.  No matter which specific model you go with, you will find ample additional external storage thanks to a host of clever zippered and mesh pockets.  You can put your valuable and fragile items that you want better-protected inside the zippered pockets and the more durable items can be stuck in one of the mesh side pockets.
One of our favorite models is the Sportsman Backpack Cooler.  You can read up on how much we enjoyed the hard-sided Igloo Sportsman Coolers in our giant review and their backpack is just as impressive.
It comes with some clever additional features including Cool Riser Technology, a drain plug, and even a bottle opener!  This really is the all-in-one backpack that you have been looking for.
While there are plenty of features that help with usability, Igloo also has you covered when it comes to build quality.
The seams that hold the various panels together enjoy thick and durable seams that ensure leak resistance and the ability to handle the wear and tear of daily use.  In addition, in models such as the Marine Ultra Backpack, you will find non-corrosive hardware and attachment points that can be exposed to water without concern.
---
Igloo Backpack Cooler Ice Life
Ice retention is very important, even on a backpack cooler.  And while you likely won't see the level of ice retention that you are used to seeing on hard-sided coolers, a well-made backpack cooler can still achieve impressive ice duration.
To help maximize this, Igloo has included various features including Maxcold insulation, Ultratherm technology, Cool Riser technology, and a quality liner that will adequately hold melted ice.  In fact, Igloo has come out and said that their best backpack coolers can see up to 2 days of ice life!
But what sort of ice numbers are we looking at?
To help with this, we did some of our own in-house testing.  We fill the coolers to around 1/3 full of ice, leave them outside, and occasionally open them.  This gives you a better representation of real-life results.  The results we found were as follows:
Overall, we are pretty satisfied with these numbers.  You won't find ice performance on the level of some of the premium soft-sided coolers offered by Yeti, RTIC, etc. but it is still good enough for your average day trip.
The real winner here is the Sportsman Backpack Cooler.  Thanks to its thick insulation and Cooler Riser technology, ice life should last over a day in most cases.  And while we didn't quite get to the 2-day mark that Igloo stated, it wasn't too far off.
---
Igloo Backpack Cooler Styling
We really like the progressive styling of most of these backpack coolers.  You will find that all models come in a nice multi-color layout that has just right the amount of "pop".  That being said, you will be a little limited in what color choices you have: many models only have one color and even the largest color selection is limited to three.

For instance, the image above shows the three current color choices for the Outdoorsman Gizmo Backpack Cooler Bag.
---
Igloo Backpack Cooler Price
A big reason why these backpack coolers are so popular is because of their price.  Nearly every model is very reasonably priced and should be within most people's budgets.  However, there will be a decent range of costs.  For instance, the top-of-the-line Igloo Sportsman Backpack will fetch a higher premium due to its advanced design and higher-tier materials.
But considering ice retention, build quality, and the features that you get, we feel that all Igloo backpack coolers are at an attractive price point.
---
Igloo Backpack Cooler Review
17 to 32 quarts
Budget to Intermediate-Priced
Pros: Very reasonably-priced, Nice features, Good build quality, Plenty of choices
Cons: Limited colors, No extreme long-term ice solution
Features: MaxCold insulation, Multiple storage pockets, Cool Riser technology, Ultratherm insulation, adjustable straps, bottle opener, antimicrobial liner
The Igloo Backpack Cooler comes in a host of sizes, colors, and configurations.  But all share a common theme of being extremely mobile and offering good build quality.  Ice life will vary but can be up to a day and a half or so with the highest end model.  But all models will enjoy a boost in ice life thanks to the recent update that increased insulation thickness by up to 25%.  Storage sizes range from around 17 quarts up to 32 quarts.
Insulation Ability – 
We are really happy that Igloo decided to implement 25% thicker MaxCold insulation technology on these backpacks.  It really helps pump up with ice retention ability and makes most of them capable of a typical day trip.  The higher-end models will include additional insulating foam, Cool Riser technology, and optimized construction to stretch the ice life even further.  Depending on which model you go with and the specific conditions you put it though, you can expect ice life to be anywhere from 5 hours up to 36 hours.
Mobility and Durability – 
Being a backpack cooler, mobility is almost a given.  You will find several of these models come with multiple carrying methods and also offer adjustable straps.  For storage, there will be plenty of additional pockets (both zippered and mesh) to store your non-chilled items.  And certain models will come with their own unique features that cater to a particular audience (for instance, the Marine Ultra line will come with corrosion-resistant hardware and a beefed up outer shell).
Build quality across the board is quite nice.  The seams are solid and the fabrics used are thick enough to handle typical wear and tear.
Visual Appeal – 
We really like the attractive styling of the Igloo Backpack Coolers.  All of the models have undergone a recent facelift and the styling is both progressive yet still practical.  All models will offer multi-color designs that typically feature some subtle colors and a bit of bright color the some "pop".  If we had to make a minor complaint, is that we wish Igloo would offer up some more color options for a particular model.
Cost – 
In general, you will find the costs of these backpacks to be very reasonable.  Igloo has always been known for its attractive price point and that is no different here.  You will find that the top-tier models do creep up a bit more in price but that comes with improved performance and build quality.  So you are getting more for your money.
Overall Rating – 
The Igloo Backpack Cooler lineup is an overall success.  We really like the recent updates that Igloo has made to them.  Previous reliability issues seem to be sorted out and overall ice life has also enjoyed an increased.  Plus there are enough models and sizes to meet most people's needs.  You won't find an ultra-premium model that can handle with the best from Yeti and RTIC but for those who are ok with a step below this (and for a much lower asking price), Igloo has you covered.