Grizzly Cooler Review
---
Last Updated by Brandon F. on September 1, 2022
This is a listing of all Grizzly Coolers for sale that have been reviewed and we also list what we think are the best Grizzly Coolers with our internal ranking system.  Grizzly uses to specialize mostly in hard-sided coolers but they have since expanded to soft-sided coolers (called Grizzly Drifter Coolers) as well as various drinkware products.
Grizzly Coolers are intended for those who need a cooling solution for their extended outdoor stay: be it hunting, fishing, camping, or any other scenario.  A premium offering, it promises impressive ice life and a durable product that should hold up to all the abuse you can throw at it, but for a premium price tag.
We feel that Grizzly has some very unique benefits so if you are in the market for a higher-end product we recommend checking out our review.  If you are in the market for a high-end cooler, we also recommend you check out our reviews of Engel Coolers, K2 Coolers, Mammoth Coolers, Pelican Coolers, and Yeti Coolers.
Awesome Ice Retention


Extremely Mobile


Model
Grizzly 40 Cooler, Red, G40, 40 QT
Grizzly 20 Cooler | 20 qt Ice Chest Durable Rotomolded Insulated | Made in USA | Warranty for Life | For Beach Boat Camping Fishing Hunting | G20 | Lime
Grizzly Drifter 20 | 20 qt Flip-top Soft Cooler Bag | Ice Chest for Beach Boat Camping Car Fishing Golf Hiking Hunting Lunch Picnic | Lightweight Portable Insulated Waterproof | Gunmetal/Black
Grizzly Drifter 12 Softpack Cooler
Our Rating (Out of 5)


---
Grizzly Cooler Ice Life
Grizzly Coolers have an optimal construction that allows them to have an extremely long ice life.  They have stated that they believe they have the longest ice life of any cooler on the market.  This is a huge statement to make, considering how many other premium cooler brands there are out there that advertise their long ice retaining ability.  What does Grizzly do special to feel confident claiming this?
First, they have numbers to back it up.  According to their website, their coolers are capable of up to 19 days of ice retention.  This is an incredible number, especially considering that most of the other premium cooler brands on the market only advertise up to 12.
Now it is important to note that this figure comes from their enormous G400 model, which can hold over 500 cans in it.  And we assume that these numbers were what resulted from an optimal environment.  Potentially storing indoors and loading up to the brim with ice. While we didn't see quite those impressive numbers in real-life tests, the results were still very good.  Specifically, we saw anywhere from a couple of days of ice life up to 10.  Below are the results of our actual testing:
Roto-molded Construction
All Grizzly coolers are constructed using rotationally molded plastic.  This process allows for a single, seamless piece of plastic rather than multiple pieces that have to be attached.  The result of this manufacturing process is a thick, consistent mold that doesn't have any weak points or potential leak paths for cold air to escape.
Remember: it doesn't make much of a difference how thick the walls are if one wall is thinner than the rest.  The process of roto-molding takes significantly more time and is a more expensive manufacturing process than conventional cooler assembly, but you can tell the positive effects it has on performance.  And these gains are realized not only in the durability but also in the ice retention.
Unique Material
Grizzly coolers are constructed using Eco-mate 2# foam.  This is a sustainable and EPA-friendly polyurethane foam that has very impressive insulation ability while not being overly heavy.  The entire shell and lid consist of this foam, meaning that your food and beverages have protection in all directions from the outside elements.
Also, they lay this material on thick.  Thicker walls mean better insulation, and Grizzly has some of the thickest walls in the business.  This increases the overall size of the cooler but for someone who wants the longest ice life available, this is a small price to pay.  Also, these products aren't intended to be highly mobile.  They are meant to keep stuff cold for long periods!
Impressive Latching System
A common weakness and ultimate failure mode of coolers are in the latch system.  When a latch fails or even begins to fail, it loses its "bite", and this can result in less than an air-tight gap between the lid and the body of the cooler.  This means it is much easier for cold air to escape outside of the cooler, which can result in significant drops in ice life.
Grizzly coolers use mold-in brass inserts for their latching systems.  This is a stark contrast to many competitors who opt for a plastic mechanism.  Using brass and molding it into the cooler results in a longer-lasting and better-performing system.  It is also still very user-friendly, and just about anybody can easily open and close a Grizzly cooler.
Hinge That is Meant to Last
These coolers use molded hinges that are accompanied by stainless steel pins.  Many cooler companies skimp on the hinge and go with simple plastic to save money on many of their coolers.  Since the hinge is an integral moving part of the cooler, it is exposed to constant stress and strain from the opening and closing of the lid.  Over time, this can cause plastics to warp and crack, resulting in less than stellar seal and loss of cooling performance.
By using stainless steel not only does it help resist potential rusting but it can also handle many more cycles of opening and closing before concerns of breaking.  This design also helps to handle the lid being opened too much and pushed down on, which can be a death sentence for many lower-end coolers.
Thick Rubber Gasket
The seal between the lid and the body of the cooler is extremely important, as it is the largest intended opening found on the cooler.  A gasket that is not fully sealed can allow cold air to easily escape, which significantly reduces your ice life.  Grizzly uses a thick rubber gasket that forms an airtight seal and can handle load after load.  Also, due to its size, you don't have to worry about a small crack or cut causing a failure of the gasket material.
---
How Tough?  Bear Resistant Tough
All Grizzly coolers are IGBC Bear Resistant.  This is a highly desired tag that represents that it can withstand the force of a bear trying to open it!  This is thanks to a combination of the extra thick roto-molded polyurethane, the stainless steel hinges, and the premium latch system.  While you are likely to never have to deal with a bear trying to open your cooler in the real world, it goes to show just how well-made this product is.
---
Grizzly Cooler Features and Accessories
Several convenient accessories are standard on all Grizzly coolers which makes them very user-friendly.  One common theme of the extra tough premium coolers is that they are quite bulky, which means that normal cooler maintenance can be quite laborious.  Thankfully, these products include some helpful features to make them much easier to handle.  While they are still quite heavy when loaded up, these handling features should make the task of moving them a little easier.
Jumbo Molded Handles
Let's be honest: a premium cooler loaded to the brim with ice and gear can be extremely heavy.  Thankfully, these products include jumbo molded handles to go along with the flexible rope handles.  This makes it much easier for a single person or two people to carry, and you know that the molded handles will last for the lifetime of the cooler.  To go with these are also the convenient flexible rope handles for those times that it may be difficult to get a good grip on the cooler itself.
Oversized Drain with Drain Channel
One of the toughest things to do is try to tilt a large cooler full of melted ice over to remove the water.  Grizzly coolers come with an easy-to-use drain that is extra large which helps to minimize how much time you have to spend draining them out.  Also, the drain channel is oversized to allow more water to escape.  It is sealed with a high-quality gasket that is sure to keep the cold in and the warm out.
Lifetime Warranty
All Grizzly Coolers come with a lifetime warranty.  This protection is reassuring and represents that if something ever does go wrong with your product, the manufacturer will take care of it.  We are impressed that Grizzly will stand behind their product like this.
---
Grizzly Cooler Aesthetics
The styling associated with Grizzly Coolers is a nice blend of classic and modern.  The chick rubber latches and hooks combined with the subtle but powerful curves create a timeless look.  There are also quite a few different color options, particularly in the smaller sizes.
For instance, the Grizzly 20 Cooler comes in a variety of colors including seafoam, tan, teal, red, and more.  With this level of selection, most people will find a style that works with their taste.
---
Grizzly Cooler Price
Similar to most premium coolers, Grizzly coolers aren't cheap.  The process of roto-molding manufacturing, using quality components, and implementing pertinent features will drive up the price of any cooler.
However, if you are after maximum ice life, optimal toughness, and good looks, then you should feel that the high asking price for a Grizzly Cooler is more than worth it.
---
Grizzly Cooler vs. Yeti
Grizzly and Yeti have been going at it for years for the top spot in the cooler world.  But which is better?  
Grizzly Coolers take a very similar approach as Yeti.  They have a huge selection of cooler sizes.  And the coolers that they do offer come with the thickest insulation, the highest quality materials, and the most careful craftsmanship of just about any brand.  There are also plenty of different color choices.
In our opinion, it is too close to call.  Grizzly might enjoy a slight edge in terms of ice life but as for overall toughness, they are both pretty equal.  Both are IGBC Certified so trust us when we say that if they can handle a Grizzly Bear, they can handle you!
We recommend that you go with whichever product you can find for a better price.  Most of the time, that will probably be by the Grizzly by a hair but not always.
---
General Product Information
Products reviewed: Grizzly Cooler, Grizzly Soft Drifter Soft-Sided Cooler
Range of storage sizes: 15 to 400 quarts
Range of estimated ice life: Up to 10 days
Materials used: Plastic, metal, and rubber
Price range: Premium
Wheeled options? No
Company website: http://www.grizzlycoolers.com/
---
Hop on below to see our full, detailed review of Grizzly Coolers.  We have also provided a link to our full review of the Grizzly Drifter Soft-Sided Cooler.
Grizzly Drifter Review
Our Rating:

The Drifter is a small but potent lineup recently released by Grizzly.  These coolers don't have the longest ice life but are adequate for the size and, outside of some loose stitching, are plenty tough.  Also, they are at a competitive price point.
Pros: Plenty of additional storage areas, Attractive styling
Cons: Threads can unravel easily, Limited size options
Grizzly Cooler Review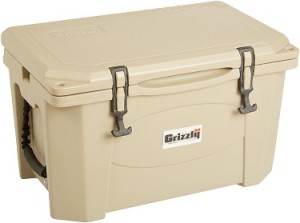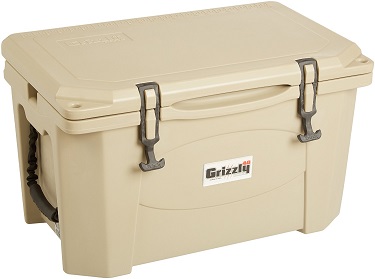 Storage Size: 15, 20, 40, 60, 75, 150 and 400 quart sizes
Construction: Plastic, metal, and rubber composition
Cost: Premium-priced
Features: Over-sized drain, skid-free rubber feet, rubber gasket, easy snap latches, side rope handles, built-in ruler
Pros: 

Some of the best ice life on the market, Incredibly durable, Aggressive look, Easy to carry considering the size
Cons:

 Very expensive
| | |
| --- | --- |
| Insulation Ability | |
| Mobility and Durability | |
| Visual Appeal | |
| Cost | |
| Overall Rating | |
Check Current Prices on Amazon

This is our Grizzly Cooler Review.  The Grizzly Cooler is an American-made premium cooler offering for those looking for a high-quality, well-constructed ice chest that will maximize ice life while being able to withstand the harsh outdoor setting.  These products are roto-molded, meaning that they are a solid piece of hard plastic and extremely tough.  The hinge is molded in place and stainless steel hardware is used to resist failure or rust.
Other helpful features include a 2" drain plug, trademarked BearClaw latches that keep a secure grip and require no hardware, non-slip rubber feet, and an embossed ruler.  Cooling is maximized through the use of pressure-injected insulation as well as a premium rubber gasket.  To help with mobility, side rope handles with a nylon grip sleeve are added on both sides.  These products are available in a variety of colors, come in 15, 20, 40, 60, 75, 150, and 400-quart options, and are made of plastic, metal, and rubber.
Insulation ability – 
These coolers excel at maximizing ice life.  The thick injected insulation into the rotomolded walls means that little temperature change will happen across the walls.  Did we mention thick? You will find wall thickness to exceed 2 inches in many places!
The well-fitted gasket and secure BearClaw latches help to avoid much cold escaping through the lid.  Finally, the raised legs help to minimize how much heat exchange happens through the ground.  These three facts mean that this cooler should keep things cold for a long time.  Expect ice life of anywhere from 7 to 10 days on the larger sizes and 6 or more days on the smaller sizes.
Mobility and durability – 
Grizzly Coolers are very well-constructed ice chests and as such can handle a lot of abuse.  The walls are very thick and, being one piece, there aren't any weak points.  The hinges and latches on the lid, which can oftentimes be failure points on other coolers, are extremely strong and either molded directly onto the body or made of tough stainless steel, making them impact and rust-proof.  The side handles are strong enough to carry a full load without breaking and the nylon grips provide extra gripping power.
Visual Appeal – 
These are very aggressive-looking coolers and we love them!  The side and front faces are sunk in and jagged contours are molded into the face, producing a very attractive and intimidating cooler.  This is a nice contrast from many other premium coolers who opt to go with a flat and mundane box design.  The rope and hinges are an alternate color from the monochromatic body, and there are a few different color choices to mix things up.  There are also quite a few color choices, particularly in the smaller sizes.
Cost – 
These are premium coolers and come with a premium price that is well into the highest tier.  You will be expected to pay a high asking price to enjoy this cooler but the features and performance more than justify it.
Overall Rating – 
The Grizzly Cooler Review earns 4.5 coolers out of 5.  In terms of ice life, these ice chests are some of the best on the market.  High-quality materials and optimal construction are used and it shows up both in the performance as well as the looks.  The only drawback is the price but if someone is looking for a cooler that will last them for years and provide the continuous great performance it is well worth the price.