Orca Cooler Review – The Ultimate Orca Cooler Guide
Check Out Orca Coolers on Amazon
We had a chance to test out some Orca Coolers recently and this Orca Cooler: Ultimate Guide will lay out the different models, how they performed, and our thoughts on the best Orca coolers.  But before we get into the details, here is a table listing some of the key points of Orca Coolers.
Tons of Storage and Long Ice Life


Good Value



Model
ORCA ORCG140 Cooler with Extendable flex-grip handles for comfortable solo or tandem portage, 140 quart, Green
ORCA Cooler, 75 Quart, Tan
ORCA ORCG058 Cooler with Extendable flex-grip handles for comfortable solo or tandem portage, 58 quart, Green
ORCA ORCP040 Cooler with Extendable flex-grip handles for comfortable solo or tandem portage, 40 quart, Pink
ORCA ORCW026 Cooler with Extendable flex-grip handles for comfortable solo or tandem portage, 26 quart, White
Tons of Storage and Long Ice Life

Model
ORCA ORCG140 Cooler with Extendable flex-grip handles for comfortable solo or tandem portage, 140 quart, Green

Model
ORCA Cooler, 75 Quart, Tan
Good Value

Model
ORCA ORCG058 Cooler with Extendable flex-grip handles for comfortable solo or tandem portage, 58 quart, Green

Model
ORCA ORCP040 Cooler with Extendable flex-grip handles for comfortable solo or tandem portage, 40 quart, Pink

Model
ORCA ORCW026 Cooler with Extendable flex-grip handles for comfortable solo or tandem portage, 26 quart, White
Orca is another relatively new contender to the premium cooler game.  As you have likely been able to tell from our extensive cooler reviews, there are more and more premium cooler brands coming to the market every year and this is great for you, the consumer.  However, it can be easy to become overwhelmed with how many options there are (which are why we are here to help!)
Orca takes a very straightforward approach to their cooler design.  They hope that by offering a simple and proven design as well as what they feel is an attractive price point, they will be able to get a nice piece of market share in the premium cooler realm.
The Orca Cooler Lineup
Orca Hard-Sided Coolers
Orca has a nice size range of hard-sided coolers to choose from.  They also have some other really unique products including drinkware, a Backpack Cooler Pod, and a Backpack Cooler Podster.
You can read up on our new review of the Orca Pod and Podster here.
Check Out Orca Coolers on Amazon
The available cooler sizes for Orca hard-sided coolers include the Orca 20, Orca 26, Orca 40, Orca 58, Orca 75, and the Orca 140.  As is the industry norm, the number corresponds to the internal storage volume in quarts.  This is a nice size selection and spans the small, medium, large, and giant size categories on our site.  It not only hits the "sweet spot" of small, medium, and large sizes (which, from our experience, are the best sellers) but also throws in a giant size for people who are looking for some serious storage volume.
Orca Cooler Ice Life
Orca Coolers are designed to hold ice for long periods of time.  According to Orca's website, you can see up to 10 days of ice life in optimal settings.  If you have read more than a couple of TheCoolerZone.com cooler reviews you will know by now that real-life ice life typically is nowhere near the advertised "perfect" ice life that cooler companies like to post.  The best way to find out actual ice life is to test them yourself!  But before we get into that, let's go over the various features that Orca Coolers have to prolong ice life.
As is the norm of premium coolers today (and basically a requirement), Orca coolers are made of roto-molded polyethylene.  Rotomolding has been proven to be extremely effective in maximizing ice life as the cooler shell is a single piece.  This minimizes how many leak paths hot air has to sneak in and warm things up.  We haven't measured every single size but from the examples we have put our hands on, you can expect wall thickness of around 2 to 2.5".  This is about average for premium coolers that we have come across and is far thicker than many lower-end coolers in the industry.
We do like that most of the walls are pretty similar in thickness.  Remember, having 5 walls that are 3" thick and a lid that is only 1" thick reduces the effectiveness of the thicker walls!  Heat will go through the path of least resistance so it is good to have consistent barriers throughout.
There is a nice, heavy duty gasket between the lid and the walls which provides a nice seal from outside air.  Having a thick gasket is also essential for maximizing ice life.  Brands that skimp on the gasket and go with a thinner example leave themselves prone to allowing leak paths for hot air to enter through.
Check Out Orca Coolers on Amazon
The latches on Orca coolers utilize the typical T-latch design that has become an industry standard but they have a unique twist in that the "T" portion is in the shape of a whale's tail which is in the Orca trademark symbol.  We don't really see any positive or negative effect on ice performance by doing this but we still thought it was really cool and helps to make Orca Coolers stand out from an aesthetic standpoint (more on that below).  The latches provide a good bite thanks to the stretchy rubber they are made of and it really helps to get a good squeeze from the gasket.
There are some accessories that might further assist in ice life such as the Orca Iceblox but we didn't have one and we like to test coolers as-is.  But for someone after the extra performance (or that simply ran out of ice) adding an Iceblox to the inside of the cooler might help.
Orca Cooler Ice Life Test
As we mentioned above, Orca states that their coolers are capable of up to 10 days of ice life.  In our real-life test, we didn't quite see these impressive numbers but the results were still more than capable for nearly every application.  We loaded up the cooler with our standard amount of ice (around ½ full which gives room for other items) and put it outside in approximately 90F weather.  For the sizes that we didn't have, we interpolated the results based off of our proprietary approach that has been tweaked by testing hundreds of different coolers over the years.
Again, it is important to emphasize that RESULTS WILL VARY based off of many factors.  External temperature, how often you open the cooler, how much other "stuff" you have in it, how much ice you use, etc. all play a part.  Use these numbers as a rough guideline.  Since there are so many variables, we apply a range to our test to account for this.
The results were as follows: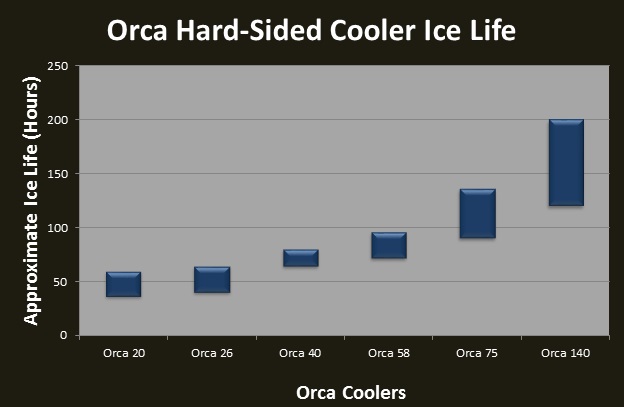 Check Out Orca Coolers on Amazon
There are several important things that can be concluded from the results:
Ice life, as expected, goes up significantly as the cooler becomes larger.  We have seen this time and time again and what it really boils down to is that more ice = more ice life!  Despite wall thicknesses being pretty consistent throughout the size range, the extra ice more than compensates for an increased surface area.  It also makes us question why Orca Coolers puts the same "10-day ice life" tag on all sizes of their coolers.  If any company out there can make a 20-quart cooler that has 10 days of ice life then we are all ears!
Ice life is lower than what you will see in a "perfect world".  If you load your cooler up to the brim with ice, stick it in a refrigerator that is at 33F, and never open it then your ice life is going to be extremely impressive!  But let's get serious.  Coolers are usually being used out in the summer heat, being open constantly, and oftentimes are half-filled (if not less) with ice.  Because of this, your true ice life will go down substantially.
There is a huge range of ice life, particularly in the larger sizes.  Going along with the discussion above, there are many factors at play.  Because of that, true ice life can be all over the place.  You especially see this in the larger cooler sizes.  Remember, really think long and hard about what sort of environment you plan on putting your cooler in and you will get a better idea of where on the ice life range it will fall.
Compared to other premium coolers, ice life is comparable.  If you check our other cooler reviews or our Cooler Comparison Chart, you can see how other premium coolers fared.  Overall, Orca Coolers matched every very similarly to all but the very top performers.  They are also a noticeable step above lower-end coolers in ice life.
Orca Coolers Toughness
Orca Coolers are in the game to compete with the very best.  This obviously requires having a long ice life but it goes beyond that.  Their coolers need to be able to handle the typical wear and tear that a cooler goes though.  This can include things such as being dropped, kicked, scratched, and exposed to all that Mother Nature can throw at it.
The thick roto-molded walls mentioned above play a huge role not only in ice life but also in general cooler toughness.  The thick, single-piece construction means that there aren't any weak points on the shell and it can handle the occasional bump or scratch.
Check Out Orca Coolers on Amazon
The components (latch, hinges, bolts, etc.) are also extremely important and can oftentimes be weak points on lower-end coolers.  All of the components used here are of good quality.  The hinge beam is nice and thick and appears to be made of steel which will keep it from becoming rusted.  The latches are made of thick rubber and should be able to handle thousands of cycles without concern of tearing.
The only issue we have come across (and it isn't one that we personally experienced) was with the drain plug.  There have been some complaints that the plug does not form a good seal and is notorious for leaking.  While this isn't a deal-breaker, it was worth mentioning.
Also, one thing we don't see Orca proudly displaying which is an industry norm in the premium cooler market is being Certified Bear Resistant by the Interagency Grizzly Bear Committee (IGBC).  While most people will thankfully never have to worry about testing their cooler's ability to handle a grizzly bear, having this seal shows that your cooler is extremely tough and up to any challenge you can throw at it.  Frankly, we aren't really sure why Orca hasn't pursued this yet.
Orca's warranty is quite good and what we like to see in this price tier.  They offer a limited lifetime warranty on all of their hard-sided coolers that covers manufacture defects and workmanship under normal use.
Orca Cooler Features
Compared to a lot of other premium cooler brands, Orca's features are pretty Spartan outside of one unique addition.  This might not be a big deal to many as they don't buy a cooler for the features, but to others, it might be the difference maker between purchasing an Orca Cooler and an RTIC, nICE, and Yeti cooler.
All Orca hard-sided coolers (outside of the Orca 20) utilize essentially the same side flex-grip handles.  These handles have a nice grip and are designed so that either one or two people can carry the cooler.  Outside of this, there really aren't any other mobility features.  Extending handles, wheels, etc. are nowhere to be seen.
There are also easy-flow drainage spouts on every unit which makes emptying melted ice much easier.  On a somewhat interesting note, we noticed that the spout is located on the side for every size.  We prefer having the drain spout on the front or back side on the larger coolers as it is much easier to empty water this way but this may just be a personal preference.
Also, things such as built-in bottle openers, measuring tapes molded on the lid, built-in cupholders, reversible feet, etc. are not present.  We are seeing more and more of these types of accessories on premium coolers and question why Orca decided not to utilize them.  They do have a few somewhat common accessories for sale including internal baskets, ice boxes, pads, etc. but they will cost extra money and don't come pre-installed in a cooler.
Check Out Orca Coolers on Amazon
Really the only feature worth noting is the mesh cargo net installed on the backside of every Orca hard-sided cooler.  We actually really like this feature as it provides helpful storage space for common items that go along with coolers such as cozies, bottle openers, etc.
Orca Coolers Visual Appeal
Orca's base design is pretty simple.  As we have mentioned earlier, there is little in the way of external features outside of the mesh cargo net (which we love) and the T-latches that are molded into the shape of Orca's trademark.  The shell itself is very plain with only some subtle contours on the front, rear, and side.
So you may be surprised when you hear us say that Orca's visual appeal is one of its strongest selling points!
While the body itself is pretty simple, the number of unique colors, logos, and patterns you can order an Orca Cooler in is simply mind-blowing!
There are up to 7 different categories of designs you can choose from depending on which size Orca cooler you go with: Classic, Camouflage, Collegiate, Hero, Licensed, Lifestyle, and Team.
"Classic" consists of traditional solid colors include white, blue, green, pink, and much more.  This color variety by itself trumps most other cooler brand's color selection.
"Camouflage", as you might have guessed, are coolers that are covered in camo.  There are several different patterns to choose from including A-Tacs, Desolve, Kryptek, and more.
"Collegiate" are coolers adorned with the logo of various college sports teams.  There are dozens to choose from and we are frankly quite impressed that Orca was able to get sponsorships by all of these schools.
"Hero" honors the first responder and EMS personnel that help to keep our country safe.  They come in a variety of colors.
"Licensed" have the official NRA (National Rifle Association) and NWTF (National Wild Turkey Federation) logos stamped on them.  They are available in several different color backgrounds.
"Lifestyle" contains the American flag printed on the lid and a variety of base colors for the cooler shell.
"Team" is a series of coolers with a solid shell and lid of differing color.  This is great for representing your favorite sports team without having to include their official logo on the cooler.  Also, there are plenty of aftermarket ways to stick a logo sticker on your cooler if you so desire.
One important thing to mention: there is a pretty noticeable price jump for coolers with the custom colors or prints.  The "Team" series coolers are the most subtle increase but for the others, the surcharge is quite significant.
And speaking of price, we will get into that next.
But overall, while the shape and design of Orca Coolers themselves is nothing groundbreaking, the huge range of color customizations that you can enjoy is really impressive and it leads the pack compared to other ice chests on the market.
Orca Coolers Price
Obviously asking prices have a huge role in determining the best cooler for you.  Premium coolers, in particular, can be quite expensive and we have seen countless people's astonished faces when they see the sticker price for a 100+ quart premium cooler.
So how do Orca Coolers compare to other coolers in regards to price?
First off, it is important to understand that prices on coolers can fluctuate quite a bit.  Things such as availability, shipping costs, etc. can all play a huge role in how much you end up paying to get a new ice chest to your doorstep.  Because of that, we don't like to use absolute values when discussing coolers.  Sometimes one particular cooler may be more expensive than another and other times (during a sale) it might end up being cheaper!
However, we can use good approximations.  These give us a general idea of how one lineup of coolers matches up to another.  For instance, RTIC coolers are almost always cheaper than Yeti coolers.  And Igloo coolers are almost always cheaper than RTIC coolers.  The specific percentages might change but the underlying fact holds true.
As for Orca Coolers, they tend to fall in the middle of the premium price tier.  Some brands such as RTIC and Grizzly are more affordable while other brands such as Yeti and Pelican tend to be higher.  However, this is only true for Orca Coolers in "Classic" and "Team" color schemes.  If you want one of the specialty colors such as camouflage or one with a college logo, there is a noticeable price jump.  This price jump actually ends up putting Orca Coolers in the same price area as Yeti and Pelican.  Orca states on their website that this price jump is due to the handmade hydro dipping process that is necessary to properly put the pattern on the cooler.
As a bit of a visual aid, we have listed some pricing tiers below.  This list is by no means all-inclusive and is just a rough guideline as to where Orca stands compared to the many other premium-priced cooler brands on the market.  Also, the order of the coolers in a particular tier has no meaning and is random.
Orca Cooler Prices in "Classic" and "Team" Colors:

Orca Cooler Prices in "Camouflage", "Collegiate", "Hero", "Licensed", and "Lifestyle" Colors:
As you can tell, Orca coolers are not cheap.  While no coolers in the premium tier are considered cheap, Orca coolers are among the most expensive, particularly when you buy one that utilizes the hydro dipping process.
From a performance standpoint, Orca doesn't really do anything that many of these other coolers achieve.  Ice life, toughness, features, and warranty are all competitive but by no means industry-leading.  The main selling point that these coolers have is their awesome and unique lineup of color choices.  If you are dead-set on getting a camouflage cooler, for instance, your choices are limited and you may have to pay the high asking price.
Orca vs. Yeti
Which is better between Orca and Yeti?  As you can see above, it is a close competition.  Orcas and Yetis are both well into the premium price tier (although Yetis are still a bit more expensive).  They also have very similar features and both offer tons of unique color options.
It is honestly too close to call on this one.  Both models have essentially the same pros and cons.  So really it boils down to which one you can get for a better price.  But no matter which one you go with, you won't be disappointed!
Final Thoughts
We had a lot of fun testing and reviewing Orca Coolers.  They are another worthy candidate in the ever-growing premium cooler category.  Because there is so much competition, it is important for a cooler brand to do something "out of the box" so as to stand out.  And in a way, Orca stands out by keeping things simple.
Orca takes a pretty mundane approach to how they design their coolers.  They don't load them up with trendy new features or aggressive aesthetics on the mold.  Rather, they focus on quality and performance.  Thanks to thick roto-molded construction and quality components, ice life is good across all Orca Cooler sizes.  While we doubt you will see the 10-day ice life that they advertise in real-world applications, you should enjoy several days up to around a week of ice in their largest sizes.  This is plenty good for nearly every application you could think of.
The quality construction also allows Orca coolers to be very tough and resilient.  They should handle just about everything you can throw at them in all sorts of elements that Mother Nature can surprise you with.  And they back this with their lifetime limited warranty.  Really the only thing missing is being Grizzly Bear certified.
The biggest selling point that we feel Orca has is in their enormous array of color choices.  No matter what your color, sports team, or hobby, you can likely find a color pattern that will work for you.  This is something that we have mentioned in other cooler reviews as sorely lacking in some of the up-and-comer cooler brands and Orca provides a blueprint for how it should be done.
That being said, the asking prices (particularly if you go with one of the premium color schemes) are quite high.  We are used to premium coolers costing a pretty penny, but Orca coolers in their specialty colors are among the most expensive ice chests in the industry.  From a performance and toughness standpoint, there are other choices that are more affordable that have equal (if not slightly better) ice life, are just as tough, and have more features. But for those after a truly unique styled cooler with a color wrap you won't find anywhere else, you will have to be willing to pay extra for this trait.
Orca Cooler Review
Check Out Orca Coolers on Amazon
Orca Coolers are one of the more popular premium cooler brands out there right now.  They take a very straightforward approach in their design and don't have a lot of the extra features that some other brands carry.  However, their approach is proven and they hope that the combination of their good performance, as well as very unique color choices, will make them a worthy competitor.  They are available in 20, 26, 40, 58, 75, and 140-quart models.
Insulation Ability – 
The ice life here is good for premium coolers.  The combination of roto-molded construction, oversized food-graded gasket, and firm squeeze thanks to optimized T-latches results in multiple days of ice life no matter which model you go with.  As is typical, the larger coolers tend to have longer ice life.  You can expect anywhere from around 48 hours up to 200 hours of ice life depending on which model you go with.
Mobility and Durability – 
There aren't a lot of features worth mentioning here.  For mobility, you have pretty standard easy-grip handles on both sides of the cooler but things such as extending handles, wheels, etc. are missing.  Really the only unique accessory Orca Coolers have is the mesh netting on the backside of the cooler.  We do really like this feature but we just wish Orca would include a few more!  There are some additional accessories that you can buy separately but that adds to the already high cost.  While it is lacking in features, Orca coolers are very tough.  All components are made of premium materials and are carefully assembled.  Orca also stands behind their coolers with a limited lifetime warranty.  We do wish that they would go for their Bear Resistant Certification from the Interagency Grizzly Bear Committee (IGBC), however.
Visual Appeal – 
Orca Coolers themselves are pretty bare-bones.  Outside of the molded T-latches that resemble the Orca logo, there isn't much in the way of aesthetics on the structure.  However, where Orca blows away the competition is in their gigantic array of color options.  Just about any color under the rainbow is for sale as well as tons of different patterns and even many of your favorite sports teams.  To us, this more than makes up for what would otherwise be a pretty boring design.
Cost – 
There really is no way around it: Orca Coolers are very pricey.  That is to be expected in the premium cooler tier but Orca meanders towards the very tip top if you decide to go with one of their premium color schemes.
Overall Rating – 
Orca Coolers have some very good pros and also some cons worth noting.  Their ice life is very good and should meet most people's needs, they are tough enough to handle any environment that you expose them to, and there are loads of great color options to make your Orca ice chest stand out.  The problems are that they are very expensive and are lacking some desired features.  Also, the color choices are great but they do come at a rather high upcharge.  For those concerned with just maximum performance and features and don't care about looks, there are cheaper options out there that perform just as well and come with more features.  For those that weigh standing out from the crowd as a higher priority, paying the high asking price might be a pill you are willing to swallow.  Whether or not Orca Coolers are a buy to you will really boil down to your individual needs.