Colored Coolers – Pink Yeti Coolers, Red, Blue, and Much More
Updated by Brandon F. on January 6, 2022
Let's face it: coolers sometimes aren't the most exciting products in the world.  They can oftentimes be very plain in appearance and not stand out from one another.  Thankfully, there are a variety of colors available to help make your cooler that much "cooler"!  Pink Yeti Coolers, Red Yeti Coolers, and a host of other colors are available in both Yeti brands as well as other popular brands on the market.
Our Top Pink, Blue, and Red Coolers (Sold on Amazon)
| | Pink | Blue | Red |
| --- | --- | --- | --- |
| | ORCA Extra Heavy Duty | Yeti Tundra | Pelican ProGear Elite |
| | Engel Cooler/Dry Box | Pelican ProGear Elite | K2 summit |
| | Igloo Contour | Coleman Party Stacker | Coleman Steel |
| | Extreme Pak & Trade Bag | Igloo Playmate | Rubbermaid Personal |
What Color are you Looking For?
No matter what color scheme you are looking for, there is likely a product on the market that will fit your needs.  This includes pink coolers, red coolers, blue coolers, and a host of other examples.  So the first thing to do is figure out what scheme you want to go with.  There are even multi-colored examples for those who can't figure it out.
Also, some cooler brands have partnered up with various colleges and professional teams and offer collegiate and professional coolers that are the official team colors and some even have the team's logo printed on it!
Now to go into greater detail, let's break down some of the most popular color choices.
Pink Coolers
Pink is a very popular cooler color, particularly for women.  Not only is it a popular color in general, but it also symbolizes breast cancer awareness.  Because of this, many popular cooler brands have come out with special edition pink coolers to signify this important cause.  We will list out a few of the best pink coolers below.
Pink Yeti Cooler
Yeti is one of the most well-known and respected cooler brands in the industry, and their name comes with a hard-earned reputation of being extra tough and long-lasting.  In August of 2014, they announced that they would release a limited edition pink cooler to support National Breast Cancer Awareness Month.  In addition to this, they would also provide a donation to the American Cancer Society.
This cooler was built on their popular Roadie 20 and Tundra 45 models that come standard with roto-molded construction and the long-lasting ice life that they are known for (you can check out our full reviews of these coolers here).  This was a very popular cooler and sold out rather quickly.  It can be tough to find online so we are listing some other examples that you will have an easier time purchasing.
Pink Orca Cooler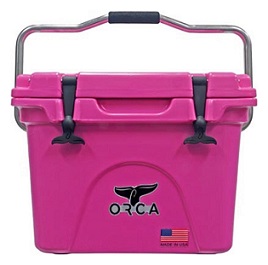 Orca is another respected brand in the cooler industry, and they have made a special edition pink cooler as well.  This product is available in a range of sizes ranging from 20 quarts up to 75 quarts.  Similar to Yeti and the other premium brands, their coolers are constructed with roto-molding which helps to ensure a long life as well as helping to maximize ice life.
Also, they have integrated insulation and a built-in lid gasket to further improve ice life.  The result is a product that is capable of up to 10 days of ice retention according to their site, which is some of the best in the business.  So if you are unable to find a Pink Yeti Cooler or a pink cooler from one of your other favorite brands we recommend checking out Orca.
Pink Engel Cooler
Another popular cooler brand is Engel.  They have also stepped into the pink game with the pink Cooler/Dry Box.  We reviewed the Engel Cooler Dry Box here and as you can tell from our thorough review we had a lot of positive things to say about it.  Similar to Yeti and Orca, Engel coolers are made of high-quality construction and premium materials that will maximize their ice life.  Don't let the pink color fool you: this cooler is as tough as they get!
Blue Coolers
There are many more companies that offer blue coolers.  Blue is a popular color so this comes as no surprise.  This may be due to the fact that coolers are oftentimes used in bodies of water (which are blue).  There is also a nice range of blue coolers in all price tiers.  So whether you are looking for a low-cost option that will keep ice for a few hours or a more expensive example that you need to operate for a week without issue, there will be a solution perfect for you.
Blue Yeti Cooler
You will have a much easier time finding a blue Yeti cooler vs a pink Yeti cooler.  Either way, you are getting a product that has an established and proven Yeti name.  This includes their premium roto-molded construction, extra-thick insulation, high-quality hardware and components, and extra-durable gasket.
There are also many more sizes to choose from in blue, meaning that you will have a lot more flexibility while shopping and you can also adjust your budget accordingly.  For instance, you won't have to purchase a much larger cooler if all you need is a small personal one since Yeti offers its blue in just about every size.
Blue Pelican Cooler
Another rival to Yeti and the other premium lines is Pelican Coolers.  These are also roto-molded and come with stainless steel hardware which means they are extremely tough.  Also, they are very good at ice retention with the assistance of 2″ thick insulation and a heavy-duty gasket which helps ensure a great seal.
The blue comes in a variety of sizes as well, from their small 20 quart offerings up to over 100 quarts of storage!  If you are in the market for a premium blue cooler we recommend you check out the blue Pelican cooler.  We also wrote up a full and detailed review on this cooler here so we encourage you to check it out and see if it fits your needs.
Blue Coleman Cooler
Coleman is one of the top cooler lines for those on a budget, and they have a variety of blue coolers.  Some of their most popular products are the blue 40-quart wheeled and the blue 9-quart Excursion Cooler.  These products, while not having the same level of impressive ice retention as the premium level of coolers nor the toughness, have a unique place in the cooler industry.
They are great for those who don't want to spend a huge amount of money on a product but still want something that can take care of their food and drinks for an adequate period.  We have reviewed all of these products and encourage you to check out our full reviews for a more elaborate breakdown of their performance.
Blue Igloo Cooler
Igloo is another popular budget cooler line and a great solution for those looking for an affordable cooler that can store their items for a few hours up to a day or two.  They are also typically very mobile which makes them great for those on the go who aren't looking for days upon days of ice life but rather something that is convenient.
They also come in a variety of great colors, one of which is a lovely shade of blue.  One of their most popular products is the blue Igloo Playmate Cooler, which you can read our full review on here.
Blue Rubbermaid Cooler
Rubbermaid is a staple in the cooler industry, and they offer one of the widest ranges of product options around.  Because of this, it is no surprise that they have a nice showing of blue coolers as well.  One of their most popular blue coolers is their 75-quart Extreme Wheeled Cooler.  This is a great product for those looking for a large solution that still retains helpful mobility since it comes with sturdy wheels for those times you would rather roll your cooler than carry it.  Read up on our full review of this cooler here.
Red Coolers
Red is another extremely popular cooler color, and it can complement the design cues of a lot of various products much more so than a typical white or grey color.  Similar to blue, red coolers come in a range of shapes, sizes, and prices and there are a host of various brands that offer red coolers.
Red Pelican Cooler
We broke down the great benefits of going with a Pelican cooler above.  They are also one of the most diverse premium cooler companies in regards to their color offerings, and their diverse range of color choices includes an attractive red that pops out.  The red Pelican cooler has all of the benefits of a typical Pelican cooler and is also available in the wide variety of sizes that they manufacture.
If you go with this you will not only have a tough cooler that is capable of storing chilled items for multiple days but you will also be the envy of all of your friends with their boring white coolers!
Red K2 Cooler
Another great premium cooler brand that is on the market is K2.  They are designed to compete with the toughest coolers in the industry and are in the same relative price range as the Yeti coolers and Pelican coolers that are discussed on this page.  They are made of roto-molded construction and come with an Endura hinge system that means they can easily handle everything you can throw at them.
Impressive ice life comes from the inclusion of up to 3″ of insulation (which is some of the thickets in the industry) as well as a thick premium gasket and extra tough rubber hinges that ensure a snug fit. The red color is available in a nice range of sizes so you should find a storage capacity that fills your needs and budget.  We have performed a thorough review of K2 Coolers and you can read up on it here.
Red Coleman Cooler
Coleman also offers a plentiful selection of red coolers.  Despite the exciting color, you can still rest assured knowing that the Red Coleman coolers still adhere to their high standards.  Popular products include their standard 48-quart option as well as their unique red Coleman Steel Cooler for those who want to mix things up and go with a non-plastic example.  We like the originality of their steel cooler and it is sure to stick out from the crowd.  For a more informative review of the Coleman Steel Cooler feel free to check out our Full Review.
Red Rubbermaid Cooler
A brand that is synonymous with red is Rubbermaid.  Rubbermaid is an established brand that is primarily targeted at those who are looking for an affordable and mobile cooling solution but doesn't need ice life that spans many days. Their signature red coolers stand out from the competition and it is easy to spot a Rubbermaid cooler from far away when you see the red color tone sticking out.
We particularly like their mobile-friendly 10-quart personal ice chest in the lovely red color.  It is a very straightforward offering for those who want to keep things simple and minimize the impact on their wallet.  For our full review of this cooler check out our link here.
Red Igloo Cooler
Igloo also has standardized its products with the inclusion of an attractive red.  Just about everyone has seen a red Igloo Playmate cooler before.  We think it is probably one of the most popular coolers ever sold!  Don't believe us?  Go to any beach or park on a nice summer day and you are sure to see at least one.
Collegiate and Professional Colored Colors
If you want to stand out from the crowd while also supporting your favorite sports team, sometimes your best option is to go with a special edition cooler that proudly shows off various team colors and sometimes even their logos.  Keep in mind that not just anybody can do this, as official team colors and logos are copyrighted and you have to receive permission from the teams before being allowed to do this.
Some brands that have received permission to design and produce these special edition coolers include Kolder, Coleman, and Picnic Time.  You can rest assured knowing that if you purchase one of these specialty coolers that not only will you be supporting your favorite team but you will also have a truly unique product that can't be purchased just anywhere.
Kolder Team Coolers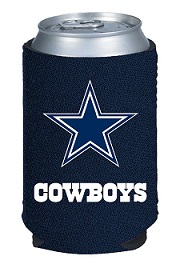 Kolder has a variety of insulated can holders with your favorite NCAA or professional sports team printed on them.  This is a great way to stand out at the next game while keeping your favorite beverage cold.  We don't typically review koozies on this site but these were too cool to ignore!  These would go well with one of the matching team-inspired cooler choices found below.
Coleman Team Coolers
Coleman offers a wide variety of cooler products and cooler accessories adorned with your favorite sports team.  These range from their mobile soft-sided coolers up to their 60-quart plastic performance coolers.  And most, if not all of these products will be centered around being very affordable so you shouldn't feel too much of a burden on your bank account, even after paying the extra premium for having your team's logo printed on it.
Check out some of our Coleman reviews to see if a particular cooler meets the requirements you are looking for and then shop around for an example with your sports team's color and emblem printed on it!
Picnic Time Team Coolers
Picnic Time is another popular soft-sided cooler company that makes handy and portable temporary coolers that are great for picnics, lunches, or tailgates.  They have also partnered up with a wide variety of collegiate and professional sports organizations to offer up products with their team colors and logos on them.  Examples of this include their cooler backpack, collapsible coolers, and cooler totes.  We encourage you to check out our full reviews of these products and see if they meet your needs and expectations.