Engel Cooler Dry Box Review
Updated by Brandon F. on June 17, 2019
One of Engel's more unique products is their small lineup of Cooler Dry Boxes.  Available in 13, 19, and 30 quarts, these specialty coolers are limited in storage space.  But what they lack in storage volume, they make up for in their ability to keep items hot, cold, and dry all in the same package.  In this article, we will dig into greater detail about the Engel Cooler Dry Box and help you to determine if it is the right product for you.


Largest Size

Model
Engel Cooler/Dry Box 13 Qt - Grassland
Engel Cooler/Dry Box 19 Qt - Tan
Engel Cooler/Dry Box 30 Qt - Tan

Model
Engel Cooler/Dry Box 13 Qt - Grassland

Model
Engel Cooler/Dry Box 19 Qt - Tan
Largest Size

Model
Engel Cooler/Dry Box 30 Qt - Tan
Engel Cooler Dry Box Lineup
The size options for Engel Cooler Dry Boxes are quite limited.  The only sizes currently available are 13, 19, and 30-quart options.  These sizes fall into what we consider the "personal" and "small" sizes of coolers.
You will be limited quite a bit with how many items you can store.  The largest size, the 30-quart, only has 16.5" x 9.5" x 11.5" of internal storage volume.  If you decide to go with the tiny 13-quart, this volume is reduced to just 12" x 7" x 8.5".  Because of this, you will have to be quite selective about what items you actually put in these ice chests.
That being said, these coolers aren't really designed to hold all of your beer for the weekend on the lake or for storing 10 pounds of meat you plan on smoking.  Rather, they are designed to hold items that you not only want to keep cold but also want to potentially keep hot and/or dry.  This could be for things such as medical equipment, electronics, or any other sensitive material.
Engel Cooler Dry Box Features
While the Engel Cooler Dry Box does have some of the traditional features we like to see in quality cooler, there are some more special additions that are necessary for it to achieve its watertight and airtight characteristics.
Non-Absorbent Surfaces
These Cooler Dry Boxes come equipped with a special surface that actually blocks out stains, odors, and other harsh fumes from being able to enter the storage volume.  In other words, they "Keep the stink out!".  This might seem like a non-important feature to have, but many devices that you may want to store could be sensitive to certain fumes. 
While you might not care if some stains creep in a cooler that is storing your closed beer cans, it might be totally different if you were trying to transport some medical equipment or organs!
EVA Foam Gasket
While we are used to higher-end coolers having a rubber gasket in between the lid and body, most of these gaskets aren't truly watertight and airtight.  They do play a big role in keeping ice from melting, but if you were to accidentally drop your cooler into the lake or pool, you would find that it quickly starts filling up with water.
Conversely, a cooler filled with melted ice that tips over in the back of your car could result in water leaking out and soaking your interior.
The Engel Cooler Dry Box has a workaround for this.  They have included a specialized EVA Foam Gasket instead of a traditional rubber gasket.  This foam will expand, taking up any volume that it can.  The result is an extremely tight seal that will keep out water to depths of up to 3 feet and will also keep out just about all air.
Because they are watertight, it also means that they can float.  So you can take this cooler along with you into any water environment and not have to worry about it sinking if your canoe tips over or if it accidentally falls off the back of the boat.
Tough Polystrene Core
The Engel Cooler Dry Box also has a rather unique core insulation.  While we are used to most high-end coolers having a roto-molded polyethylene material, this product actually uses a Polystyrene shell.  This extremely tough material is much better-suited for a dry box and also a totally different look and feel to it.  The non-insulation part of the core is made of high-quality injection molded PP Copolymer.
Also, you will find that the wall thickness is a lot lower here.  This does affect ice performance but the positive result is reduced weight and you also can take advantage of more storage volume for the (quite small) size of the cooler shell.
Marine-Grade Hardware
It goes without saying, but a cooler designed for being able to go underwater needs to have hardware that can also handle water!
That is why you will find stainless steel used for every metal piece of hardware.  Stainless steel is rust-resistant, tough as nails, and looks great as well!
Engel Cooler Dry Box Mobility
While you do sacrifice storage volume with a smaller cooler, the perk is that you will enjoy much better mobility.  Let's face it: a 200-quart cooler can store everything you would want for a big gathering but moving it can be a big headache!
Engel has fully embraced that these are smaller coolers and has designed the transportation methods around it.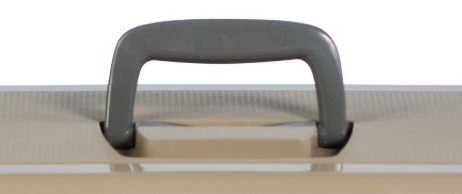 First, you will find that all sizes of the Engel Cooler Dry Boxes come with a recessed overhead carrying handle. A cooler of this size doesn't really need side handles so this overhead handle is easy and convenient to use.
In addition to the built-in carrying handle, there are also notches integrated into the side of the cooler for shoulder straps.  This essentially converts this ice chest into a super tough tote.  Except instead of being soft-sided, it is hard-sided and waterproof!
Engel Cooler Dry Box Accessories
There are some really cool accessories that Engel has brought to the table that take full advantage of what this Cooler Dry Box has to offer.
One of our favorites is the Engel Rod Holder. This is modular cylinders that you can mount on the sides of the cooler what allow you to insert your fishing rod.  We have seen videos of people using this cooler while in the water so that goes to show the target audience that Engel has envisioned for this product.
Going along with the fishing theme, there are also accessories designed to make this into a live bait storage.
There is a specialty Engel Aerator Pump, a live bait strainer, an AC Adaptor for the live bait bump, and even a live bait cooler net!
And for those who plan on using their Engel Cooler Dry Box exclusively for live bait, Engel has a specialty Live Bait Dry Box/Cooler designed just for this.
As for non-fishing related items, Engel also offers various sizes of hard shell freezer packs, a tie down kit, drybox feet, hanging dry tray, and more.
Engel Cooler Dry Box Ice Life
One of the most important considerations of any cooler is how well it holds ice.  It would be a disservice to only focus in on this metric for the Engel Cooler Dry Box as it is capable of so much more, but it is still important nonetheless.
After our in-house testing and analysis, we have come up with the following values.  This is using our standard method of filling the cooler up with around ½ ice, leaving outside in the heat, and occasionally opening.
The first thing you will likely notice is that these numbers are much lower than we are used to seeing from other Engel products.  Engel's ice life is typically among the highest in the industry, with their traditional hard-sided coolers being capable of over 200 hours of ice life.
However, these cooler dry boxes have quite a bit working against them.
First, they are quite small.  If you are a reader of TheCoolerZone.com, you will already have known that we are very vocal about the huge correlation between ice life and cooler size.  Simply put, larger coolers tend to have longer ice life.
Coming in at 19 to 30 quarts, these coolers are quite small and that plays a bit part in the reduced ice life.
Second, the insulation is somewhat thin.  Most rotomolded coolers these days will have 2 inches or more of insulation.  This provides an excellent barrier between the cold internal air and the warm external air.
Engel Cooler Dry Boxes have around 1 ½" of wall thickness, with only around 1" of this being comprised of insulation foam.  This is noticeably thinner and also plays a part in the ice life numbers we are seeing.
But not everything is negative here.  The PVE Foam gasket ends up being a fantastic seal for keeping cold air in.  It may seem obvious to most, but having a gasket that is air and watertight has a nice side benefit of being very efficient and keeping cold air from escaping.
And, for the size, these coolers do lock in cold air above average.  And you will enjoy the added benefits of having a cooler that can also keep warm items warm and all of your items dry at the same time.
Engel Cooler Dry Box Appearance
Engel actually takes a very polarized approach in their cooler design.  For instance, their hard-sided coolers are somewhat "tame" when it comes to looks.  Their recently-released soft-sided coolers and cooler backpacks, on the other hand, are quite modern and really pop out.
Their Cooler Dry Boxes take a sort of "middle of the road" stance.  They aren't quite as extreme as their soft-sided products but they are, in our opinion, more aesthetically pleasing than the traditional hard-sided coolers.
Depending on which size you go with, you will be able to choose from anywhere from 3 to 5 color options.
There are some subtle aesthetic features worth mentioning.  These include the vertical vents at the base of the cooler, the color-coordinated gasket, and the attractive handle and latches.  It all goes together to make an attractive, but safe, look.
Engel Cooler Dry Box Price
Price is always a consideration when we are dealing with premium coolers.  From a strictly overall cost standpoint, these coolers will be much cheaper than most of the other high-end coolers we have tested from other brands. 
However, it is important to remember that they are much smaller than most.  So on a "dollar per quart" basis, you are still getting up into the premium price tier.
But you do get to enjoy some really unique features that you won't find anywhere else.  And combine that with the great build quality and Engel 5-year warranty, and the current asking price is more than justifiable.
Final Thoughts
The Engel Cooler Dry Box has really grown on us over the years.  If you only pay attention to its size and ice retention life, you may come away unimpressed.  But upon closer examination, you will quickly realize that this is a really special cooler that can do things that most other products can't do.
For those after a strict cooler for keeping your beer cold at the lake, there are probably better options.  But for someone looking for a small (but potent) all-in-one package for fishing or transporting sensitive devices, the Engel Cooler Dry Box is a great choice.
Engel Cooler/Dry Box
13, 19, and 30-quart sizes
Plastic, stainless steel, and rubber
Premium-priced
Pros: 

Can retain both hot and cold items, cooler can be submerged underwater without issue, quality hardware
Cons:

 Not the best cooling performance, a bit limited in storage volume, expensive
---
Features:
Airtight o-ring seal, rotating top handle, self-stopping hinge, stainless steel latches and hardware
Engel Cooler/Dry Box Review
This is our Engel Cooler/Dry Box Review.  The Engel Cooler/Dry Box is a unique offering by Engel in that it is advertised as not only being suitable for cold AND hot items but is also waterproof to a depth of up to 3 feet.  This is accomplished by an airtight gasket as well as suitably thick insulation around the entirety of the chest.  Strong stainless steel latches lock into play to help avoid any accidental openings and all fittings used are also tough stainless steel.  Other features include a self-stopping hinge, elevated feet so help minimize heat exchange with the ground, and carrying is accomplished with the attached pivoted handle on top of the lid.  This product comes in 13, 19, and 30-quart sizes, is available in 4 colors, and is made of plastic, stainless steel, and some rubber.
Insulation Ability – 
Despite the air-tight seal, insulation and elevated feet, the cooling ability of these ice chests is not as good as the conventional Engel High-Performance line.  It appears the focus was more on making them viable for retaining both hot and cold items while being waterproof rather than simply maximizing ice life.  Also being a relatively small cooler means that changes in temperature are more easily accomplished due to having a smaller internal volume.  Combine that with below-average wall thickness, and you end up with much lower ice numbers.
 You can expect ice to stay cold for a day or two before it will need to be replaced, and even less time for items you are trying to keep warm.  The main point to remember here is that it is designed to handle both hot and cold items as well as have airtight and watertight capabilities.
Mobility and Durability – 
The fact that you can literally submerge these coolers underwater up to 3 feet is really cool, and it says a lot about the build construction of these.  All of the parts are of high-quality and should hold up to most abuse you can throw at it.  Even the hardware is stainless steel so worries of rust becoming a problem should be minimized.
Being a smaller cooler there are no side handles, and simply a handle on the lid.  In addition, there is the option for attaching shoulder straps to turn it into a sort of tote.  We actually wish they had side handles as well since, despite being on the small side, a full 30-quart cooler can still be a bit heavy when completely full.
But aside from that minor complaint, you will find that these coolers are right at home in aquatic settings.  There are also tons of great Engel accessories that you can purchase that will convert this into the perfect fishing companion.
Visual Appeal – 
Engel Cooler Dry Boxes are relatively attractive coolers.  Depending on which model you go with, you will find up to 5 different color options. All of the colors are solid outside of the grassland theme.
There is also some subtle aesthetic grooves at the bottom which help to break the monotony of a simple solid colored face.  The metal hardware has a nice shine to it and really adds to what looks to be a quality product.  You won't win any beauty contests with this cooler but it does look solid and well-constructed.
Cost – 
We were a bit torn on how to analyze this product based on price.  At the surface, you see a small cooler with limited features and less-than-amazing ice life.  But once you did deeper, you will find that it has some really impressive features that could justify the higher asking price.  Whether or not this is a good deal will depend entirely on what your plans for the cooler are.
Overall Rating – 
The Engel Cooler/Dry Box Review receives 3.5 out of 5 stars.  We are really impressed with the airtight and watertight characteristics of this lineup of coolers.  The build quality is fantastic and the components used are top-notch.  But the average (at best) ice life combined with the small storage size will limit this cooler to very specific applications.
If you are in the market for a small cooler that can meet your hot, cold, and dry needs and/or if you plan on transporting sensitive equipment through harsh areas on a regular basis, this ice chest should be at the top of your list.  But if you are simply after a cooler that can keep ice for a long period of time and have plenty of storage space, there will be better options out there.