Palm Cooler Review
Last Updated by Brandon F. on June 19, 2019
Our friends over at Palm Coolers were nice enough to send us a cooler to test out.  Like many other premium cooler brands that we have tested, Palm is aiming to lead the pack in the high-end cooler industry.  In this huge review, we will break down the various features that you will find in Palm Coolers, test out their ice life, and see if they are worth checking out compared to the heavy hitters of the cooler world such as Yeti, RTIC, and Engel.  This table right below will give you the quick and dirty on the best Palm Cooler models.  And if you want to read the full review, simply hop right on below it!


New Redesign

New Redesign


Model
Palm Coolers PX 65 (White)
Palm Coolers PX 45 (Beige)
Storage Capacity (Quarts)

Storage Capacity (Quarts)

Storage Capacity (Quarts)
New Redesign

Model
Palm Coolers PX 65 (White)
Storage Capacity (Quarts)
New Redesign

Model
Palm Coolers PX 45 (Beige)
Storage Capacity (Quarts)

Storage Capacity (Quarts)
---
Palm Cooler Lineup
Palm Cooler is a smaller company so rather than try to dip their fingers in many different categories, they primarily focus on just one: hard-sided coolers.  At the time of this review, they offered up 5 different sizes of hard-sided coolers.  These include a 30 quart, 45 quart, 65 quart, 90 quart, and 145-quart models. 
It is worth noting that Palm also has rolled out their next generation of coolers which are currently available in 45 and 65-quart models.  The model we received for testing is actually one of their new-generation ice chests but we will still discuss both models.  It is worth noting that you may have a harder and harder time finding the previous generation models available for sale.
At a quick glance, you will find very similar design approaches across all sizes.  We will go into more about the various features and build quality in the next section, but we did find it interesting that Palm didn't mix up features by size.  For instance, it is you will oftentimes see overhead carrying handles for smaller size hard coolers.  However, all models (even the small 30-quart unit) utilize the same side handles.
---
Palm Cooler Features
As we mentioned earlier, Palm Coolers has recently rolled out their "Second Generation" coolers which have quite a few more features than their old models.  However, since many of their original models are still being sold, we figured that it would be helpful to go over the features of both.
The model that we received was Palm Cooler's 45-quart second-generation model.  While it isn't directly related to its features, we really liked the packaging that it came in.  The entire cooler was wrapped in plastic wrap which is something that most other cooler brands don't bother doing.
First, we will go over the walls.  Palm states that their coolers come with between 1.5" and 3" of high-pressure injected polyurethane foam.  In addition to this, they utilize the same rotomolded technology that is standard in most premium coolers.  But for their new-generation models, they actually bump up wall thickness to 2.5" to 3'. 
True to form, these walls are thick!  This not only helps in retaining life, but thick walls are more resilient to scratches and bumps that will happen over time while using a cooler in outdoor settings.  The tradeoff of this is that a cooler has to sacrifice storage size and increase the weight to achieve it.  But that is the price you have to pay!
The new-generation models have also updated their latches.  Our cooler came with some attractive and robust rubber T-latches with the Palm logo on them.  These are pretty thick latches and will require a decent downward force to unhinge them but that means that they are providing an excellent seal.
Another interesting point is that the latches actually catch in an internal hole rather than having the "T" portion of the latch be what catches.  We don't see any major pro or con to this: it is simply an observation.
On the corners, you will find holes that can be used to lock or tie down your cooler.  This is another popular feature that most premium coolers have these days and we are glad that Palm included it in their redesign.
For carrying, you will find the same rope handles with rubber grips that the old Pam Cooler models have.  These handles are actually quite large: when lifted up, they come almost all the way up to the lid of the cooler.  This is much longer than most handles that we have seen on other coolers.
The most notable change with this model compared to the old Palm Cooler models is that these also come with a set of wheels.  This means that you can carry this cooler by hand or lift one side and tow it.  We absolutely LOVE coolers with wheels and are glad that they decided to include them.  Coolers of this size when filled are extremely heavy so including wheels can make what would have to be a 2-person job into a 1-person job.
As for the wheels themselves, they are made of hard plastic material and, according to Palm, are impenetrable.  Many rolling coolers that we have tested from other brands will have rubber wheels but they can be more prone to being punctured.  By using a hard plastic wheel, you take away this potential failure point.
For helping with ice retention, the same thick rubber gasket that is basically standard in high-end coolers is also present here.  Having a quality gasket can really help tap into the great closing force of the powerful T-latches.  This provides an excellent seal that can boost ice retention by days.
Other notable features include non-skid rubber feet, a full length hidden hinge, a high-flow drain port, and a texture top lid.  Overall, this is a solid lineup of features.  It checks nearly every box for what we like to see in a high-end cooler.  About the only features missing would be a pressure release valve, a fish scale/cup holders on the lid, and internal storage options such as a dry goods basket.  But simply put, a lot of people don't really care much about those sort of things.
As for build quality, it is excellent across the board.  The combination of the extremely thick walls, high-quality components, and rotomolded construction results in a cooler that will last for years.  In fact, Palm guarantees that your cooler will last for 10 years.  This is an extremely long time for a company to stand behind their product and it shows us that there really aren't any weak points in the design.
---
Palm Coolers Ice Life
Palm Coolers definitely have everything that we look for in terms of long ice retention.  Their upgraded design comes with extremely thick walls (some of the thickest in the industry).  Their new t-latches provide an excellent closing force.  And their rubber gasket offers up great squeezing ability, providing a nice air-tight seal to help keep the cold air inside the cooler where it belongs.
But how does this translate to specific ice life?
To find out, we decided to test the cooler ourselves.  We filled it up with a typical/recommended amount of ice, left it in an outside environment, and occasionally opened it.  This helps to give a more "real-life" test rather than filling it up with ice and never opening it.
The results of our ice test can be seen below.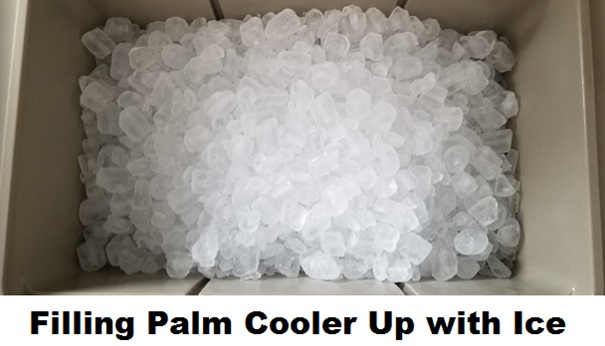 As you can clearly see from the photos, the ice retention on Palm Coolers is fantastic.  On their 45 quart model, we had over 170 hours of ice life.  This equates to a full week!  This is among the best numbers that we have tested for any cooler at this size.
However, this does come with a caveat.  Living in Texas, we experience some pretty hot months in the summer.  In fact, this also carries over to spring and fall, too.  But in the winter, even Texas can experience some cold weather.  We aim to leave our coolers outside while testing to give a more "real life" scenario.  But when it is colder outside than it is inside, it doesn't make much sense to do that!
Because of this, we tested this particular cooler indoors where it was warmer.  Because the ice chest was experiencing 72 degree outside temperature instead of 105 degree outside temperature, it obviously performed better than if we were to have tested this same product in August.
While we no doubt know that Palm Coolers would do extremely well in the summer months, we also can't deny that our results fall on the higher end of the spectrum for what you should expect.
Another thing worth mentioning is that we tested Palm's Version 2 Cooler.  This model comes with an improved design which includes thicker walls than their previous models.  As for the time of this writing, this update had only been applied to their 45 and 65-quart models.  So we will definitely notice a boost in ice performance with the V2 Coolers compared to the V1.  From our research and experience with the original model, their ice life (while still good) won't be quite on the level as the V2s.
You can see an overview of ice life for all models in the chart below.
Depending on the specific model and conditions that you put it in, you can anticipate 2 to 3 days of ice life on the smallest model.  This ramps up to well over a week of potential ice life on the larger examples, with the enormous 145 Quart model topping things off.  If Palm decided to roll out a redesign on their larger coolers, you can expect some crazy high numbers if they are anything like the 45 Quart that we tested!
---
Palm Coolers Aesthetics
Palm takes a very conservative approach in the design of their ice chests.  Compared to the old models, we do like the new facelift of the second generation units, but they are still quite plain.
The Palm Cooler logo has been shrunk down some.  The greats a less ostentatious look to the logo.  We aren't a big fan of cooler brands that put enormous logos on their cooler so we feel that Palm made the right decision.
The new models, while still plain, do still have a bit more going on with the cooler face compared to old models.  You will find a recessed lower section on the new units compared to the flush face on the old models.  Again, we feel that this was a nice update from Palm.
As for colors, you will be extremely limited.  When browsing their website, we couldn't even find an option to select from different colors: the choice defaulted to white.  We do know that they have other colors than white since the ice chest we received is beige.  In addition, we have seen images of a silver/gray color on the 30-quart unit.  So there are at least 3 color options out there.  But beyond that, we can't be for certain.
This few colors definitely puts Palm on the lower end of the totem pole when it comes to color options.  In addition, we don't see any sort of multi-color designs or the ability to do custom decals or logos.
We hope that Palm decides to expand its available color choices in the near future.
---
Palm Cooler Price
According to Palm's website, they are a manufacturer direct to consumer retailer.  What this means is that their products come straight from the factory to you.  In other words, there is no middleman.  You likely know of RTIC and they're using this approach to result in huge cost savings to many of the other big cooler brands.
This allows Palm to sell their products for less than many of the traditional ice chest juggernauts such as Yeti, Engel, Pelican, K2, etc.  However, they are still a bit more expensive then RTIC (which seem to still lead the way in providing the lowest-cost premium coolers).
We are very happy with this price point.  While not quite as cheap as an RTIC, Palm Coolers outperform many of these other brands in ice retention.  In addition, the rollout of the new models brings to the table more helpful features which can justify a slightly higher price.
---
Palm Cooler vs. Yeti
So the big question is how do Palm Coolers compare to Yeti Cooler?
On paper, Palm Coolers have a lot going for them.  Their ice retention is fantastic and their features, while not industry-leading, are quite nice and beat out most Yeti models.  We really like that wheels were included in their updated models in particular.
We also really like how Palm will stand behind their product by offering a 10-year guarantee.  We aren't completely sure if this translates into a clear-cut 10-year warranty but if it does, then that is very impressive.
In addition, Palm is noticeably cheaper than Yeti.  Yeti is almost always losing the race when it comes to pricing.  While Yeti does have the name recognition that few other brands can match, their asking price may simply be too high for some.
Where Yeti does have an edge on Palm Coolers is in their size selection, color choices, and additional accessories that you can purchase.  Yeti is a much bigger fish and this allows them to offer a lot of products and colors that a smaller company like Palm simply can't keep up with.
However, if we had to pick one, we are giving the nod to Palm.  This is particularly true with their new V2 models as they have really bumped up the performance and features of these while still keeping prices fair.
---
Palm Cooler Review
Pros: Great Ice Life in V2 Models, Wheels on V2 Models, Competitive Pricing, Great Build Quality, 10-year Guarantee
Cons: Limited Color Choices, Currently Only 2 Updated Models Available, V1 Models aren't Quite as Good
Features: Non-skid rubber feet, Lockable corners, Hidden hinge, High-flow drain, Plastic wheels, Texture top lid, Freezer-grade gasket, Thick t-latch, Rope Handles
Insulation Ability – 
We were very impressed with the ice life of Palm Coolers.  This is even truer in their updated models that come with 2.5 to 3" of insulation (which makes them among the thickest in the industry).  And while their older models won't offer up quite this level of performance, they are still no slouches.  Other features that assist with maximizing ice life are the freezer-grade gasket and powerful rubber t-latches that produce a good squeezing force.  Depending on conditions and which model you go with, you can anticipate anywhere from around 2 days of ice life all the way up to well over a week.  At these numbers, a Palm Cooler is great for a weekend outing or for a full week-long excursion.
Mobility and Durability – 
The build quality of Palm Coolers if very good.  We didn't find any sort of weak point anywhere on the model.  The rotomolded walls are beefy and feel great.  And the other components such as the latches and hinges are made of high-quality materials that are designed to last.  And Palm Cooler stands by their product, stating that they will guarantee their coolers for 10 years.  This is 3 to 5 years longer than most other companies will promise.
Features are a bit sparse on the V1 models.  Noticeably missing are things such as a pressure release valve, fish scale, internal mesh basket, etc.  However, the V2 model does bump things up a bit.  The redesign of the latches results in a much better design.  And we absolutely love that Palm built-in wheels on all of their V2 models.  So if you can manage, definitely go with a V2 model to enjoy these added features.
Visual Appeal – 
Again, you will see noticeable improvements in the new models.  The facelift, while nothing extreme, still provides a much-needed facelift to what is a pretty mundane design.  However, a common issue among all models and sizes is the lack of colors.  We have only seen three different colors ever offered: white, beige, and gray.  And we can't be for certain that all color choices are even available on every model.  For instance, on our 45 Quart, we were only able to source out the beige color that we used for testing.  Furthermore, there isn't anything in the way of customization options or specialty colors.  This is definitely something that we hope Palm improves upon in the future.
Cost – 
Being a premium cooler, you will still have to pay a decent chunk of change to enjoy a Palm Cooler.  However, when comparing to other high-end coolers available, Palm makes a strong case.  They utilize manufacturer direct selling which helps to give you cost savings by reducing the middlemen.  And considering their great ice life and whopping 10-year guarantee, you are getting a lot of cooler for your money.  RTIC Coolers are still a little bit cheaper but you will find the Palm Coolers tend to be a bit cheaper than nearly every other premium cooler brand.
Overall Rating – 
Palm Cooler is a definite competitor in the congested world of high-end coolers.   While their original V1 Coolers weren't anything eye-catching, their V2 redesigns bring much more to the table.  For those wanting the maximum in ice retention, Palm Coolers are up there with the very best.  And we love that Palm will promise a 10-year guarantee on their products.  That really makes these more of an investment than a purchase.  We do find that the color choices are lacking and in terms of raw numbers of features and accessories, there are still models out there that provide more.  But overall, a Palm Cooler would be a fine addition to any home that prioritizes build quality and ice retention above all else.