K2 Cooler Review
---
Last Updated by Brandon F. on June 9, 2022
K2 is a smaller cooler company with its main (and only) hard-sided cooler line being the "Summit" series.  While that might sound like you are limited in choices, there is a wide range of sizes to choose from.  Their products are targeted at the higher-end market.  Specifically, for those looking for a tough, long-lasting ice chest that can handle the rigors of outdoor use.
While they might not be as popular as the other big guys such as Yeti and Igloo, we like what they are doing with their design and implementation and encourage you to check them out.  If you are in the market for a long-lasting premium ice chest we also encourage you to check out our reviews of Engel Coolers, Grizzly Coolers, Mammoth Coolers, Pelican Coolers, and Yeti Coolers.
We will go into greater detail about the best K2 Coolers below but first here are some of our favorite sizes.
Up to 8 Days of Ice Life

Great Mobile Solution



Good if You Are on a Budget

Model
K2 Coolers Summit 120 Cooler, White, S120W
K2 Coolers Summit 60 Cooler with Wheels, Gray
K2 Coolers Summit 50 Cooler, Duck Boat Green
K2 Coolers Summit Wheeled 30 Cooler, Glacier White
K2 Coolers Summit 20 Cooler, Duck Boat Green
---
K2 Cooler Product Range
For having a single product, there is a surprisingly great selection of sizes available.  K2 offers sizes from their Summit 20 up to their Summit 120.  This gives a range of 14 to 86 can capacity.  In other words, no matter what your application is, they likely have a size that will work for you.  We particularly are glad that they decided to also focus on much smaller sizes.  This area is something that is somewhat lacking from other premium cooler companies.  But at the same time, they still take care of those of you who like the "big boy" coolers!
Also, you will find a couple of different sizes of wheeled configurations.  You can choose between the Summit 30 and the Summit 60.
As you can see, there are a ton of different sizes to choose from.  This means that no matter your storage desires, Summit likely has a cooler for you.  And new sizes are coming out from time to time, so be sure to check back for the latest information.
---
K2 Coolers: Built to Last
K2 Coolers are built to compete with the toughest coolers on the market. This means creating a product that can hold up in the most extreme conditions for long periods.  It means not only being able to keep your product in one piece and operational but also being able to both protect as well as insulate the chilled items inside.  This can be a challenging goal, so how do they go about doing it?
Rotational Molded Construction
All K2 coolers are constructed using a rotationally molded process.  This high-temperature, low-pressure application results in a single piece of polyurethane.  Much of the competition will use multiple pieces of plastic and combine them.  While this saves both time and money, the result is a much weaker shell that is not only prone to breaking through stress risers but also typically won't keep ice as long.
By using a roto-molded process, K2 coolers have no weak points and the load can be evenly distributed across all areas of the cooler, making for a longer-lasting and tougher product.  Also, it gives more flexibility in construction designs and features since they are more easily incorporated into the body of the cooler itself.
Combination of Thick Insulation and Plastic Shell
A unique design feature that K2 uses is to combine the benefits of both thick polyurethane with UV stabilized polyethylene.  More specifically, they use up to 3 inches of high-density polyurethane foam that doubles both as a support as well as an insulator.  On the inside and outside of this foam, they use a minimum of 1/8 inch thick polyethylene.
Polyethylene is used in many extreme applications such as kayaks, hockey rink walls, and protective shields.  Due to its much higher tensile strength, it can withstand hard impacts and punctures quite well. In all, combining these two components results in a wall thickness that can approach 3 1/2″, which is some of the thickest in the industry.  
With this level of thickness, dropping the cooler or running it into something sharp like a rock or tree should not even phase it.  It also makes it capable of having things stacked on top of it without concern.  This peace of mind is great when taking your cooler into rough terrain or outdoor conditions.
Endura™ Hinge System
All K2 coolers come equipped with the Endura™ Hinge System.  This system consists of an integrated hinge that runs the entire length of the cooler and is also molded directly into it.  It uses a thick metal rod that is securely fastened to allow for rotation.  This is a much beefier hinge system than most coolers on the market have, and it means that you shouldn't have to worry about it failing over time.  
This is reassuring as many times hinges can be a weak point on budget coolers since they are often made of plastic.  The constant moving of the hinge during opening and closing can cause the plastic to warp, crack, and even eventually break!  With this beefier design, it will hold up to years of opening and closing.
---
K2 Coolers: Extra Long Ice Life
K2 also proudly stands behind its ice retention abilities.  While they don't like to specify exact ice times (since it does vary depending on a host of factors) they do believe that their product is capable of keeping up with the best on the market.  
From personal experiences and research, we have seen well over a week of ice life possible in the optimal environments, which is, in fact, some of the longest on the market.  For typical use, however, we estimate closer to 6 to 8 days.  There are a lot of things at work to get these kinds of numbers and you can see our actual results in the chart below.
Up to 3″ of Insulation
As mentioned above, K2 injects up to 3″ of polyurethane foam into their coolers (they put 2 inches into their 20-quart product to keep it small).  This high level of insulation means that there is a huge barrier between the cold air inside the ice chest and the warm air outside.  And since it is constructed via rotational molding, you know that the walls are consistent in their thickness.  
Some coolers might have thick sidewalls but a thin base or a thick lid but thinner sidewalls.  Remember: a cooler's performance is only as good as its thinnest wall!
ICEVAULT™ Gasket
The ICEVAULT™ Gasket is the seal between the lid and the base and is one of the most important components of the cooler.  Not having a good seal across the gasket means that air can easily escape, which robs your cooler of ice performance.  K2 uses a thick, flexible rubber that is embedded into an optimized channel.  When closed, it provides a seal similar to your freezer or refrigerator at home.  Also, due to its impressive size, a small cut or scrape on the gasket doesn't typically allow for a leak path to form.
POSITRAC™ Rubber Latches
K2's POSITRAC™ Rubber Latches are guaranteed to create a tight and secure seal between the lid and the base of your cooler.  Weaker latches can sometimes not put enough force down, which makes it difficult for the gasket to get a proper seal.  These latches are optimally designed to use a lot of force to keep things tight and are also mounted on molded-in keepers that help to ensure an aligned closure every time.  Also, they are designed to still be user-friendly and made so that anybody big or small should be able to easily open and close them.
Now that we have gone through some of the features that help with ice life, let's display our test results.  These data were achieved using our standard testing procedure and analysis: filling a 1/3 full with ice, leaving out in the heat, and opening on occasion (this closer represents real-life use).
---
K2 Coolers: Loaded with Convenient Accessories
It doesn't stop at the toughness and cooling performance of a K2 Cooler.  These products also come with plenty of additional features and accessories to make them as user-friendly as possible.  Some of the larger premium coolers on the market can be quite heavy and bulky (especially when full!) so having some features in place to assist in handling the cooler is welcomed.
SUREgrip™ Rubber Feet with optional SMOOTHglide™ covers
The SUREgrip™ Rubber Feet are elevated rubber feet that are inserted at the base of the coolers.  This helps to avoid potential scratching and abrasions that can occur when trying to move a bulky cooler around.  The SMOOTHglide™ covers are optional accessories that can be screwed into the feet and allow the cooler to slide around easily on hard, smooth surfaces.  This can greatly assist in moving what can otherwise be a pretty bulky ice chest.
TORRENT™ Drain Plug
The TORRENT™ Drain Plug allows for quick and efficient drainage.  It can be fully removed and reinserted with just a partial turn, taking a lot of the annoyance out of trying to remove it.  It has a water-tight silicone gasket that also is great at keeping the cold air in and the warm air out.
EASYhaul™ Rope Handles
The EASYhaul™ Rope Handles are there to assist with carrying the cooler around.  Sometimes it can be hard (even for two people) to carry a full cooler around using the embedded plastic handles.  They can be hard to grip and also quite slippery.  These flexible handles take the worry out of that and also make it much easier for a single person to lift if you don't have a partner to help.
HOLDtight™ Anchoring Points
Securing and protecting both your cooler and its contents is always a concern, particularly if you have a large cooler and are storing valuable items.  With the help of K2's HOLDtight™ Anchoring Points, this is no longer a problem.  These are conveniently located anchoring points that allow for both optimal mounting as well as provide padlock holes if you need to lock your cooler to keep the contents inside safe.  This is a great feature if you plan to leave the cooler out in public areas where strangers may be nearby.
Additional Mobile Options
K2 offers additional methods to help in making their products more mobile.  There are heavy-duty shoulder straps attached to the Summit 20 model as well as a wheeled configuration for their Summit 60 model.  This is a rather uncommon thing in premium coolers and one we wished we saw more of.
---
K2 Coolers Styling
The body design of K2 Coolers is nothing groundbreaking.  They take a safe approach and don't utilize a lot of aggressive curves.  However, where they do shine is in their nice selection of color choices.  For being a relatively small company, K2 has put some extra effort into providing some cool color combos.
You will find various camo-colored ice chests as well as some ice chests that closely match the team colors of some popular college sports teams.  We assume that K2 didn't get the rights to include the logos of the teams, but it is obvious which ones they were going for.
---
K2 Coolers Price
K2 Coolers are well into the premium price tier.  Simply put, if you want a long-lasting cooler that is extremely tough, it is going to cost some money.  That being said, in this bracket, they are still more affordable than many of the other high-end brands.  You will find that K2 has found a happy medium between price and performance.
It is also worth noting that K2 stands behind its products with an impressive 7-year warranty on their hard-sided coolers.  This is among the longest warranties in the industry and is further proof that you should consider this a long-term investment.
---
K2 Coolers vs. Yeti
We are often asked which is better between K2 Coolers and Yeti Coolers.  Both share a lot in common while still having their unique pros and cons.
Yeti is the "grandfather" of the premium cooler world.  Their reputation, size selection, accessories, and customer service are among some of the best you will find.  Their products have been tried and tested and you know that you will get a tough cooler that promises excellent ice life.
However, Yeti Coolers are very expensive.  Even when compared to other premium coolers, Yeti will tend to be towards the top in asking price.  This high barrier of entry may simply be too rich for some people.
K2, on the other hand, is a much smaller company.  They don't have the storied reputation or enormous range of models to choose from.
However, what they do have (K2 Summit Series) is quite diverse and has sizes that fall into just about every category.  And their build quality, ice life, and features rival (if not beat) some of Yeti's.  Finally, the asking price, while still high, is more reasonable.
So which is better between K2 Coolers and Yeti Coolers?
Both are great products but we have to give a slight edge to K2.  The performance and toughness are very similar so it boils down to the asking price.  Typically, you will be able to find K2 Coolers for a bit cheaper than Yeti.  And while they may not have quite the name recognition, they will be much easier on your wallet.
Now that we have gone over K2 Coolers in great detail, check out how we have rated them below!
Company website: http://www.k2-coolers.com/
---
K2 Summit Cooler Review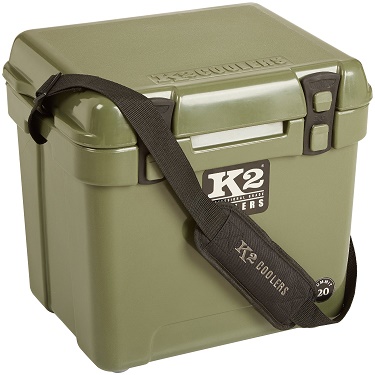 Storage Size: 20, 30, 50, 60, 70, 90, and 120 quart sizes
Construction: Plastic, rubber, polyester, and metal composition
Cost: Premium-priced
Features: Roto-molded construction, padded shoulder strap, ICE vault lid gasket, POSITRAC lid latches, ENDURA hinge system, SURE grip rubber feet
Pros: 

Incredible ice life, Wheeled option for mobility, Very sturdy construction, Plenty of color choices
Cons:

 Quite expensive, Only one model
| | |
| --- | --- |
| Insulation Ability | |
| Mobility and Durability | |
| Visual Appeal | |
| Cost | |
| Overall Rating | |
Check Current Prices on Amazon
This is our K2 Summit Cooler Review.  The K2 Summit cooler series is a premium option for those looking for extreme toughness and ice life.  They are made of one-piece roto-molded construction which means that the walls are essentially indestructible.  To aid with maximizing ice life, snow-blown insulation is used in correlation with positrac lid latches and theK2 icevault gasket, making it difficult for the cold air to escape.
Other unique features include the Endura hinge system, holdtight anchoring points, a screw-in drain system, and suregrip rubber feet.  To assist with moving and carrying, both realgrip integrated handles and the easyhaul rope handles are available.  These products come in a wide variety of colors (including various sports team colors), in 20, 30, 50, 70, 90, and 120-quart non-wheeled and 60-quart wheeled sizes, and are made of plastic, rubber, polyester, and metal.
Insulation Ability – 
These products do an excellent job of keeping ice cold.  The thick insulated walls that are attached via roto-molded insulation shines, and have no trouble keeping the warm air out and the cold air in.  The other primary exit point is typically the lid, but the air-tight gasket and very effective lid, hinge, and clamp mechanism keeps this potential issue in check.  You can expect these ice chests, depending on size, environment, and how often they are opened, to remain cold for up 6 to 8 days.  This is very impressive and will compete with the best on the market, and for oftentimes a much lower price.
Mobility and durability – 
Similar to many other long-term cold solution coolers on the market, K2 Summit coolers are quite large and heavy.   The thick walls and premium materials and various features that these products have are to thank for this.  Fortunately, there are two different carrying methods: gripped integrated handles on the sides of the chest as well as an easyhaul rope.  Also, there is a wheeled option in the 60-quart size and 30-quart size for those who would prefer rolling rather than carrying.
In regards to durability and toughness, these will have no problem handling whatever you can throw at them.  The one-piece construction and the premium materials used for all components shine here.  The hinges, often a weak point on coolers, would hold up just fine and all of the mechanisms will continue to create a great seal for years to come.  Other convenient implementations such as the rubber feet and well-placed anchoring points make these large coolers as convenient as possible.
We have seen some complaints involving the rope handles failing prematurely but never experienced this ourselves.
Visual Appeal – 
These are tough-looking coolers (albeit a simple design).  The combination of the thick lid and oversized latches go nicely with the aggressive front sticker.  However, where these shine is in their vast color selection.  These ice chests have some of the widest color varieties on the market, especially for "premium" lines which oftentimes only come in a handful of colors.  There are several team-oriented choices available as well.
Cost – 
These are premium iceboxes and, as such, come at a premium-tiered price.  But while they are quite expensive, they are still more affordable than many of the other premium coolers on the market.  And when looking at their performance and build quality, they will easily compete with many of these other more expensive cooler brands.
Overall Rating – 
The K2 Summit Cooler Review earns 4.5 out of 5 coolers.  This is a fantastic line of coolers and has no real weak points.  With an ice life of potentially a week or more, great construction, and a resilient look, anybody that is looking for long-term cooler investment will be pleased. However, with this high-end offering, you will expect to pay in the top price bracket for it but, in this case, we think it is worth it, especially considering that many of the comparable coolers on the market are more expensive.