Ebags Cooler Reviews
---
Last Updated by Brandon F. on September 19, 2022
This is a listing of all eBags Coolers for sale that have been reviewed and we also list what we think are the best eBags Coolers with our internal ranking system.  Ebags is another company that specializes in soft-sided bags and they have a category of insulated examples that are intended to store and prolong the life of chilled items.
While the options aren't super expansive, what they do bring has some noticeable pros and also some somewhat consistent weaknesses.  Overall we feel that a lot of people who are in the market for a simple and mobile cooler to pack their lunch or picnic items might benefit from trying an Ebags product.  We encourage you to check out our specific reviews below!  Also, if you are in the market for soft-sided bags intended for lunch or small outings then feel free to check out our reviews of Dalix Coolers and Wildkin Coolers.
Our Top Rated eBags Coolers
| | eBags crew Cooler II | eBags Crew Cooler Jr. | eBags Lunch |
| --- | --- | --- | --- |
| | | | |
| Our Rating | | | |
| Price by Volume (Amazon) | $$$$$ | $$$$$ | $$$$$ |
| Ice Life | 4-6 hours | 4-6 hours | 3-5 hours |
| Our Full Review | Link | Link | Link |
Convenient Mobility
Nearly all of eBags' products are very mobile.  This is due to a couple of reasons.  First, they use lightweight materials in their construction so even when full, a cooler may only weigh a few pounds.  
This means that it is not laborious at all to carry around for just about everyone.  Second, the efficient design means that their products are not overly large, which allows them to be easy to transport under a car seat, on a motorcycle, or any other place that many typical coolers wouldn't be able to fit into.
Another reason that they are relatively small is that they do not have super thick insulated walls or rigid internal structures.  While this means that they won't have ice retention that goes into days, the construction and materials used are high quality enough to still allow for adequate cold life for most lunch or picnic applications.  But for longer trips that are in more demanding conditions, you will likely want something more capable.
Optimal Shape For Storing Items
While relatively small, eBags is designed in a shape that allows them to store an impressive amount of things given the size.  We oftentimes will see a lunch tote or lunch cooler that is in a shape that makes it difficult to store a lot of products.  
There will sometimes be a bit of space at the top of the storage area that is too short to fit another item like a soda can but is too tall to ignore since we are giving up precious insulated storage areas and having to carry a larger volume.
These products have been engineered to comfortably fit normal lunch items in a way that you shouldn't have much space at the top that goes unoccupied.  The walls are also flexible so they can mold some to fit an especially low or wide object to some extent.
Tons of Storage Areas
eBags products have an impressive array of storage areas located both externally and internally.  This means that there is much more storage room than you would expect from a typical small lunch cooler.  It also means that you can use their products for more than a typical lunch.  Need to pack all your items for a day at the beach?  These products can handle it.  Want to load up for a hike and picnic in the mountains?  This could work fine.
A lot of the storage areas are designed for non-chilled items which means that you won't have to worry about carrying them by hand or necessarily having to utilize a separate backpack.  While some may wonder why a cooler has so much storage for non-chilled items, you'll realize how handy it is to only have to carry one bag to store all of your stuff if you try one out.
Multiple Carrying Options
Most of these products come with a couple of different methods of carrying them.  They include overhead padded handles as well as a detachable long shoulder strap.  This allows you to transport an eBags cooler while still allowing your hands to be free to carry other items.  Sometimes the smaller, more personal-sized cooler solutions skimp on offering multiple carrying options so this is something we always like to see.
Great Range of Colors
There is a pretty nice range of color choices available in eBags products.  If you are someone who likes to keep things low-key and opt for a simple black or gray color scheme they have the product for you.  However, if you are someone who likes to stand out with a more vivid color they also offer radical colors such as neon green and even pink!  The great array of customizations you have helps to expand what is otherwise a relatively small line of cooler products.
General Product Information
Products Reviewed: eBags Crew Cooler II Cooler, eBags Crew Cooler Jr. Cooler, eBags Lunch Cooler
Range of storage sizes: 5.5 quarts to 19 quarts
Range of estimated ice life: up to 6 hours
Materials used: Polyester, nylon, plastic, metal
Price range: Premium
Wheeled options? No
Company Website: http://www.ebags.com/
---
eBags Crew Cooler II Cooler Review
Storage Size: 19-quart size
Construction: Nylon, polyester, plastic, and metal composition
Cost: Premium-priced
Features: Separate top dry compartment, internal zippered mesh pockets, fully insulated bottom cold compartment, front pocket, two different carrying methods
Pros: 

Plenty of room for a lunch outing, 3 different carrying methods, looks very nice
Cons:

 Ice life is a bit on the short side, pretty expensive
Check Current Prices on Amazon

This is our eBags Crew Cooler II Cooler Review.  The Crew Cooler II is an updated version of the original Crew Cooler.  With the update come many new features and improvements.  Some of these features include multiple compartments including a top dry compartment that makes non-perishables easy to access, an insulated bottom cold compartment, a replaceable inner liner, an external mesh pocket, and three different ways to carry it: padded web handles, adjustable shoulder strap, and pass-thru pocket.  This product is available in various colors and has approximately 19 quarts of total storage.  It is made of nylon, polyester, plastic, and metal.
Insulation Ability – 
This cooler will keep items cold for a few hours, but not much beyond that.  The insulation lining is simply too short and the multiple access points via zippers come at the cost of allowing air to easily escape.  It is fine for an indoor or office setting or for packing a large lunch but if you plan to be outdoors in the heat or are looking for a weekend trip type of cooler this will likely fall short.  This is unfortunate because it can fit a decent amount of items so we wish they would stay cold for a bit longer.
Mobility and Durability – 
The size of this cooler is optimized so that it has more than enough room for a very large lunch for multiple people but not so large that it becomes burdensome to store or carry.  It is also relatively lightweight for its size, even when full.  The inclusion of 3 different carrying methods means that no matter the situation it can likely be transported with relative ease.  The build quality is acceptable as well and despite the relatively thin nature, it should resist tears for quite some time.
The zippers and separate compartments should be able to be filled without any major worry of damage occurring or zippers breaking.  The improved design is noticeable and appreciated, with every compartment being easy to access and open and close.  We also like the decision to make the top compartment non-cooled as this is oftentimes where people will place non-perishables.
Visual Appeal – 
With the update came some new aesthetic features as well.  The cooler looks modern enough and can blend into the many compartments and carrying features without it looking too cluttered or forced.  There are also plenty of color choices which is nice.
Cost – 
We are seeing this product typically being on the lower level of the premium tier online in terms of pricing.  Remember, this is mostly because the eBags Crew Cooler II Cooler is on the small side.  Since we rate things in regards to cost based on dollars per quart, this oftentimes drives up the price ratio of smaller coolers.
Overall Rating – 
The eBags Crew Cooler II Cooler Review receives 3 out of 5 coolers.  We like the updates that were done on these coolers, especially the multiple carrying methods and the improved ergonomic design.  However, the ice life is still nothing amazing and for the price, we were hoping for a bit more.  Despite this, it isn't a horrible choice considering the many features and facelift.
---
eBags Crew Cooler Jr. Cooler Review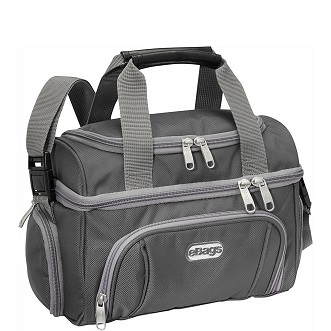 Storage Size: 5.5-quart size
Construction: Polyester, plastic, and metal composition
Cost: Premium-priced
Features: Top dry compartment, an internal zippered mesh pocket, separate bottom insulated cold compartment, side and front pockets, two different carrying methods
Pros: 

Very mobile, decent build quality, a lot of additional storage pocket, looks nice
Cons:

 Expensive for the size, very limited in insulated storage volume
Check Current Prices on Amazon
This is our eBags Crew Cooler II Cooler Review.  The eBags Crew Cooler Jr. Cooler is a smaller version of the popular eBags Crew Cooler.  It contains 4 different compartments which allow for a lot of storage for the size in both cooled and non-cooled locations.  The top compartment has double pullers which allow for easy access to items that don't need to stay cold.  The entire lower compartment is wrapped around with insulation as well as a replaceable liner. 
There are two different carrying features: a conventional overhead carrying strap as well as a larger should side strap.  This product is available in several color options and has approximately 5.5 quarts of total storage space.  It is made of a combination of polyester, plastic, and metal.
Insulation Ability –
While there is a noticeable thickness of insulation, don't expect this cooler to keep items cool for extended periods.  The layer is just not thick enough, the lid is not air-tight, and the compartment is simply too small to cool a significant amount of air.  However, it works perfectly fine for packing a lunch or picnic.  Due to the size, you and especially you and multiple other people would consume the contents pretty quickly anyway so having a super long cool life isn't that big of a requirement.
Mobility and Durability –
True to the "Jr." designation, this product is quite small and mobile.  It will fit just about anywhere and even when completely feel is easily carried by either the handle or shoulder strap.  That being said, for many this will simply be TOO small!  It can struggle to fit even a medium-sized Tupperware container and if you plan on carrying more than a few drinks with ice then you will need to find another cooler.
The build quality is acceptable and both the liner as well as the zippers should hold up to normal abuse for quite some time.  Also, the number of separate zippers and compartments it has for such a small package is quite impressive and the overall design and access points of them were well thought out.
Visual Appeal – 
This cooler is an attractive product, and the inclusion of all the different compartments and mesh areas comes together nicely.  There are also several color options which means that you should be able to appease just about everybody's aesthetic needs.
Cost – 
Due to the small volume, this is a pretty pricey item in terms of dollars per quart of volume.  It is well into the premium tier.  While it won't have the same sticker shock when you look at the overall price, it is still up there in regards to soft-sided coolers without offering the extreme ice life and enhanced durability of other premium soft-sided coolers.
Overall Rating – 
The eBags Crew Cooler II Cooler Review receives 2.5 out of 5 coolers.  The construction and intent of this product are there, but we feel that for a lot of people the size restrictions will be just too much.  If you can fulfill your needs with its small storage volume then it should suffice, and obviously, it is incredibly mobile which is a plus.  But it is pretty expensive considering how little it can hold.
---
eBags Lunch Cooler Review
Storage Size: 6-quart size
Construction: Nylon, plastic, and metal
Cost: Premium-priced
Features: Double-zipper top opening, leak roof liner, an internal mesh pocket, adjustable strap
Pros: 

Will fill its purpose in regards to keeping items cool until lunch, high-quality materials, strong strap
Cons:

 Very limited in storage size, expensive for how much space you are getting, very plain styling
Check Current Prices on Amazon

This is our eBags Lunch Cooler Review.  The eBags Lunch Cooler is designed as a simple solution for those looking for a viable cooler to keep their items cool for lunch.  It is fully insulated on all six sides which helps to reduce the risk of heat transfer, is leak-proof, has a double-zipper top opening for easy access to the internal contents, and has both internal and external mesh pockets for additional storage capabilities.  It is carried via a shoulder strap and comes in multiple colors.  It is made of nylon, plastic, and some metal.  It has around 6 quarts of total storage space.
Insulation Ability –
True to form, this product will keep items cool from being packed in the morning until lunchtime.  Beyond that, you will need something more robust.  While that sounds simple enough, it is refreshing to have an effective lunch cooler of this size that can hold up to that standard.  The 6-sided insulation is to thank for this and, while it is a bit thin, is strong enough to do what it needs.
Mobility and Durability –
Being a lunch-oriented product, it is quite small and will probably be overwhelmed if trying to appease multiple people for a meal.  After various lunch items and a drink, it is essentially full.  You could include an ice pack or some ice since it is leak-proof for additional cool life but will give up some valuable space if you do so.  The components that make up the cooler are of high quality and should last for quite some time.  The zipper is strong and smooth, the lining is rather strong and can be brushed on abrasive surfaces without too much concern of tear, and the shoulder strap is more than good enough to stay together under load.  The inclusion of internal and external mesh pockets is also helpful for non-perishable items so that they don't have to take up the cooling space if need be.
Visual Appeal – 
It is a very plain lunch cooler.  Other than the mesh outside, it is more or less a box.  There are a few different color options but you won't be turning any heads while carrying this around.  This might be a good thing to some, but we still prefer a product that is aesthetically unique as well.
Cost – 
Due to the small size of this, the dollar per quart price is quite high, and will generally fall into the most expensive price tier.  However, it is still quite affordable overall.  You just don't get a lot of "bang for the buck" considering the small size.
Overall Rating – 
The eBags Lunch Cooler Review receives 2.5 out of 5 coolers.  A pretty straightforward approach that does the primary intention (keep items cool) well enough, and will be a viable lunch companion.  However, beyond that, there isn't much to get excited about, and the size, boring design, and relatively high price for the size are all definite downfalls.