All Wildkin Cooler Reviews
Last Updated by Brandon F. on July 28, 2020
This is a listing of all Wildkin coolers for sale that have been reviewed and we also list what we think are the best Wildkin coolers with our internal ranking system. Wildkin is primarily focused on children's products, varying from backpacks, lunch containers, bedding, and even furniture.  As such, their cooling products center around containers that are good for packing lunches in.  
However, just because they are intended for kids doesn't mean that they aren't viable choices for adults needing a lunch cooling solution as well.  If you are looking for something that has higher carrying and cooling capacity, we recommend checking out some other brands.
Our Top Rated Wildkin Coolers
| | Wildkin Lunch Bag | Wildkin Lunch Box |
| --- | --- | --- |
| | | |
| Our Rating | | |
| Price by Volume (Amazon) | $$$$$ | $$$$$ |
| Ice Life | 4-5 hours | 3-4 hours |
| Our Full Review | Link | Link |
A Unique Background
Wildkin has one of the more unique company backgrounds of any of the products we have reviewed.  Since they almost exclusively specialize in babies and children's goods and apparel, they have a very specialized and different interpretation of how to design their products. 
Having applied what they have learned into their coolers, the result is a product that is specially catered to their target audience but is still viable for adults as well.  In doing this, they likely learned some special approaches or ideas that a normal cooler company might not stumble upon, given their traditional target audience.
Very Lightweight
As expected, a top priority of Wildkin products is making it easy to be used by kids.  As such, their coolers are quite lightweight and should not be an issue for anybody to carry.  This is thanks to a combination of optimal construction that minimizes bulkiness as well as utilizing simple and lightweight materials in their construction.  Even when they are full of food, drinks, ice, or other items they should still be very lightweight.
Super Mobile
These coolers are very easy to carry, both due to their lightweight tendencies as well as their size and carrying options.  This three-way punch results in a cooler that can be transported from place to place with great ease.  This makes them handy if you plan on needing your hands for other tasks such as being out camping or hiking or if you need to carry several other items all in one trip.
Optimal Sizing
The dimensions of Wildkin coolers are set up to maximize what storage volume they have.  In other words, they do a great job of avoiding leaving extra space that cannot be used but still providing enough space for a variety of objects in different shapes and sizes.  This can be great for a lunch or picnic where there may be a huge variance between what one person brings and another.  It also means that you don't have to worry about potentially bringing along other coolers for yourself as the Wildkin products typically will have you covered.
Great for Carrying
The other factor that helps with mobility is the optimal shape and location of the methods for carrying it that are located on their products.  You don't have to worry about these coolers getting in the way when you are carrying them due to their slim design.  Also, the handles and shoulder straps are located in areas that make it very convenient for you to carry while also carrying other items that are performing a task like opening a door or walking a dog.
Easy to Store
These coolers are small and soft-sided, so they are super easy to store, whether they are full or empty.  They can easily tuck away just about anywhere and if you aren't currently using it, simply fold it in itself and it can be stored just about anywhere, no matter what space is available.  The material that they are made out of is also of high enough quality that you don't have to concern yourself with damaging the product if you bend or fold the insulated walls.
Multiple Compartment Options
Another great benefit of Wildkin coolers is their great selection of storage areas, both internal and external.  These can come in the way of separate zippered pockets for your non-chilled items as well as upper and lower compartments if you need to keep multiple items chilled but want to avoid them crushing each other. 
This is great for a picnic where you might bring some water or sodas and don't want them to be resting on your more fragile items like a sandwich or some chips.  It also increases the likelihood that you won't have to carry along additional coolers or bags to store all of your items.  When you are packing for a picnic, the fewer items you have to transport the better!
Exciting Colors and Patterns
As to be expected from a company that generally focuses on kid products, their coolers come in a wide variety of fun and exciting colors and patterns.  Wildkin offers some of the most unique designs that we have seen from any cooler company!  We all remember how exciting it was to get a new lunch box that we could show off to our friends while in school, and Wildkin's design approach here is no different.  If you aren't looking for something quite as extreme, they do also offer some more subtle patterns.
General Product Information
Products Reviewed: Wildkin Lunch Box, Wildkin Lunch Bag
Range of storage sizes: 3.5 to 8 quarts
Range of estimated ice life: Up to 6 hours
Materials used: Plastic, various fabrics, and metal
Price range: Premium
Wheeled options? No
Company Website: http://www.wildkin.com/B_LUNCHCOOLER.html
Wildkin Lunch Bag
Our Rating:

The cooling ability of the small lunch bag is pretty good.  There are also some intuitive storage compartments with well-placed zipper for accessing them.  There are plenty of color and design options to pick from, too.  But it will cost a bit more than you are used to seeing for a product of this size and the storage volume can still be a major limitation.
Pros: Great cooling for the size, unique side-access to storage areas, a wide variety of color and patterns to choose from
Cons: Expensive for the amount of storage volume, build quality could be better, only one carrying method
Wildkin Lunch Box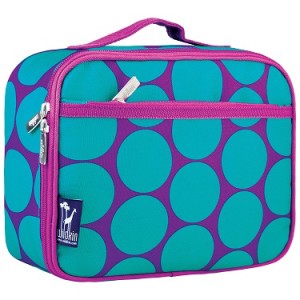 Our Rating:
This lunchbox is extremely easy to transport and comes with many fun color options.  But the simple fact of the matter is that it is too small for most people's needs.  And this not only results in difficulty in packaging all of your items but also sub-par cooling ability.
Pros: Very easy to transport, side-access to compartments, a huge array of colors and patterns to choose from
Cons: Way too small for many applications, struggles with cooling life, not at all waterproof, expensive given the storage size