T|W Lunch Tote Review
Last Updated by Brandon F. on June 21, 2019
T|W was nice enough to send us one of their new insulated lunch totes for review purposes.  We must admit that we had never heard of this brand before this review.  However, we are always open (and excited!) when new brands get into the cooler world because more products mean better products for you, the consumer.
T|W is doing something rather unique: they are trying to bring some luxury to an item that most people do not associate with word "luxury" with: lunch totes.
While we have tested plenty of soft-sided lunch totes, lunch bags, etc., few (if any) have ever tried to take a "professional" approach to their design.  T|W is looking to make a name for themselves by catering to the typical businessperson who wants a more attractive way to transport his or her lunch to work each day.
In this review, we will test out the T|W Lunch Tote.  We will test its ice retention capabilities, go over its various features, discuss build quality, evaluate styling, and finally give it an overall rating.
So let's begin!
---
T|W Lunch Tote Features/Build Quality
The first thing that you will notice when you first handle the T|W Lunch Tote is that the quality and "feel" of it are a step above most of your traditional lunch totes.  It has a good weight to it while not being uncomfortable to hold.
According to T|W, the outside material is made of vegan leather.  And we must admit that this leather feels great to the touch and its something that very few other lunch totes can offer.  Another great thing about leather is that it is much more tear and scratch-resistant than your typical plastic or fabric outsides that are present on most lunch totes.
However, being made of a leather outer material, construction has to be performed in a different way than most lunch totes.  Rather than being glued or heat-welded together, you will find quality stitching to attach the handles to the body of the tote, connecting various outside panels, etc.  Long-term usage tests would need to be performed to determine the true quality of some of these stitches but from initial inspection, they appear to be quite resilient.
Another nice touch is that this leather is also used on the carrying handles.  This is in contrast to most lunch totes which simply use a fabric such as nylon for their handles.  And speaking of the handles, they are a nice size and comfortable to hold while carrying.  With a lunch tote of this size (10" x 9.4" x 5.5"), you should not have any difficulty transporting it, even when full of items.
On the inside, you will find a totally different material: a water repellant plastic liner.  And the various pieces of the liner are attached to each other via stitching (similar to the outside).  Having a more water-resistant material on the inside was a good idea as this area will be more prone to being exposed to liquids, spills, etc.  But when we saw that there was stitching present, we instantly knew that this tote would likely leak if exposed to melted ice or other liquids (more on that later).
The zippers are a pretty standard offering: these aren't the robust heavy duty zippers that you will find on high-end soft coolers from RTIC, Yeti, etc.  However, they are very simple to open and close and we found no major gripes with them.
The overall storage layout is one area that the T|W Lunch Tote really shines.  On the top, you will have access to the largest of three compartments.  Since the top zipper is wide, it allows you to have a very large access point to contents inside.  A typical 12-ounce glass bottle is shown in the image above to give you an idea of storage dimensions.
On the front of the tote, you will find the second largest compartment which is shaped to be intended for storing cans.  You can see a close-up of the inside of this second compartment in the picture of the inside liner we posted earlier.  It is deep enough to easily fit two typical 12oz cans inside (which is plenty for someone who is simply taking their lunch to work each day).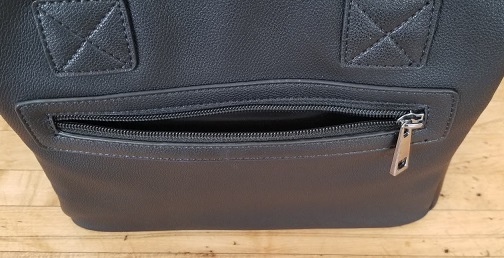 The final compartment is a small zippered pocket located on the backside of the lunch tote.  This pocket is intended for storing items that you do not want to be exposed to ice, ice packs, food, etc.  This could include things such as keys, cell phone, makeup, etc.
As you can see, you have plenty of storage space to work with.  And we love how you are able to separate your drinks into a totally different storage volume than your food and other items.
---
T|W Lunch Tote Insulation Ability
While a lunch tote doesn't need to have the insane ice retention abilities of your typical hard-sided cooler, it is still important to have enough insulation to keep items hot or cold until lunchtime. 
You will find a small layer of insulation surrounding the 2 larger compartments.  This is good for helping to keep items in both compartments chilled, but at the expense of reduced storage for ice/ice packs.
Since the storage volumes are split, we thought about testing the ice life on both of them.  However, since you are quite limited in space in the smaller compartment that is designed for drinks, we found that the amount of ice/ice packs that you could fit inside to be negligible.  In addition, the ice that you put in the larger compartment still technically touches the walls of the smaller compartment, essentially providing a chilling factor to it.
Because of this, we decided to focus mostly on the largest compartment.
We filled up the largest compartment with around 4 pounds of ice.  We felt that this was a happy medium between ice quantity and leaving room for storing items.  We then left the lunch tote in an indoor setting (typical of what you would find in a professional environment) and opened it every once in a while.
After 9 hours (a typical workday) there was still quite a bit of ice life!  In fact, we found traces of ice all the way up to around the 16-hour mark.  This means that the T|W Lunch Tote should have no problem keeping your items chilled for a typical workday, assuming that you work indoors.  Obviously, if you work outdoors in a warm climate, do not expect this level of ice life.
Now, for the caveat: all of the ice you see melting above will now stay retained within the bag.  Instead, it will leak out the bottom through the stitching.  This is one big negative of not having a solid inner liner: melted ice can escape.
Because of this, we would not recommend using ice with the T|W Lunch Tote.  Doing so will result in a big, wet mess.  Rather, we encourage you to stick with ice packs.  Since ice packs' liquid are protected within the plastic shell, you do not have to worry about it getting everywhere when it begins to melt.  Another benefit of ice packs is that they tend to last longer than ice.
---
T|W Lunch Tote Styling
A big reason that the T|W Lunch Tote was created was to fill the void of "professional lunchware".  It was made for someone who did not want to carry a neon green lunch tote around with them while they were dressed to impress.
Because of this, creating an attractive look was essential.
And overall, we must say that we are very impressed with how nice it looks.  It reminds us of a business briefcase that mated with a regular lunch tote.  The look is timeless and would fit right in with any well-dressed business person.  In fact, many people would probably not even realize that this item was carrying your lunch upon first glance!
Our only minor complaint is that there is only one color option that we could find: black.  This is great for people who like black bags, briefcases, etc.  But some people may prefer other colors (brown, tan, white, blue, etc.).  We hope that in the future, T|W considers expanding to other color schemes.
---
T|W Lunch Tote Cost
From a price standpoint, you will pay a higher price to enjoy a T|W Lunch Tote.  This is due to multiple factors.  First, you will find higher quality materials being used.  While other lunch totes utilize cheap plastic or nylon outer shells, this lunch tote uses leather.  In addition, there are some clever storage features that you won't find in many other models on the market right now.  In addition to this, the assembly process is more involved: the stitches are hand-sewn, for example.  Finally, T|W appears to be a smaller company that probably isn't mass-producing their items to the extent that many of your larger, more established brands are doing.  This does increase the overhead per product (which is reflected on the asking price to the customer).
But overall, we feel that the premium that you pay here is justified.  This is a higher-class tote than you might be used to seeing.  And like most things in life, you get what you pay for.
---
T|W Lunch Tote Review
The T|W Lunch Tote is a classy product that is intended for the businessperson who wants their lunch-carrying tote to look just as good as they do.  This is a quality product that utilizes hand stitching, vegan leather, and very clever design.  Ice retention is plenty good for your typical lunch needs as well.  However, it does fetch an above average asking price.
Pros: Great looking, Nice construction, Acceptable Ice life, Clever compartmentalized design
Cons: Only one color option, Not leak-proof, A little pricey
Features: Vegan leather, Three different compartments, Overhead carrying handle
Features/Build Quality – 
The build quality is excellent for this price point.  Quality leather is used as the outer material while the inside utilizes a more stain-resistant plastic liner.  In between this is a small layer of insulation that helps with ice retention as well as rigidity.  And it is all held together with hand stitching.
You will find three different storage compartments.  The largest is a great all-around compartment.  The second largest is specifically designed for holding cans (around two of them).  And the smallest compartment does not have much in the way of insulation and is best suited for holding keys, phones, wallets, etc.
Ice Retention – 
This lunch tote will be more than adequate for typical lunch needs.  In our ice retention tests, we find ice life to max out around 16 to 18 hours.  Seeing how most people only need to keep items chilled until lunchtime, this is more than enough.  Your best bet for maximum ice retention is to store those items in the largest storage compartment and fill it up with ice packs.  We say ice packs because melted ice will leak through the bottom of this container.  We hope that future designs utilize a solid one-piece inner liner so that people can use ice with it.
Styling – 
This is a very sleek lunch tote.  The leather is nice quality and does not look gimmicky.  And the overall design and shape really does make it look to be almost a lunch tote/suitcase hybrid.  Our only issue is with the lack of color options at the time of this writing.  If you prefer a lunch tote in a color other than black, you may be a bit turned off.
Cost – 
Any time higher quality materials and construction are used, the costs will be driven up.  And that is the case here.  The T|W Lunch Tote will be a bit more expensive than many lunch totes of similar size that you are used to seeing.  But the price is somewhat justified with the nice styling, durability, and performance.
Overall Rating – 
If you are after a more stylish and business-savvy lunch tote to take to work, then T|W makes a strong case with their new product.  Not only does it look great but it performs more than adequately for a typical business environment.  You will find plenty of space to store your lunch items and the fact that you can divide your drinks up from your food and other non-chilled items is a great feature to have. 
Our only issues are that ice will leak through the base and you will pay a small premium to enjoy this product.  But if you are cool using ice packs and opening the wallet a bit wider, you won't leave disappointed.