Grizzly Drifter Soft-Sided Cooler Review
Last Updated by Brandon F. on June 19, 2019
Grizzly has always been known for its quality hard-sided coolers.  But like many other brands, they have started to expand their product line to other areas.  This review will be focusing on their new lineup of soft-sided coolers that they have dubbed the Grizzly Drifter Series.
It appears that Grizzly is taking a middle of the road approach with their Drifters.  They are focusing on producing a quality product with adequate insulation ability but at a much cheaper price point than other high-end soft-sided coolers offered by brands such as Yeti and Engel.

Our Top Pick

Model
Grizzly Drifter 12 Softpack Cooler
Grizzly Drifter 20 Softpack Cooler

Model
Grizzly Drifter 12 Softpack Cooler
Our Top Pick

Model
Grizzly Drifter 20 Softpack Cooler
---
Grizzly Drifter Soft-Sided Cooler Lineup
At the time of this article, the Drifter size options were a bit limited.  You could choose between the Drifter 12 and the Drifter 20.  As you might suspect, the "12" and "20" represents storage in quarts.  In other words, the Drifter 12 has 12 quarts of storage while the Drifter 20 has 20 quarts of storage.
At these sizes, the Drifters are more targeted at lunch outings or small afternoon picnics rather than a 3-day hiking excursion through the woods.  While you should be able to fit a decent amount of food and drinks in the Drifter 20, the Drifter 12 is more of a large lunch tote.  It is better suited for one or two people rather than a huge group.
---
Grizzly Drifter Soft-Sided Cooler Features
The size and shape of these soft-sided coolers make it obvious that Grizzly wanted to focus on mobility.  Both sizes come with two carrying options.  You can take advantage of either a large adjustable shoulder strap or overhead carrying handles.  This means that you can easily carry it even if you don't have a free hand available.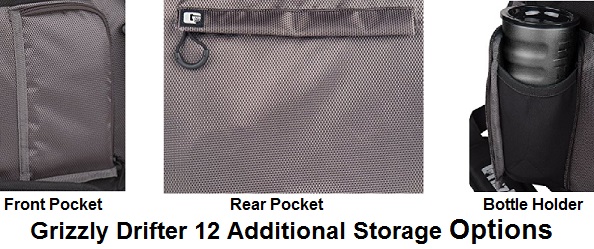 You will also find additional storage.  On the Drifter 12, you will enjoy a small front sunglass pocket, a larger rear zippered pocket, and a side holder for a water bottle.  While you should be able to fit any water bottle of similar size and shape in the pocket, it is specially designed for the Grizzly Grip.
On the Drifter 20, you will find a non-zippered front pocket, a zippered side-pocket for sunglasses, and a large zippered back pocket.
Given the relatively small size of these coolers, we are quite impressed with all of the additional storage options you have.  A common complaint we hear is from people wishing that they had more places to store items that they DIDN'T want to keep cold and be near ice.  Grizzly has obviously heard these cries and updated their design accordingly.
To help with toughening up these products, Grizzly has also incorporated some features specifically to help.
Both sizes will come equipped with a waterproof ballistic polymer shell.  This shell not only can handle being exposed to water, but it is also very tough and tear-resistant.  And an added bonus is that this inner liner is actually removable on the Drifter 20.
In addition, the zippers on both models are heavy-duty and should never give you trouble with opening and closing.  The most annoying thing in the world is when the zippers on your favorite soft-sided cooler start to go out and you are left with a product you can't open or close!
Finally, both products will come with a non-skid molded base.  This allows you to lay it on top of rough surfaces without concern of it damaging the fabric.
As for features that will help with cooling performance, you won't find quite as many of these products as on some of the other soft-sided cooler we have reviewed.  The overall designs of them are not optimal for absolute maximum ice life.  The best shape we have found for that is the narrow pocket-like designs of Yeti and RTIC.
In addition, the Grizzly Drifter 20 is really the only model that has any significant insulation.  It comes thanks to a molded EVA lid and base that not only provide some much-needed insulation but also some structural rigidity.
---
Grizzly Drifter Soft-Sided Cooler Ice Performance
And that leads us to the next topic: ice life.  Ice life is always important on any cooler you get and it can be of particular interest on soft-sided coolers since their ice performance seems to be all over the place from model to model.
As we mentioned above, maximizing ice life and storage space didn't seem to be a top priority to Grizzly.  Rather, they went with smaller sizes, less insulation, and a lower price point in hopes of finding a nice balance between cost, toughness, storage size, and ice life.
Below are the results of some testing that we did.  Typically with soft-sided coolers, we recommend going with a cooler ice pack since many don't have waterproof liners.  The result can be water leaking out and causing a mess.  However, since the Grizzly Drifters do have a waterproof inner liner, you can go with either.
As is typical of our testing, we left the coolers outside in the heat and opened them occasionally to emulate real-life use.
As we expected, ice life was best on the larger model with the most ice.  In addition to larger = better, the additional insulation that the Drifter 20 possesses played a big role in the noticeable increase in ice life.
---
Grizzly Drifter Soft-Sided Cooler Aesthetics
Coolers have become more and more of a fashion symbol these days.  People now want to bring the latest and greatest cooler on their boat or to the tailgate.  While performance and toughness are always extremely important, having a product that can stand out from the sea of other coolers has become a desire of many people.
Grizzly definitely took note of this when designing their Drifter Series Soft-Sided Coolers. No matter which model you go with, you will enjoy a nice multi-color scheme that also varies in fabric types.  This is a big transition that we are seeing over the past couple of years.  Cooler companies are going for a multi-fabric and multi-color scheme.
If you decide to go with the Drifter 12, you will have 4 colors to choose from: Black/Gray, Black/Gunmetal, Green/Black/Orange, and Teal/Black.
The Grizzly Drifter 20 currently has just 2 color options.  It is also worth mentioning that as of the time of this article being written, some of these colors are not yet available and are slated to go into order status in the next month or two.  So there is a good chance additional colors will roll out over time.
---
Grizzly Drifter Soft-Sided Cooler Price
Price is always an important consideration.  Even if a particular model wows us in every aspect, if it ends up being ridiculously expensive it may simply be out of most normal people's reach.  Because of that, we like to see a good value relative to a cooler's features and performance.
The Grizzly Drifters are at a price point that points them a step above most "average" coolers but a step below the most expensive premium soft-sided coolers by brands such as Yeti, RTIC, and Engel.
Coincidentally, their toughness and performance also hover around this area.  You will see a noticeable drop in ice life and toughness compared to the most expensive models in the industry.  However, compared to your typical lunch tote, these coolers will be much more capable.
---
Grizzly Drifter vs. Yeti
One of the most common comparisons is how a particular model compares to what the grandfather of the premium cooler industry, Yeti, has to offer.
In this case, we will be comparing the Grizzly Drifter to the Yeti Hopper.
The Yeti Hopper comes in many more sizes, starting from the tiny Hopper Flip 8 and Roadie and going all the way up to the quite large Hopper Two 40.  All of these products are known for their incredible toughness, fantastic build quality, and impressive ice life.  They also carry the storied Yeti name and its great customer support.
However, Yeti is quite limited in color choices on their soft-sided coolers despite being well-established.  And, as you already know, Yeti products are very expensive and will typically be among the priciest in the industry.
The Grizzly Drifter Series is much smaller, with only 2 sizes currently being available.  Because of this, there will be some noticeable size gaps compared to Yeti.  In addition, the ice life, materials used, and overall build quality aren't quite up to the level of Yeti.
But you do have a few more color choices (with more coming out), the Drifter coolers are a bit more portable, and they are quite a bit more affordable. 
As for which one is better?  If you are after maximum ice life, the highest level of build quality, and you have deep pockets, then Yeti is the way to go.
But if you are looking for something less capable but more portable and are on a tighter budget, the Grizzly Drifter is a great compromise.
---
Grizzly Drifter Soft-Sided Cooler Review
12-20 Quarts
Intermediate to Premium-Priced
Pros: Plenty of additional storage areas, Attractive styling
Cons: Threads can unravel easily, Limited size options
Features: Multiple pockets, Bottle holder, Ballistic polymer shell, shoulder strap, overhead carrying handle, non-skid molded base, heavy-duty zippers
Grizzly's new Drifter Series Soft-Sided Coolers hope to make a splash in the intermediate to premium cooler world.  Currently available in 12 and 20-quart options, the Drifter attempts to strike a balance between performance and cost.  Despite being on the small side, there are multiple additional storage areas and the styling has a progressive look to it.
Insulation Ability – 
Ice performance is by no means industry-leading but it will do the job considering the size of these coolers.  The larger, 20-quart model is the clear leader thanks to its increased storage capacity as well as thicker insulation.  The 12-quart is lower but should still provide enough ice life to make a typical lunch or picnic excursion doable.  Specifically, you can expect up to around 14 hours of ice life with the 12-quart Drifter and 24 hours of ice life with the 20-quart model.
Mobility and Durability – 
We found the Grizzly Drifter Soft-Sided Cooler to be extremely mobile.  Not only is it small and lightweight, but you also have two different ways to carry it: a padded adjustable shoulder strap and overhead carrying handles.  You will also find some helpful features including 3 additional methods of external storage, waterproof inner liner, and a molded base for skid protection.
That being said, we did run into some issues with the stitching used on the external fabric coming unraveled prematurely.  While it didn't (initially) affect performance, we could see it ultimately leading to panels wanting to come off if the unraveling continued.  But other than this issue, the rest of the build quality was quite good.
The zippers were thick and felt durable.  We never had any problems with them wanting to get jammed.  And the liner itself is very robust and can handle the occasional bump or scrape without any issues.
Visual Appeal – 
These soft-sided coolers have a nice look to them.  We really like the multi-colored and multi-textured external appearance.  And with the new color choice being rolled out, you will have more options (all of which look quite nice).
Cost – 
While still not the most affordable soft-sided coolers you will find, given the performance, we are happy with the asking price.  There is definitely a market for this caliber of cooler.  It is for people who want a step above budget-brands but aren't quite ready to fork over enormous amounts of money for the most expensive options out there.
Overall Rating – 
The Grizzly Drifter Soft-Sided Coolers are a nice addition to Grizzly's reputable lineup.  While the size selections are limited, what is out so far has acceptable ice life.  Also, the build quality is great except for the stitching wanting to come undone.  The ice life is more than adequate given the size and scope of these products.  And the asking price is right where we feel that it should be.  We are excited to see what additional products Grizzly rolls out for their new soft-sided lineup in the future.