Kysek Cooler Review
Last Updated by Brandon F. on June 7, 2022
Kysek is a popular brand of premium coolers that aims to compete with the best in the outdoor world.  Kysek has labeled its products "The Ultimate Ice Chest".  And someone making a bold claim like that better have some impressive specifications to back it up!
Kysek has met that challenge with its diverse range of hard-sided coolers, soft-sided coolers, and drinkware.  This review will be focusing on their hard-sided coolers.  And for those who want to check out their soft-sided coolers, head on over to our review of those here.
Below we will break down the specifics of Kysek Coolers and then provide our review (with ratings) of the lineup.  But first, here are a few of our top choices for the best Kysek Coolers.

Incredible Ice Retention

Good Budget Option


Model
KYSEK The Ultimate Ice Chest Extreme Cold Cooler, Camo Tan, 50 Liter
KYSEK The Ultimate Ice Chest Extreme Cold Cooler, Marine White, 150 Liter
KYSEK The Ultimate Ice Chest Extreme Cold Cooler, Marine White, 25 Liter
KYSEK The Ultimate Ice Chest Extreme Cold Cooler, Marine White, 100 Liter

Model
KYSEK The Ultimate Ice Chest Extreme Cold Cooler, Camo Tan, 50 Liter
Incredible Ice Retention

Model
KYSEK The Ultimate Ice Chest Extreme Cold Cooler, Marine White, 150 Liter
Good Budget Option

Model
KYSEK The Ultimate Ice Chest Extreme Cold Cooler, Marine White, 25 Liter

Model
KYSEK The Ultimate Ice Chest Extreme Cold Cooler, Marine White, 100 Liter
---
Kysek Cooler Lineup
Kysek has an impressive lineup of coolers that range in size from their portable 25-liter model and go all the way up to their enormous 150-liter ice chest.  With such a large selection of sizes, you are sure to find what you need no matter what your requirements are.
It is worth noting that Kysek rates its coolers in liters as opposed to quarts.  While they are both very similar in size, a liter is a tad bit larger than a quart.  So a 50-liter Kysek cooler will be around 3 quarts larger than a 50-quart cooler from another brand.
No matter which size Kysek you go with, you will find a very similar design and feature listing on all of them.  As you will tell, Kysek takes a very straightforward approach in their coolers.  They don't focus on specialty coolers, coolers with unique carrying handles, etc.  They believe that their ice performance and toughness will be what wins you over.  And for many buyers, that approach is just what they are looking for in their next ice chest.
---
Kysek Cooler Features
Kysek coolers are tough.  There is no denying that.  But they also have quite a few features that help to make them more user-friendly.
Starting with the construction, Kysek coolers are made of rotomolded poly material.  We have come to expect that any ice chest that wants to compete in the premium tier will have to utilize rotomolded material.
Specifically, Kysek has what they called their DuroCold Construction.  This is a combination of their proven rotomolded construction along with extremely thick walls.  Kysek cooler walls are among some of the thickest in the industry!
Depending on the specific model, you can anticipate a wall thickness of 3+ inches and, in some cases, nearly 4 inches.  This is an extremely thick material.  And, while it does reduce storage volume some, the volume that does remain is extremely well insulated from outside elements.  Also, the material used is tough: so tough that Kysek calls their cooler lids "cutting board lids".  This means that they are safe to use as a cutting board!
As for what holds the lid to the base, Kysek utilizes its PosiLatch system.  This is a fancy name, but essentially it amounts to the traditional T-latch design that we are used to seeing on most high-end coolers.  These rubber latches provide a good closing force and help to ensure an air-tight seal.
Working in tandem with these proven latches is the thick, freezer-grade rubber gasket.  Having a thick gasket that provides a lot of squeeze is essential for a cooler to retain ice life for long periods.  The thickest walls in the world do you no good if you don't have a great seal between the lid and the body!
Next up are the integrated bottle openers/lock plates located on the sides of the cooler.  We always love when cooler companies include bottle openers on their products as there is almost always a demand for one in an outside setting.  And these being strong enough to double as lock plates are a bonus.

Let's face it: a large, thick cooler also means one thing: a heavy carry when it is full.  To help deal with this, Kysek incorporates what they call their heavy-duty EasyGrip handles.  These handles come with a thick rope attached to a comfortable rubber base that will provide the necessary grip in both dry and wet conditions.
To further help with mobility (and probably our favorite feature) are the HeavyHaulers inset wheels that are included in all but the 25-quart model.  While most other ice chests will only have a handful of specialty models that may include wheels, Kysek has decided to include them on nearly every model.  These provide a great mobility option that helps to offset what can otherwise be a pretty bulky cooler to handle.
Other helpful features include both a ¾" drain plug with a hose adapter as well as a 2" drain plug with a tethered chain, ZeroSkid Non-Slip feet, and several optional accessories.
One of our favorite accessories is the Kysek Code Blue.  This item is a temperature sensor that you place inside your cooler.  It uses Bluetooth and connects to your phone.  It will display the internal temperature of the cooler, how long until you should change out the ice, and more.
Other accessories include a seat cushion, an internal basket, a glacier ice pack divider, tie-down kits, and more.
Overall, we are pretty happy with the features that are included in Kysek Coolers.  While not overwhelming in options, there are enough features to meet most people's needs as well as a few that help to make these ice chests stand out from the crowd.
---
Kysek Cooler Ice Life
Any cooler that hopes to compete in the top tier of ice chests needs to promise impressive ice retention.  And Kysek believes that they have what it takes to achieve impressive ice numbers.  Previously on their website, they advertised ice numbers that ranged from anywhere from 10 days up to an insane 22 days of ice life!  We can't seem to find claims at this level anymore but it goes to show that Kysek is confident that its products can deliver.
The keys to this impressive ice range have to do with the super thick DuroCold walls, the thick rubber gasket, and the strong closing force provided by the PosiLatch system.
To test the ice numbers, we put these products through some of our testing and research.  This typically includes filling an ice chest around 1/3 of the way up with ice, leaving it outside in the heat, and occasionally opening it.  This gives you "real-life" results.
Our results were as follows:
As you can see, ice life was very good across the board.  The larger sizes performed better than the smaller sizes (which is almost always the norm).  And, for a given size, ice life was at the top compared to other premium coolers on the market.
While we didn't see quite the numbers that Kysek has stated in the past, you can still expect over a week of potential ice life with the largest cooler. And even the mobile 25-liter model can still keep ice for a long weekend.  And remember: these are in real-life applications that involve being out in the heat.  If you plan on keeping your cooler indoors and not opening it very often, these numbers will likely be even higher.
---
Kysek Cooler Aesthetics
These days, with so many cooler brands to choose from, it can be easy to blend in with the crowd when it comes to looks.  While some people may not care how their cooler looks, others want something that turns heads.
Overall, Kysek plays it pretty safe in the looks department.  The outside styling of their coolers is very traditional and won't utilize a lot of aggressive curves.  But sometimes keeping it simple is the way to go.
While the body itself is pretty tame, the included wheels and side bottle openers do add a bit of much-needed bling.  And these will help to make your Kysek look a little different than all of your buddy's premium coolers.  Also, the extra-thick walls have another benefit in that it produces an extremely intimidating and tough look when you do open the cooler.
As for color options, they will vary depending on which size you go with.  But larger sizes currently only come in three or four different colors (marine white, camo tan, hunter green, and marine blue).  The smaller sizes ramp this up some and are currently available in up to 7 different color choices.

For instance, the 35-liter Kysek cooler comes in marine white, camo tan, hunter green, marine blue, pink, purple/gold, and red/white.
As for customization options, Kysek does have something in place but it currently seems to be focusing on their tumblers.  We hope that they implement something similar to their coolers in the future.  We would love to see the ability to easily purchase Kysek Coolers in custom colors, with specialty decals, etc.
---
Kysek Cooler Price
Quality coolers aren't cheap.  And we are reminded of that with the Kysek Hard-Sided ice chests.  These models will fall well into the premium price tier.  And will rival Yeti and others as some of the most expensive coolers on the market.
While the sticker price is high, you do get to enjoy extremely great ice performance, extra-tough build quality, and some nifty features.  And you will enjoy a 5-year limited warranty on these products.  So you can consider it a bit of an investment (just not a cheap one!).
---
Kysek Cooler vs Yeti
Kysek and Yeti have both been around for quite some time and are considered juggernauts in the cooler world (Yeti in particular).
But which is better?
The two brands share a lot in common.  Both come with a nice range of sizes to choose from, both come with extra-thick walls and a host of features, and both are very expensive.
But from a strict performance standpoint, Kysek seems to have Yeti by a hair.  While both do promise excellent ice life, Kysek's ice chests seem to last a little longer.  The difference between 5 days of ice life and 6 days of ice life might not be important to some, but it is worth considering.  And we also love that nearly every model of Kysek comes with wheels (something Yeti can't match).
However, Yeti does have a more impressive lineup of customization choices.  And their accessories that you can buy separately seem to be almost endless.  And typically Yeti Coolers will almost always be more expensive than other brands (but in this case, both brands are very similarly priced).
Both brands are great purchases but if we had to choose one, we would pick Kysek due to its increased ice retention.
---
Kysek Cooler Review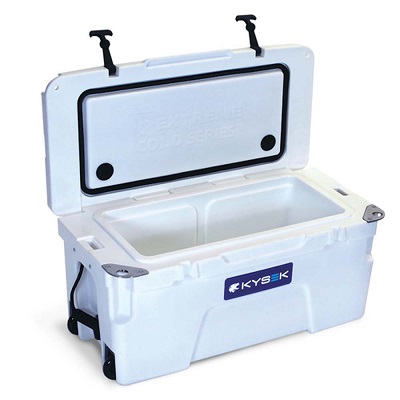 Storage Size: 25, 35, 50, 75, 100, and 150 liter sizes (approx.)
Construction: Plastic and metal composition
Cost: Premium-priced
Features: Durocold insulation, Codeblue sensor, Bearclaw bottle opener, Heavyhaulers inset wheels, Easy-grip handles, Posilatch latch, Coldlock gasket
Pros: 

Great ice retention, clever accessories, quality materials and construction
Cons:

 Expensive, limited color choices
| | |
| --- | --- |
| Insulation Ability | |
| Mobility and Durability | |
| Visual Appeal | |
| Cost | |
| Overall Rating | |
Check Current Prices on Amazon
Kysek Coolers have been around for a while and they are confident that they can keep up with even the best in regards to ice life, toughness, and accessories.  They proudly boast roto-molded construction, premium hardware, and a few other tricks up their sleeves that help them to stand out from this very competitive market.  There are a few color choices and they are available in 25, 35, 50, 75, 100, and 150-liter sizes.  They are constructed of plastic with some additional metal and rubber parts, as necessary.
Insulation Ability – 
We are used to hearing grand numbers coming from companies who offer high-end hard coolers when it comes to ice life and Kysek makes no exception.  In the past, they advertised the potential of 10 days of ice life on their larger models and this goes up to an astronomical 22 days of ice life in optimal conditions.
While we didn't see quite this level of ice, we were still very impressed with the results.  Depending on which model you go with, you can anticipate anywhere from 3 to 4 days of ice life up to over a week on the larger models.
As expected, this is thanks to their trademarked Durocold design which is essentially their name for roto-molded construction (a staple in the premium cooler industry).  Also, they have attached a ColdLock gasket that has enhanced bond technology which promises a great seal that will only allow a bare minimum of cold air out and warm air in.
One cool feature that makes Kysek stand out is its Codeblue sensor and app that is available as an additional purchase.  There is a sensor that is put inside the cooler that checks both the ice status as well as the internal temperature and alerts you as to when it is getting low.  This means that you aren't forced to open the cooler to check (which allows valuable cold air to escape and directly affects ice life).
Mobility and Durability – 
The roto-molded plastic design has been tested thoroughly and allows for a very durable shell that has no major weak points.  Beyond this, Kysek also has HeavyHaulers which are their trademarked inset wheels that greatly assist in mobility while still being able to handle up to 1,000 pounds of force.  This, along with their ZeroSkid underside means that you don't have to stress about sliding this cooler across the ground.  And you will also have a nice grip on the surface no matter where you put it.
The lid is also up to the challenge and comes with many great features.  It is ultra-stippled and laser-etched which gives it a good surface for working on.  There is both an antibacterial cutting board as well as a measuring ruler on the lid which can come in quite handy while out in the woods on a hunting or fishing trip.
Another accessory worth noting is the Posilatch rubber latch.  Similar to many of the other more mainstream brands, Kysek hasn't skimped on the latch, offering you a bulked-up rubber example that they state is more durable than anything on the market.  It is fastened in place with high-grade, rust-free aluminum pins.  Finally, they have also included Bearclaw bottle openers on the corners and an enhanced drain design which makes it as user-friendly as possible.
Visual Appeal – 
Visually, Kysek ice chests will look very similar to many of the other hard-sided premium brands on the market.  You can expect thick, rigid plastic that has subtle aesthetic curves but not to the point that it takes away from its tough demeanor.  The one area that stands out to us is their metal bottle openers on the front two corners as well as the wheels at the base. 
As for colors, you will have anywhere from 3 to 7 to choose from (depending on size) including an LSU-inspired purple and gold.  We do wish there were a few more colors to choose from but this isn't a deal-breaker.  Having some options for custom coolers/decals would be nice as well.
Cost – 
Kysek is going for a premium cooler and this is reflected in the high price tag.  You can expect to pay a premium asking price for these, with only a handful of coolers from other brands such as Yeti being more expensive (but not by much).  But like with many of these premium cooler brands, quality comes at a cost.
Overall Rating – 
We like what Kysek has brought to the table with its hard-sided coolers.  They have all of the features and accessories we like to see (roto-molded construction, premium gaskets, non-skid surface, extra-tough latch, premium hardware, etc.) and also some that we aren't used to seeing such as the optional internal temperature sensor/phone app, rolling inset wheels, and the built-in cutting board on the lid.
Also, the ice performance is great, with an ice life of a week being normal and exceeding this in optimal conditions and in the larger sizes.  However, all of this comes with a very high asking price so many people will simply not have such a product in their budget.  However, for those looking at other premium cooler brands such as Yeti, RTIC, Engel, etc. we think you should give Kysek coolers a close look as well.