Lit Cooler Review
Storage Size: 22, 32, and 52 quarts
Construction: Plastic and rubber composition
Cost: Premium-priced
Features: Marine quality lid latch, Lit ice legs, Oversized rubber gasket, Rechargeable LED liner, Heavy-duty hinge, Nylon handles, Drain plug, On/off switch, Elevated base
Pros: 

Handy lighted interior, Tons of color choices, Acceptable toughness
Cons:

 Limited size selection, Expensive, Somewhat limited ice life
| | |
| --- | --- |
| Insulation Ability | |
| Mobility and Durability | |
| Visual Appeal | |
| Cost | |
| Overall Rating | |
Check Current Prices on Amazon
Last Updated by Brandon F. on February 8, 2022
This is our Lit Cooler Review.  Lit Coolers take a unique approach to their products.  They attempt to combine the traditional toughness and long ice life we see in most premium roto-molded coolers and add a twist by installing a LED lights strip around the liner that illuminates the inside.  There is also a clear centralized lid insert that allows light to shine through and be viewed even with the cooler is close.
Other features present that we are used to seeing include marine-grade lid latches and rubber gasket seals, multiple carrying options, a drain plug, and more.  They come in 22, 32, and 52-quart sizes (TS-300, TS-400, AND TS-600, respectively) and are available in a wide range of colors and also can be stamped with many of your favorite sports team logos, Greek letters, and custom monogram options.  They are made primarily of rubber and plastic and come in at a premium price level.
Insulation Ability – 
It appears that Lit Coolers have taken the very popular and effective approach tested by other brands by offering products with thick, insulated roto-molded walls in combination with oversized rubber gaskets.  This greatly minimizes potential leak paths for cold air to escape and the thick gasket provides plenty of squeeze.  The latches are also great at providing a nice level of force between the lid and the body which pushes down on the gasket, giving it a great seal.
While you do enjoy huge performance gains by taking this approach, there are a couple of things worth noting that will affect performance.  The see-through insert, while very attractive and a huge selling point does not insulate cold air as well as a solid body.  Also, the cooler sizes are on the smaller side, with the largest coming in at just 52 quarts.   These smaller sizes are more susceptible to temperature fluctuations, particularly when the cooler lid is opened.  This is somewhat compensated by 4 Lit Ice Legs on the corners of the cooler which helps to boost ice retention some.
All of this combines for an ice life of up to around 4 days per our experiences (specifically in the largest model, the TS-600).  The smaller models, as you might expect, go down in ice life accordingly. This is still plenty for most people but falls a bit short compared to some of the other premium coolers on the market.
Mobility and Durability – 
Another place that roto-molded premium materials shine is in the toughness category.  The thick 2 ½" walls are more than capable of handling typical wear and tear as well as the occasional drop or bump.  As mentioned above, the marine-quality lid latch and huge gasket are also very resilient and should last for many years without issue.
Another nice selling point is the heavy-duty hinge.  The hinge of a cooler can oftentimes be one of the first areas to go and you don't have to worry about that with Lid coolers.  And Lit stands by their products, providing a 5-year limited warranty on the cooler itself and a 1-year warranty on the LED lights.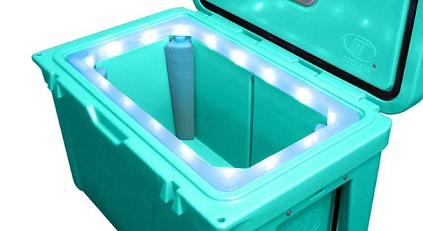 As for mobility and sheer convenience, we love the built-in LED lights and how they work well with the see-through top.  This makes it much easier to see the items inside which helps to minimize how long you have the lid open which is when you lose a lot of your valuable cold air.  Other helpful mobility features include built-in rope handle grips, a well-placed drain plug, and an on-off switch for the lights.
The real star here is the LED bulbs but we are glad that Lit included a few other helpful features as well.
Visual Appeal – 
This category is where Lit Coolers shine (pun intended).  The multi-color LED strips and exposed see-through lid add a nice touch that makes this cooler stand out from the crowd.  Beyond that, there are tons of different color choices as well as the ability to add your favorite team or fraternity letters to the cooler.  This all combines for a product that will make people turn their heads at your next pool party or tailgate.
Cost – 
We are used to roto-molded cooler fetching a premium price and that is no different here.  However, you also get an added bump in the asking price because of the additional features present on these coolers.  The result is a product this is quite expensive, particularly when considering its relatively low storage size.  This is a unique cooler but you will be expected to pay dearly for it.
For some, the added benefit of the LED lights just won't be worth the significant bump in the asking price.
Overall Rating – 
Lit Coolers impressed us with their refreshing approach to what can sometimes be a rather stale product category.  The LED lights not only serve a helpful purpose but also look great and make these coolers stand out.  All of the other great features we are used to seeing in higher-end coolers are present as well. 
However, the LED lights and associated parts do come at a cost of a bit of a bump down on ice life as well as a bump up on the asking price.  That being said, the performance and durability are still plenty for most people's needs, and for everyone after something truly unique then this is the cooler for you.