Rubbermaid Cooler Review
Last Updated by Brandon F. on December 14, 2021
Rubbermaid is probably one of the most well-recognized brands around.  They specialize in many different products including their robust cooler selection.  This review will be focusing on their standard wheeled and non-wheeled coolers.  If you are interested in learning more about Rubbermaid Marine Coolers, check out our huge review here.
We will break down the various features, pros, and cons of Rubbermaid Coolers below.  But first, here are a few of the best Rubbermaid Coolers that money can buy.
Best Ice Retention


Great Value



Model
Rubbermaid DuraChill Wheeled 5-Day Cooler, 75 Quarts, Blue 1836574
Rubbermaid Ice Chest/Cooler, Blue, 60-quart Wheeled (FG2A9002MODBL)
Rubbermaid Cooler, 24 Quart, Red FG2A1304MODRD
Rubbermaid 45 qt Wheeled Ice Chest by Rubbermaid
Rubbermaid Cooler, 10 Quart, Red FG2A1104MODRD
Best Ice Retention

Model
Rubbermaid DuraChill Wheeled 5-Day Cooler, 75 Quarts, Blue 1836574

Model
Rubbermaid Ice Chest/Cooler, Blue, 60-quart Wheeled (FG2A9002MODBL)
Great Value

Model
Rubbermaid Cooler, 24 Quart, Red FG2A1304MODRD

Model
Rubbermaid 45 qt Wheeled Ice Chest by Rubbermaid

Model
Rubbermaid Cooler, 10 Quart, Red FG2A1104MODRD
---
Rubbermaid Cooler Lineup
Rubbermaid has a nice selection of both wheeled and non-wheeled coolers.  For non-wheeled, you will find standard sizes that include 5-quart, 10-quart, 13.2-quart, 20-quart, 24-quart, 34-quart, 48-quart, and 54-quart.  These sizes fall into our personal, small, and medium sizes.  You will also notice that each cooler shape and configuration is unique.  There are specialty slim coolers, tall coolers, square coolers, and more.
As for wheeled options, the sizes are a bit larger overall.  Specifically, you will find 45-quart, 50-quart, 60-quart, and 75-quart models.  The 75-quart models are Rubbermaid's most premium models that they have and are dubbed the DuraChill series.  The wheeled coolers tend to be on the larger size and also come in a more standardized shape and design approach.
Next, we will break down the features that you will find on Rubbermaid Coolers.
---
Rubbermaid Cooler Features
With such a variety of sizes and configurations, the specific features that you will find will vary quite a bit.  Also, since most Rubbermaid coolers are designed to be budget-style ice chests, the overall list of features may be a bit underwhelming to some.
The goal with these models is to try to find a happy balance between toughness, performance, mobility, and price.  For instance, the insulation, while effective, will typically be a bit thinner than most premium coolers.  But despite this, it is still up to the task of handling ice for acceptable periods (more on that later).
Depending on which size you go with, you will find either molded-in side handles or an overhead carrying handle.  Both styles of handles are very easy to grip and shaped in a way to be ergonomic.  Since you typically won't be carrying extremely heavy weights with a Rubbermaid Cooler, the handles can be a bit slimmer than you may expect.
There is also a Rubbermaid briefcase-style cooler that not only has the shape of a typical briefcase but also has a padded shoulder strap!
All models of Rubbermaid Coolers also come with a special coating that is stain-proof and also water-friendly.  This means that if and when you spill items on it, you can easily wash it off with any water source and soap without worrying about damage.
The wheeled Rubbermaid Cooler models open things up a bit.  As the name suggests, you will get to enjoy wheels that greatly assist in mobility (which is important as these are larger ice chests).  On the front of the face, you will also find a drain plug which makes emptying melted ice a breeze.
As for transporting the wheeled coolers, you have both rotating side handles in addition to an extendable back handle.  This allows you to both tow the cooler and also carry it as you would a normal non-wheeled model.
The wheeled cooler models also utilize an innovative 2-part lid.  This allows you to open one side of the cooler without the other.  This can help prolong ice and also comes in quite handy when you are limited in space.  For instance, you could stack something on top of one side of the cooler and still be able to open the lid and access items from the other side.  All wheeled Rubbermaid coolers also come with 4 built-in cup holders on their lids.
The Durachill Series Coolers are the highest-performing of the standard Rubbermaid line.  It comes with thicker insulation (around 2"), a beefed-up tow handle, and more rugged wheels.  Coincidentally, it is also the largest of the models.
Since these are budget-minded coolers, you won't find rotomolded insulation, stainless steel components, or thick rubber gaskets.  Also, the hinges are primarily made of plastic instead of metal so extra care will need to be taken while opening and closing. 
While this does mean that they won't be able to keep up with some of the premium coolers on the market in regards to toughness, it also means that they are much more affordable and also a lot lighter.
---
Rubbermaid Cooler Ice Life
Rubbermaid is a little hush-hush on the specific ice life of most of their hard-sided coolers.  The only models that we would find them mentioning ice life on are their Durachill models.  Depending on which version that you have, it will be advertised as having either 5 or 6 days of ice life.
To test these and the other Rubbermaid Cooler models, we filled them up with around 1/3 of ice, left them outside in the Texas heat, and occasionally opened them.  This gives you better "real-life" results.
You can check out our findings in the chart below.  Please note that any model that has "W" at the end of it means that it is a wheeled option.  Also, the large 75Q model is the Rubbermaid Durachill Wheeled Cooler.
Similar to the size range of Rubbermaid Coolers, ice life is quite varied.  On the smaller end, you can expect to only see around a half-day of ice retention with the tiny 5-quart model.  On the opposite end of the spectrum, the much larger and capable 75-quart Durachill model peaks at around 110 hours.
As is typical, larger coolers perform better than smaller coolers (all else equal).  This is because larger coolers can hold more ice and more ice = longer ice life in most cases.
Also, the Durachill model was a clear cut above the rest.  While being the largest size plays a part in this, the thicker insulated walls and more resilient lid also can be attributed.  And while we didn't quite see the supposed 6 days of ice life that Rubbermaid stated, we feel that a solid 4 to 4.5 days is realistic (and that isn't too shabby).
Overall, considering the price of these, ice life isn't terrible.  And while (outside of the Durachill) ice retention won't be at the same level as many of the premium coolers we have reviewed, the mobility and cost of Rubbermaid Coolers are much more competitive.
---
Rubbermaid Cooler Aesthetics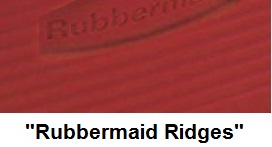 In terms of visuals, Rubbermaid plays things extremely safe.  About the most recognizable feature that most of their coolers will have are the "Rubbermaid Ridges", as we like to call it.  These are the horizontal ridges that you will typically find on most Rubbermaid Ice Chests.
But as for overall shape and aesthetic features, you don't find a lot to get you excited.  Nearly every model is more or less a simple box outside of the ridges and occasionally some other subtle curves.  The larger Durachill models do have a bit more of a progressive look but that is about it.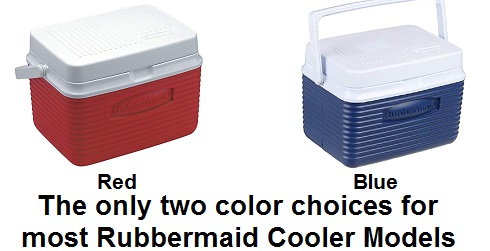 Also, the only colors you can choose from on most models are blue and red.  Some sizes may also have white/gray available but it is not common.  There are no choices for custom colors or decals available from Rubbermaid, either.
While visuals might not be a big deal to many people, we certainly do wish in the future that Rubbermaid would at least expand on its color choices.  There are people out there (you may be one of them) who want a larger selection of colors.  And that just isn't here right now with this brand.
---
Rubbermaid Cooler Price
Easily the biggest selling point for Rubbermaid Coolers lies in their asking prices.  Nearly every single model falls easily into the budget price tier.  Even the larger and more capable Durachill Models are still very reasonably priced.
When you can price your ice chests in this bracket, it makes it much easier to accept potential shortcomings in ice life, toughness, features, and visual appeal.  And, quite frankly, we aren't too disappointed in most of these metrics when it comes to Rubbermaid.  So all in all, Rubbermaid Coolers are a great bargain.
---
Rubbermaid Cooler vs. Yeti
A common comparison people make is between "X" Cooler brand and Yeti.  So how do Rubbermaid Coolers compare to Yeti?
Both brands serve their purpose and target a specific audience, but those audiences differ quite a bit.
Rubbermaid is all about low-cost coolers that may not lead the industry in terms of performance or features but should easily fall into most people's budgets.
Yeti Coolers, on the other hand, tries to push the envelope of what is possible with an ice chest.  This includes an extremely long ice life, tons of great features, excellent build quality, and more.  But it does result in an extremely expensive product.
In terms of raw performance, Yeti wins hands down.  Even compared to the capable Durachill model, a Yeti Cooler of equivalent size will almost always out-perform it.
But for those who simply can't afford a Yeti, a Rubbermaid can be a decent sacrifice.  You will be giving up quite a bit of ice retention but we have realized that most people don't need 5 days of ice life or a cooler that can handle being mauled by a Grizzly Bear.
But for those who want the best (and can afford it), Yeti is on a whole different playing field compared to Rubbermaid.
---
Rubbermaid Cooler Review
Pros:  Awesome price, Very easy to transport, Tons of sizes to choose from
Cons: Limited ice life on most models, Flimsy hinges, Boring styling/colors
Features: Rotating handles, Wheeled options, Cup holders, Stain-resistant outer shell
Rubbermaid Coolers have been a popular entry-level cooler line for quite some time.  Their success has been from the diverse array of low-cost and easy-to-use ice chests that are perfect for casual excursions.  You won't find a ton of features and ice life won't be anything amazing, but for many, that isn't an issue.  You can choose from 5, 10, 13.2, 20, 24, 34, 48, and 54-Quart non-wheeled models and 45, 50, 60, and 75-Quart wheeled models.
Insulation Ability – 
The specific ice life you will see will depend greatly on which model you go with.  All Rubbermaid Ice Chests come with some form of an insulated wall but the specific thickness can vary.  On the smaller models, you can expect around 1" thick of insulation.  While on the larger and more capable Durachill models, this is increased to around 2".
The main thing holding these ice chests back from extremely long ice life is the lack of a gasket and a more aggressive latching system.  This allows cold air to more easily escape through the lid.
You can anticipate ice performance to be as long as 10ish hours on the tiny 5-quart model and ramp up to nearly 110 hours on the Durachill model.  While none of these are industry-leading, the Durachill does put up some decent numbers, particularly when you consider the price.  And the smaller coolers are still perfectly capable of most normal outdoor activities that tend to last only a few hours to a day or so.
Mobility and Durability – 
You won't find a ton of advanced features or accessories on these coolers.  They take a very Spartan approach.  The features you will find include multiple handle configurations, wheels on certain models, and drain plugs.  The wheeled models will have the most features and include a two-piece lid and, on the Durachill model, a more robust handle.
As for build quality, it is decent.  The cooler shell itself is pretty robust but the notable weak point lies in the hinges and handles.  The hardware used on most of these models is plastic so it is more prone to cracking and/or breaking than metal.  But again, for the price, we can't complain too much.
Visual Appeal – 
About the only notable visuals here come with the trademarked Rubbermaid Ridges.  Beyond this, the shape is very conservative and won't be adorned with a lot of extra curves or edges.  Color choices are a bit lacking, with most models only being available in red or blue.
Price – 
The one area that Rubbermaid Coolers shines in is their asking price.  They are extremely affordable and this is a big reason why they are one of the most popular cooler brands out there.  To achieve such a competitive asking price, some sacrifices had to be made in regards to performance and features.  But despite this, they are still of great value.
Overall Rating – 
Rubbermaid Coolers offer up a huge selection of entry-level products that are perfect for someone who is on a tight outdoor budget.  No matter what size requirements you have, they likely have a product suited for you.  The ice life, while nothing extraordinary, is serviceable.  But don't expect these coolers to be able to handle the level of wear and tear of more expensive premium coolers we have reviewed.
The one exception to this is in the Durachill line which bumps up ice life and build quality (but is also the most expensive of the lot).  But the simple fact of the matter is that these types of coolers are all a lot of people need.  And for those people, it would be silly to spend all the extra money on a premium cooler that they would never really push to the limits.