Igloo MaxCold Cooler Review
Updated by Brandon F. on August 8, 2022
One of Igloo's most popular lineups of coolers is their MaxCold Series.  This series comes in both hard-sided and soft-sided models of varying sizes and configurations.  As the name suggests, Igloo has attempted to maximize ice life with these coolers.  This is accomplished through a variety of features including Ultratherm insulation, Cool Riser Technology, and more.  And despite these more advanced features, Igloo still strives to make its ice chests affordable.
We will break down the various hard-sided and soft-sided MaxCold models below.  But first, here are a few of our top choices for the best Igloo MaxCold Coolers.
Great Buy

Best Ice Retention




Model
Igloo Maxcold 40-100 Qt Commercially Insulated Coolers
Igloo Contour Maxcold Cooler, 165 quart/156 L, White
Igloo MaxCold Hard Top Gripper 22 Cooler
Igloo Max Cold Quantum 52 Quart Roller Cooler, Jet Carbon/Ice Blue/White
Igloo Cool Fusion 36-Can Roller MaxCold Coolers, Black
Our Rating (out of 5)





---
Igloo MaxCold Coolers
The MaxCold Cooler series has gone through some changes over the years.  Similar to many of Igloo's other hard-sided cooler lineups, the number of sizes to choose from has gone down some.  Currently, you can select between a 40 quart (wheeled), 52 quart (wheeled), 100 quart, and 165 quart.  There are quite a few other MaxCold sizes that have been made in the past (70, 120, etc.) but they won't have the updates and facelift of the newer models.
The current selection, while a bit limited, does hit most of the typically desired size ranges.  You have a small cooler, medium cooler, large cooler, and giant cooler (per our internal storage volume definitions).  And for good measure, you also have some wheeled options thrown in.  And the largest size, the 165-quart, is a sort of "hybrid" Igloo cooler in that it combines MaxCold technology with Igloo Contour technology.
---
Igloo MaxCold Cooler Features
Igloo MaxCold Coolers aren't going to overwhelm you with the laundry list of features that they have like some other premium cooler brands that we have tested.  But they do have some necessary features in place to help bump up ice performance.  In addition, they also have a handful of features that are dedicated to usability.  This makes these coolers good for a large range of target audiences.
One of our favorite things about these coolers (specifically the larger sizes) is the latches.  Typically on budget coolers, you will find sub-par latches.  These latches not only can be on the weak side but also don't always provide a good "bite".  This can result in air being able to escape outside of the cooler more easily.
The latches on the MaxCold products more closely resemble what you would find on a much more expensive premium cooler.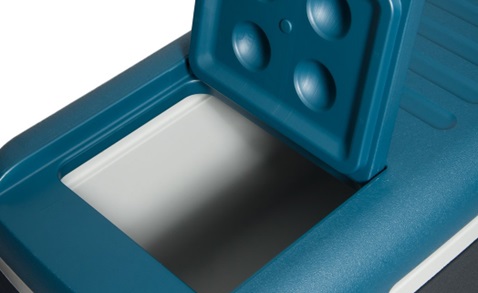 Another nifty feature located on the larger examples is the hatch lid.  This allows you to access stored items inside the cooler body without having to completely open the lid.  This is helpful both from a convenience perspective as well as helping to reduce how much warm air can get into the cooled items when opened.
Drain plugs come standard on all sizes (even the smallest!) and are situated to be very easy to access and open/close.  It is worth mentioning that the smaller sizes won't come with a threaded drain plug (it is a triple snap, leak-resistant model).  This isn't a huge deal but some people do prefer the threaded (which comes in the larger models).
For transportation, you will have a couple of different options depending on which model you choose.  The 100-quart and 165-quart models will come with side-carrying handles that can be rotated nearly 180 degrees.  These are pretty standard for larger ice chests.  And, due to the large weight that they may have to support, they are reinforced for extra durability.  This is important because the last thing you want to happen is the strap or handle to break while you are carrying a full load of drinks and ice!
As for the smaller models, you will have wheels and a locking telescoping handle (52-quart model) or reinforced swing-up handles (40-quart model) that make pulling the ice chest a breeze.  In addition to this, there are also molded-in side handles for those times when you would prefer to carry or lift them with your hands.
The MaxCold 40 Roller cooler will have the wheels situated on long ways while the MaxCold Quantum 52 will have them centered.
Specific sizes will also come with some features exclusive to just them.  For instance, the 52-Quart Quantum model comes with an internal shelf-ledge that provides a great storage spot for condiments.  Furthermore, the 165-Quart MaxCold Contour model has a unique contour shape that helps to minimize how much storage space it takes up while also being able to handle.
Now that we have gone over a few of the more popular convenience-related features, let's focus on the features that help to prolong ice life.
The most significant component that gives MaxCold its name is the Ultratherm insulation you will find in all body pieces.  The insulation isn't the thickest in the industry (it is around 1.5" thick) but it is quite efficient at locking in heat.  In addition, you will find Cool Riser Technology on most MaxCold models.  This is where the body of the ice chest is elevated off of the ground thanks to lets on the corners.  This improves ice performance by getting the cold base off of the hot ground.
---
Igloo MaxCold Cooler Ice Life
The ultimate goal with the ice retention features discussed above is to improve cooling performance.  Depending on which size and model you go with, Igloo states that you should expect between 5 to 7 days of ice life.  These are lofty numbers considering that Igloo MaxCold Coolers don't utilize rotomolded technology, don't have large rubber gaskets, and don't have super thick walls.
As always, we like to do our in-house testing and analysis.  Typically, our testing will consist of filling the cooler up with around 1/3 to ½ full of ice and leaving it out in the heat.  Next, we will occasionally open the cooler (exposing the ice to warm air).  This closely resembles what real-life use is like.
The results of our test are as follows:
As is the norm, the largest cooler tends to perform the best.  The 165-quart comes in at a pretty impressive 110 to 140 hours of ice life.  On the upper end, that is nearly 6 days!
The smaller coolers trended downward, with the smallest 40-quart cooler producing around 35 to 60 hours of potential ice life (depending on conditions).
We are pretty content with these numbers, particularly when considering the price point.  While we didn't see quite the numbers that Igloo stated (up to 7 days), they weren't far off.  And if we put the cooler in optimal conditions and loaded it with additional ice, getting another day of performance isn't out of the question.
---
Igloo MaxCold Appearance
One of our big complaints about the previous Igloo MaxCold was in the looks department.  We found the styling to be old and bland.  Thankfully, Igloo has updated the styling to bring it to a more progressive look.  While it still doesn't blow us away, it is certainly better than it was before.
The curves are less "bubbly" and we like the new dark blue/light blue combination look.  Our major issue is still the lack of color choices.  You are stuck with the blue color combo and, in the case of the 165-quart contour, can only work with white.
We hope that Igloo decides to expand its color choices in the future.
---
Igloo MaxCold Soft-Sided Coolers

The other side of the MaxCold Series includes Igloo's soft-sided coolers.  You will find a bit more variety here than in the hard-sided lineup.  The selections include backpack coolers, roller coolers, cooler totes, and cooler bags.  And, similar to the hard-sided coolers, all of these products utilize additional insulation features to help give ice life a boost. 
Also, it is worth mentioning that there have been quite a few updates to this line as well.  Previous models that may still be floating around include MaxCold Workman's Meal to Go Cooler Bags, MaxCold duffels, and more.
Typically, cooler manufacturers will stick to the number of cans that you can store rather than quarts for soft-sided coolers.  Using that metric, these soft-sided products range from 16 cans up to 36 cans.  And the totes and backpacks aren't measured in any sort of metric.  Converting to quarts, you can expect to have around 10 to 30 quarts of total storage volume in the cooler bags, 5 quarts of total storage volume in the cooler totes, and 10 quarts of total storage volume in the cooler backpack.
This is a decent range of sizes and should accommodate most people's needs when it comes to storage space.
---
Igloo MaxCold Soft-Sided Coolers Features
Since each product within the MaxCold Soft-Sided Cooler lineup is unique, there will be specific features relative to specific models.  However, some general specifications have been applied across the board.  We will go over a few of those first.
First, all the bags come with an antimicrobial layer.  This helps to keep microorganisms from growing on the bag.  This is also combined with the quality inner liner to create leak-proof bags.  This can be a lifesaver when you are using ice (which will melt and turn into water).  Nothing is more frustrating than carrying a wet cooler bag!  Another way to alleviate this is with ice packs.
In addition, all MaxCold products come equipped with a layer of Ultratherm insulation.  This layer is increased by 25% in thickness, resulting in a thicker layer of foam.  This gives a nice boost to the potential ice life of these products.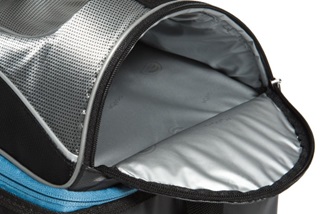 As for individual features, you will find plenty of helpful external storage options on many of the cooler bags.  For instance, the MaxCold Gripper 16 comes with a really helpful top cooler section that is accessed by a completely different zipper than the base.
The MaxCold Cool Fusion 36 has multiple storage pockets on the sides and front.  The front is a zippered bag while the sides are easy-access mesh pockets.   This gives you plenty of room for the items that you want to keep separated from the ice and/or things that don't need to be kept cold.
Finally, the MaxCold Backpack Cooler comes with an expandable front stash pocket as well as 3 different mesh side pockets for added versatility.
The only models that are somewhat lacking in additional storage are the cooler totes.  These are more or less large bags.  That being said, they will come with 2 separate main compartments that allow you to better organize the items that you want to carry.

As for mobility, you will find that all Igloo MaxCold Soft-Sided Coolers are very easy to transport.  All come with easy-grip handles and many come with multiple carrying options.  For instance, the Igloo MaxCold Grippers come with both an overhead padded carrying handle as well as an adjustable shoulder strap.  This means that you can easily carry them either with your hands or hanging off your shoulder.
As you might expect, the backpack cooler is also very easy to transport.  The adjustable, padded comfort straps are very well-designed and easy to adjust as necessary.
Finally, the wheeled Cool Fusion 36 takes advantage of a pair of rolling wheels and a locking, telescoping handle to move it around.
These were just some of the helpful features that are included.  Others can include molded top access compartments, removable hard plastic liners, and more.
---
Igloo MaxCold Soft-Sided Coolers Ice Life
While you won't enjoy the ice life of MaxCold Hard-Sided Coolers, these soft-sided coolers still take advantage of their cold-retaining features to maximum performance.  Our testing includes filling up with ice about 1/3 of the way, leaving in the heat, and occasionally opening the container.
It is worth mentioning that soft-sided coolers are much more sensitive to variables than hard-sided coolers.  Because of this, your specific application will have a much greater effect on the ice life you will enjoy.  We also consider that in our graphs by giving the coolers a larger potential range.
The results of our testing are below:
We have mixed feelings about the results.  For a short lunch excursion, these soft-sided coolers will do fine.  But for anything more than a few hours, only the largest grippers will be able to handle it.
The totes, in particular, have very limited ice life.  We don't recommend using ice with them at all.  Instead, stick to ice packs.  The reason for their struggle is the lack of thick insulation and a very exposed top that allows cold air to escape rather quickly.
For the models that did utilize the thicker MaxCold foam combined with Ultratherm insulation, the boost compared to a "normal" Igloo cooler was noticeable.  But it still won't be able to compete with some of the premium (and much more expensive) soft-sided coolers on the market.
---
Igloo MaxCold Soft-Sided Coolers Appearance
The updated MaxCold styling has been out for longer than it has for the hard-sided coolers.  We think the facelift was a great choice and think that these soft-sided products look quite nice.
However, the only color choice for nearly every product is the standard black and silver with a blue accent.  It is a good look but we wish that there would be more colors to choose from.
The only product that offers multiple color choices is the cooler totes.  And even those come in just two: a patterned blue and a patterned red.
---
Igloo MaxCold Cooler Pricing
Pricing is always a major concern with any cooler.  And seeing how premium coolers can easily run into the hundreds of dollars, having some more affordable options is a necessity.  Let's face it: not everybody can afford to spend that kind of money on a cooler!
Igloo coolers have always been quite affordable.  And while the MaxCold Cooler series does utilize some extra features that may drive up the cost, the asking price is still very reasonable and should be within most people's budgets.
You won't get the extreme toughness, industry-leading ice life, an overwhelming list of features like you will with some of the more expensive coolers, but most people simply don't need all of that extra stuff and a solid Igloo Cooler will do.
---
Igloo MaxCold Cooler vs. Yeti
When comparing the Igloo MaxCold Cooler to Yeti coolers, there are definite pros and cons to each.
Igloo is a recognizable brand that has been around for many years.  They offer quality products at very reasonable prices and also provide excellent customer support in the rare event of a quality mishap.
Their MaxCold coolers "bump it up a notch" and have longer ice life thanks to thicker Ultratherm insulation and additional layers of material.
However, they are a noticeable step down from Yeti in terms of quality, performance, and durability.  These coolers aren't designed to handle grizzly bears or easily keep ice for a week at a time (outside of the largest sizes creeping up there).
Yeti is also a very recognizable brand.  But instead of their attractive price points, they are known for their incredible build quality and ice performance.
And, as you might expect, this comes at a very high asking price.
But when you buy a Yeti, you are buying something that will handle just about anything that you or Mother Nature can throw at it.  It is an investment that should last many years.
So which is better between Igloo MaxCold and Yeti?
If you are on a tight budget and simply need something for a day or two max of ice life, then go with the MaxCold.  But if you are wanting something tougher with better performance (and have the deep pockets to support it), then Yeti is a clear step above.
---
Igloo MaxCold Cooler Review
Pros

: Good ice life for the price, easy access to items, nice selection of sizes, quite mobile
Cons

: Weak handles, limited color choices
Features: Ultratherm insulation, Threaded drain plug, Reinforced swinging handles, Tie-down loop, Snap-fit latch, Cool Riser Technology, Quick-Access hatch
Igloo MaxCold Coolers are one of the larger offerings from Igloo, being available in a variety of shapes and sizes as well as wheeled and non-wheeled configurations.  They come with MaxCold Ultratherm insulation on both the body as well as the lid, which helps to keep cold much longer than conventional coolers.
Other features such as a quick open hatch in larger sizes, reinforced swing handles, threaded drain plugs, and stain/odor resistant liners mean this item has a lot to offer.  It is available in the unique MaxCold blue and sizes of 40, 50, 70, 100, 120, and 165 quart for non-wheeled and 40, 50, 52, and 70 for wheeled (however some of these sizes have recently been discontinued).  All models are made of plastic with some metal hardware.
Insulation Ability – 
These insulate noticeably better than the normal igloo coolers.  The extra effective insulation shows.  The big improvement is that it also comes installed in the lid, which can be a common area that is overlooked when putting insulation in a cooler.  In larger sizes, the quick access hatch lid means that you can get in and get your items easily and without having to open the entire lid.  We also like the Cooler Riser technology that elevates the body off of the warm ground. The larger sizes can keep ice for around 5 to 6 days and for the smaller sizes you can expect 3 to 4 days of performance, making these a great choice for a half-week vacation or extended weekend at the beach or lake.
Mobility and Durability – 
The ice boxes are thick enough to be able to be thrown around without too much concern.  The main weak point is the lid hinge and handles.  The side handles tend to break when under extreme load and there are many reports of the lid hatch coming undone after relatively short periods, especially in the 100+ quart sizes.  All sizes come with side handles and the rolling variety comes with extendable handles that can be used to roll it around.
As for features, you won't be blown away by the list but all the must-haves are there.  They include optional quick-access hatch, cup holders, and wheeled configurations.
Visual Appeal – 
The unique Max Cold blue identifies that these coolers are, in fact, Max Cold.  Beyond that, there isn't a lot to them other than some subtle aesthetic lines on the outside.  We are glad that more sizes have undergone the recent visual facelift but there could still be some improvement.  Also, some other color choices are floating around but they are few and far between.
We do like the styling of the update.  There just needs to be more colors to choose from!
Cost – 
Being an Igloo, you can expect prices to be reasonable.  That being said, there can be quite a range, depending on the size and availability.  However, you will typically find the Maxcold coolers falling into the budget range and occasionally creeping up into the lower end of the intermediate range.  All in all, this is a very fair asking price for what you get.
Overall Rating –  
The Igloo MaxCold Cooler Review earns a 3.5 out of 5 cooler rating.  The Max Cold cooler line does earn its name as it does a much better job of maximizing cold than most conventional coolers at this price range.  The extra insulation shines and with so many size options there is sure to be one that works for you.
Unfortunately, the handles and hinges can have issues, however.  And the color options need to be expanded.  Beyond that, there are no major complaints, especially if you can find one on the lower end of the price spectrum.  On the higher end, you can get into other high-performance offerings that might be a better choice.
---
Igloo MaxCold Soft-Sided Cooler Review
Pros

: Extremely mobile, Lots of storage options, Good product selection, Attractive Pricing
Cons

: Smaller sizes are still limited on ice life, Lack of color choices
Features: 

Ultratherm insulation, Threaded drain plug, Reinforced swinging handles, Tie-down loop, Snap-fit latch, Cool Riser Technology, Quick-Access hatch
This is our Igloo MaxCold Soft-Sided Cooler Review.  These coolers take inspiration from the popular hard-sided lineup and incorporate their special features: thicker foam, Ultratherm technology, leak-proof liner, and more.  They also incorporate multiple storage pockets as well as some other unique accessories.
They come in a variety of sizes and shapes including totes, duffels, cooler bags, backpacks, and more.  But you will typically find storage size to range between 10 and 30 quarts.
Insulation Ability – 
While these soft-sided coolers will perform better than most other Igloo soft-sided coolers, they will still have some limitations (particularly in the smaller sizes).  Most of your applications revolve around picnics or lunch outings that will require 12 hours or less of ice life.  The exception to this is in the larger sizes which can creep up to around a day of ice life.  The performance comes thanks to the 25% thicker insulation and utilization of Ultratherm technology.
Mobility and Durability – 
These are extremely mobile and quite comfortable to carry.  Many models will come with multiple carrying options including an overhead padded handle as well as a padded shoulder strap.  In addition, they are designed to be sleek while still allowing for plenty of storage space.
And speaking of storage space, you will find ample additional pockets (both zippered and mesh) on the outside for those items that you don't want to keep cold.  When you add in a leak-proof liner, antimicrobial outside, and various other model-specific features, you have a great overall package.
The one issue we have come across is that the zippers can sometimes be a bit finicky.  This includes getting stuck or jammed.  While Igloo seems to have corrected this problem, for the most part, it is still something to consider.
Visual Appeal – 
We like the styling of the Igloo MaxCold Soft-Sided coolers.  The combination of the black, silver, and blue finish has become the recognizable color combo for MaxCold products.  And the way that Igloo can incorporate into the external pockets is very well done.
However, similar to the hard-sided coolers, color choices are very lacking.  The cooler totes are the only models that have multiple color choices, and they only come in red and blue!
Cost – 
The asking price across all products is very competitive.  For the price, you get a reliable and comfortable product that should last for several years without major issues.  While ice life can be a bit lacking, we can't be too picky when the price is this good.
Overall Rating –  
The Igloo Maxcold Soft-Sided Cooler is a solid lineup of entry-level coolers.  These products will enjoy a nice boost in lice life thanks to their thicker foam core and they will also have many of the simple features you want.  Plus, they are extremely mobile.  But they do lack some in overall ice life and the color choices need to be expanded.  But overall, these are a safe choice for those on a budget.