Polar Bear Cooler Review

Last Updated by Brandon F. on December 21, 2021
Polar Bear is one of the few cooler companies that we have come across that focus almost exclusively on soft coolers instead of hard coolers.  Specifically, they offer up soft coolers, backpack coolers, medical coolers, and drinkware.
This review will be focusing on their two most popular items: their soft cooler and their backpack coolers.
Polar Bear takes an interesting approach.  They utilize many of the premium materials and construction aspects that we are used to seeing in high-end soft coolers, but they are noticeably more affordable.  We will discuss this approach and determine if it is effective by looking at the features, ice life, and more.
But before we get into that, here are a few of our favorite Polar Bear Coolers.
Maximum Ice Retention

Great Value




Model
Polar Bear Coolers - H2O Waterproof Line - Quality Like No Other From the Brand You Can Trust - See Touch & FEEL the Patented Polar Bear Difference - 48 Pack Ice Blue
Polar Bear Coolers 48 Pack Original Soft Cooler Silver
Polar Bear Coolers Nylon Solar Bear Series Backpack Size 18 Pack Silver & Fit & Fresh Cool Coolers Slim Ice 4-Pack (Bundle)
Polar Bear Coolers 24 Pack Original Soft Cooler Silver
Polar Bear Coolers 12 Pack Original Soft Cooler Black
Maximum Ice Retention

Model
Polar Bear Coolers - H2O Waterproof Line - Quality Like No Other From the Brand You Can Trust - See Touch & FEEL the Patented Polar Bear Difference - 48 Pack Ice Blue
Great Value

Model
Polar Bear Coolers 48 Pack Original Soft Cooler Silver

Model
Polar Bear Coolers Nylon Solar Bear Series Backpack Size 18 Pack Silver & Fit & Fresh Cool Coolers Slim Ice 4-Pack (Bundle)

Model
Polar Bear Coolers 24 Pack Original Soft Cooler Silver

Model
Polar Bear Coolers 12 Pack Original Soft Cooler Black
---
Polar Bear Cooler Lineup
Polar Bear Soft Coolers are comprised of two main product lines: their soft coolers and their backpack coolers.  But within these product lines are sub-categories that come with their unique pros and cons as well as various storage volumes.  It is also worth mentioning that certain models may overlap.  For instance, there is a Nylon Solar Bear Backpack that falls under both the Nylon Cooler Series as well as the Backpack Cooler Series.
Since there are so many different products to choose from, we found that it would be helpful if we break each down.
Polar Bear Nylon Coolers
Polar Bear Nylon Coolers are the simplest and most cost-effective of the Polar Bear Coolers.  They come in 4 different models as well as in a backpack.  Specifically, you will find a 6, 12, 24, and 48 can model to choose from in addition to a backpack cooler.
Polar Bear Solar Bear Coolers

The Polar Bear Solar Bear Cooler series takes advantage of the same high-density foam insulation as the Nylon Soft Coolers but also includes an upgraded UV-Resistant material.  As you might expect, this bumps up the price a little bit compared to the base nylon model.  As for sizes, the 6-pack has been removed and you can choose from 12, 24, and 48-can soft coolers as well as a backpack cooler.
Polar Bear Eclipse Coolers
Next up are the Polar Bear Eclipse Coolers.  These take the proven performance of the Solar Bear and include closed-cell foam instead of open-cell foam to go along with the sun-resistant nylon fabric.  The result is a cooler that Polar Bear believes will have longer ice performance (but for an even higher price).  Size selection is limited to just a 24-can cooler and a backpack cooler.
Polar Bear H2O Waterproof Coolers
As you can likely guess from the name, the Polar Bear H2O Series is designed to handle all of your aquatic needs.  By replacing the Nylon exterior with a waterproof TPU exterior (among other upgrades), these coolers are guaranteed leakproof and waterproof.  And they still come with the closed-cell insulation of the Eclipse Series (with an even higher price tag).  You can choose between 12, 24, and 48 can coolers in addition to a backpack cooler.
Polar Bear Tracker Coolers
Lastly, you will find the Polar Bear Tracker Coolers.  These models share essentially the same traits, features, and asking price as the Eclipse Series but come in a Mossy Oak-style camouflaged exterior.  Also similar to the Eclipse Series, the only size choices are a 24-can soft cooler and a cooler backpack.
Polar Bear Backpack Coolers
All 5 Series of soft coolers discussed above also come in a backpack cooler option.  There is only one size available and it allows for around 18 cans of soda/beer and 7 pounds of ice.  Each model will retain the specific features that particular series has and prices will fluctuate accordingly.
As you can tell, there are a lot of Polar Bear Coolers to choose from.  Not only are they diverse in their product sizes but also in what type of environment (and budget) the user is after.
You may also notice that, similar to most other soft coolers, Polar Bear identifies the size of their coolers by how many cans they can hold as opposed to how many quarts of volume.  In addition, the number of cans also includes the assumption that ice will be filled up as well.  In other words, a 24-can Polar Bear Cooler could likely fit more than 24 cans if you didn't include ice (but we don't recommend trying this unless you plan on finishing off all of those beers/sodas in an hour or so!).
For those that are concerned with the raw storage volume in quarts, you can roughly approximate to the following:
Polar Bear 6-Can Cooler: 8 Quarts
Polar Bear 12-Can Cooler: 20 Quarts
Polar Bear 24-Can Cooler: 37 Quarts
Polar Bear 48-Can Cooler: 60 Quarts
Polar Bear Backpack Cooler: 26 Quarts
In other words, these are some of the most diverse soft coolers we have tested when it comes to sizes available.  And on the higher end, Polar Bear Coolers are among the largest soft coolers on the market.  This is good to know for those who want a soft cooler but need a lot of storage volume.
---
Polar Bear Cooler Features
As you have seen from the summary above, the specific features you will find on a Polar Bear Cooler will vary from model to model.  However, there are quite a few shared features that you will find in all models.  We will further elaborate on that in this section.
The foundation of the Polar Bear line resolves around their Nylon Series.  As you can see in the above image, the nylon material is quite robust and feels even better in person.  Specifically, the material used is 1000-denier nylon.  This strong outer shell is incredibly resilient to scratches or cuts, making this a great outdoor cooler.
Inside this shell, you will find approximately 1" thick high-density open-celled foam.  This foam not only assists in prolonging ice life but also helps to increase rigidity.  It is worth noting that different types of foam can be found in different models.  Polar Bear also has closed-cell foam that will discuss in other models.
For closing the shell, Polar Bear has installed a heavy-duty #10 YKK Weatherized Zipper.  And this zipper rides along a patent-pending sew design that maximizes performance and also looks quite nice.
You are likely already noticing that these coolers open and close in a rather unique way.  Instead of simply zipping across, they are designed to zip across and then fold downward.  At the base, you will find a strap that will "pull" down on the folded flaps, ensuring that they stay closed.  The result of this is a reduction in storage space, decreasing the chance of accidental openings, and it also likely provides a small boost to ice performance.
For additional storage, you will find a front zipper pocket.  This is a good place to put items that you don't want to stay cold such as your cell phone, keys, wallet, etc.  All models of the Polar Bear Nylon Cooler have this, but the pocket's size does increase as you go with a larger-sized model.
For transportation, there is both an overhead carrying handle in addition to an adjustable (and removable) shoulder strap.  We always appreciate having more than one way to carry a soft cooler.
Lastly, you will find tie-downs that are located on the base of the cooler.  This helps to secure the soft cooler to a kayak, boat, truck bed, or anywhere else that you have rope or bungee cords handy.
The Polar Solar Bear Coolers share a lot in common with the Polar Bear Nylon Coolers.  They utilize the same design, zippers, hardware, carrying methods, and anticipated ice life.  The primary difference lies in the UV-upgraded exterior.  The nylon exterior is coated in a UV-resistant PU coating. 
This coating not only helps to protect the outside from sun damage but also reflects off more of the sun's harmful UV rays.  This can give a nice boost to the cooling performance when this cooler is directly exposed to the sun.  Think of it as a car visor but for a cooler!
There are some notable differences between the Nylon/Solar Bear Coolers and the Polar Bear H2O coolers.  The most obvious change can be found in the liner.  Replacing the proven Nylon fabric and open-shell insulation is a leakproof/sweatproof DuraTemp liner, Tarpaulin waterproof outer shell, and closed-cell insulation.
The results of these changes include being waterproof and also enjoying a nice boost to ice life.
In addition, all plastic pieces including the zipper have been replaced with a more robust corrosion-resistant metal.  This is important for any soft cooler that is going to be exposed to aquatic environments.
The other notable change is that the external pocket, while still present, is now made of mesh rather than being solid.  We honestly aren't sure that we like this change.  The mesh material isn't nearly as resilient as the proven fabric that Polar Bear uses on their soft coolers.
The Eclipse Series Cooler retains many of the additional features of the H2O series but is not fully waterproof (just water-resistant).  You will enjoy the thick closed-cell foam, improved hardware, and the additional outside pocket is protected by fabric as opposed to mesh.
In addition, there are side-release buckets that can also double as bottle openers!  And for added storage, there are four small mini-pockets located on the ends (2 per side).
Finally, the Tracker Series retains all of the features of the Eclipse Series but comes in an attractive camouflage outer shell.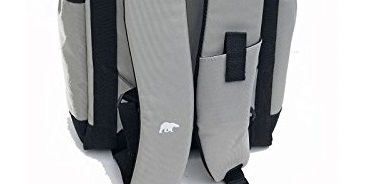 As we mentioned above, the backpack coolers will retain features of whatever Series that they are from.  But the carrying methods will be unique to a more backpack-style cooler.  You will still find the overhead carrying handle similar to the soft coolers.  But in addition to this, you will get to enjoy a comfortable padded shoulder strap.

Additional storage is also bumped up.  Not only will you find an external back pocket similar to the soft coolers, but there are also side mesh pockets.  You will also see various mounting points on the front of the backpack where you can hang items.
---
Polar Bear Cooler Ice Life
One of the best ways to verify a cooler's quality is through ice tests.  Polar Bear's quality is certainly there, but does that translate into better ice retention?
Polar Bear believes that it does.  Depending on which model you go with, they state that their products will retain ice anywhere from 1 to 3 days.  More specifically, they state that their open-cell insulated coolers (Nylon and Solar Bear) have a 24 hour chill time and that their closed-cell insulated coolers (H2O, Eclipse, and Tracker) have a 72-hour chill time.
It is worth noting that these numbers are a bit inflated compared to "real-life" results (which is what we will test for). Polar Bear states that they were achieved by filling the bag higher than the "typical" ice level and not opening the cooler.  However, they did put the cooler outside in 90-degree heat.
While this is impressive, we want to know how they fare in real-life applications.  In other words, we want to see what they do when filled with less ice and opened occasionally.
Since there are a ton of different models to choose from, we restricted our test down to a more manageable number of cooler.  We filled our coolers with around 1/3 to 1/2 of ice, left them in the Texas heat, and occasionally opened them.  The results we found can be seen in the chart below:
These results are very impressive.  But they are also quite varied.  We saw that the larger sizes performed much better than the smaller sizes.  In addition, the thicker close-celled insulation made a big difference on the H2O and Eclipse models.
On the high end, we weren't too far off from the 3 days' ice retention that Polar Bear mentioned.  The 48-pack H2O, thanks to its massive storage size and thick insulation, was able to hold tons of ice and make it last.  And considering that these coolers weren't optimized to maximum ice life in our tests, they are even more impressive.
That being said, we didn't see close to the alleged 3 days of ice life on smaller sizes.  These smaller coolers simply didn't have enough ice in them to handle things for 3 days.  But for the larger sizes of the Nylon and Solar Bear Series, we saw ice life that exceeded Polar Bear's claims.
The simple fact is that storage volume plays a huge role here.  More storage volume = more ice.  And more ice means longer ice retention numbers.
But even on these smaller models, you may be able to see numbers that approach 3 days if you were to fill them way up with ice and rarely open them.  But we feel that you would sacrifice too much of your storage volume with ice to make it viable.
But overall, for a given size and compared to other premium soft coolers in the market, Polar Bear is at the top if not leading the pack.
---
Polar Bear Aesthetics
While the styling of a soft cooler may not be a huge priority to some, it is still worth discussing.  Some people prioritize having their cooler or soft cooler stand out from the crowd.
And Polar Bear's design certainly allows for it to stand out among many of the other soft coolers on the market.  The unique "fold and zip" design results in an almost square-like shape that makes it easy to identify compared to other brands.
As for colors, each series will come with its only selections.  Some series are quite diverse in their color options while others only have one option.
The most diverse color choices can be found in the Nylon Series.  All models except the backpack cooler currently have 6 colors to choose from.  Colors include gray, blue, green, red, and two types of camo.
And while you don't get as many colors to choose from with the H2O series, the bright colors and cool emblems on the outside of the cooler help to make it really "pop".
It is also worth mentioning that Polar Bear has an awesome custom shop.  They can handle custom embroidery, custom logos, and even custom colors.  The process is very simple: you can design your own text/monogram or even submit your own logo/graphic directly to Polar Bear.
---
Polar Bear Cooler Price
Due to Polar Bear's large array of products, asking prices can vary quite a bit.  The smaller Nylon-Series coolers, for instance, are quite reasonably-priced and would fall into the intermediate price tier.  While the larger sizes of the Eclipse and H2O series can creep up in cost.
While prices may vary, one thing remains constant: for the price, you will receive an excellent soft cooler with great build quality and impressive ice retention.  In addition, Polar Bear Coolers have a lifetime warranty.  So you can consider purchasing a Polar Bear Cooler more of an investment.
And while the higher-end models may be what many would consider "expensive", compared to other models out there, they are quite attractively priced.   The ice life is among some of the best in the industry and the build quality isn't far behind.
---
Polar Bear Coolers vs. Yeti
So knowing what we do from above, a big question pops up.  What is better: a Polar Bear Cooler or a Yeti Cooler?
Specifically, we are comparing Polar Bear's soft coolers to Yeti's Hopper Series.
The two brands have a lot in common.
Both brands have a proven track record of success when it comes to soft coolers.  Both have great build quality, notable features, and impressive ice life.  Both brands have a huge selection of sizes and configurations to choose from.
But the real comparison here is between Polar Bear's Premier lines (Eclipse and H2O) and the Yeti Hopper.  We do like the Polar Bear Nylon and Solar Bear Series but ice performance is a bit too low to make a direct comparison to a Yeti.
The Ice Life of the Polar Bear Eclipse and H2O coolers are very close to those of the equivalent-sized Yeti Hoppers.  We might give a slight nod to Polar Bear due to its innovative zipper technology.
The real difference that stands out is in price.  For equal size, Polar Bear has a clear cost advantage over Yeti.  And due to the similar performance metrics, we are going to have to side with Polar Bear Coolers here.  But a Yeti is certainly no slouch!
---
Polar Bear Cooler Review
Pros: Huge model selection, Great ice retention, Very tough construction, Customization options
Cons:  Styling may not appeal to some, Can be a little pricey
Features: Skid-proof base, Carabiner attachment points, Built-in bottle opener, Water-resistant zipper, External pockets
Polar Bear is in the business of making high-quality soft coolers and their diverse selection of them doesn't disappoint.  By combining premium components, excellent build quality, and necessary features, the result is an extremely tough soft cooler that also has a very good ice life.  There are plenty of models and sizes to meet just about everybody's needs.  You can find models that include 6-can, 12-can, 24-can, 48-can, and also backpack coolers.
Insulation Ability – 
There are plenty of great features present to help boost ice life.  Depending on the model you choose, you will either utilize closed or open-cell insulation.  And Polar Bear lays it on thick.  Insulation thickness can be 1 to 1.5" thick.  Combine this with the thick outer material, and you have some serious walls.
Furthermore, the impressive zippers create an excellent barrier between inside cold air and outside warm air.  And the "folding" design of the Polar Bear Coolers is an ice booster in of itself.
The result of all of these components is some of the best ice retention for any soft cooler in the industry.  Depending on size and model, you will find that ice life can range from around 8 hours up to 56 hours.
Mobility and Durability – 
The build quality is excellent here.  You can choose between tough 1000D Nylon or Waterproof TPU Exterior and both are extremely resilient to tearing or fraying.  The high-quality components match well with the excellent fabric: you will enjoy durable YKK Zippers (that are waterproof on some models) as well as water-resistant hardware.  There is a reason why Polar Bear stands behind these cooler with a lifetime warranty!
As for usability features, there aren't a ton.  But the essentials are there.  They include a non-slip base, built-in bottle openers, multiple external pockets, and two different methods of carrying (overhead handle and shoulder strap).
Visual Appeal – 
The selection of colors will vary quite a bit depending on which model you are looking at.  Some series will have up to 6 colors while other series will only have one.  Where Polar Bear Coolers shine is in their customization options.  You have full control over custom lettering, colors, and decals thanks to the excellent Custom Shop.
As for overall styling, it is simple.  The folding design results in a very box-like final product.  And you won't find a lot of altering fabrics or colors outside of the camouflage models.
Cost – 
Since there are so many sizes and models to choose from, the asking price can vary quite a bit on Polar Bear Coolers.  And as you might expect, the more expensive units typically perform better and also have larger storage capacity.  But across the board, the ice retention and overall durability are great for their price range.  You will be hard-pressed to find another cooler from another brand that can compete for the price.
Overall Rating – 
We were extremely impressed with Polar Bear's lineup of soft coolers.  From the entry-level Nylon Series up to the higher-end H2O and Eclipse models, Polar Bear has dialed in their product.  The build quality and construction are superb.  And thanks to the optimal design and quality components, the ice life is extremely good.  Plus you have some flexibility on customization options to help spruce up what would otherwise be a pretty plain-looking cooler.  While they certainly aren't the cheapest coolers on the market, they are an excellent value for what you get.