Stanley Cooler Review
Last Updated by Brandon F. on December 9, 2021
Stanley is more known for their mugs and jugs but they also have a small lineup of coolers as well.  They also manage to incorporate their popular mugs into one of their cooler designs.  There are two series to choose from: The Adventure Series and The Heritage Series.  Both take a very simple approach while adhering to Stanley's design principles.
We will go over Stanley's Coolers below in our full review.  But first, check out our helpful table that lists our favorite Stanley Coolers and their important specs.
Maximum Ice Life



Comes with Bottle

Model
Stanley, Cooler Adventure 30 Quart Green
Stanley Adventure Leakproof Outdoor 16qt Cooler - Double Wall Foam Travel Insulated BPA Free Chest Cooler - Heavy Duty Camping Cooler with Flat Top Doubles as Seat
Stanley Adventure Leakproof Outdoor 7qt Cooler - Double Wall Foam Travel Insulated BPA Free Chest Cooler - Heavy Duty Camping Cooler with Flat Top Doubles as Seat
Stanley 7QT Heritage Cooler with Classic 1.1QT Vacuum Bottle,10-01026-005
Maximum Ice Life

Model
Stanley, Cooler Adventure 30 Quart Green

Model
Stanley Adventure Leakproof Outdoor 16qt Cooler - Double Wall Foam Travel Insulated BPA Free Chest Cooler - Heavy Duty Camping Cooler with Flat Top Doubles as Seat

Model
Stanley Adventure Leakproof Outdoor 7qt Cooler - Double Wall Foam Travel Insulated BPA Free Chest Cooler - Heavy Duty Camping Cooler with Flat Top Doubles as Seat
Comes with Bottle

Model
Stanley 7QT Heritage Cooler with Classic 1.1QT Vacuum Bottle,10-01026-005
---
Stanley Cooler Lineup
As we mentioned above, there are currently two series of Stanley Coolers to choose from: their Adventure Series and their Heritage Series.  We discuss both in greater detail in the next sections.
Stanley Adventure Cooler
The Stanley Adventure Series Coolers are the largest collection that Stanley makes.  They come in 7-quart, 16-quart, and 30-quart models (there is also a 2-gallon water jug but we won't be focusing on it for this review).
As you can likely see, Stanley focuses on smaller coolers.  These coolers will fall into the personal and small-sized categories on our site.  And due to their limited storage space, their overall ice life may not be up to the levels you are used to seeing on larger premium coolers.  That being said, Stanley is focusing on smaller applications such as lunch outings, short picnics, or small camping trips rather than week-long adventures for a large group.
Stanley Heritage Cooler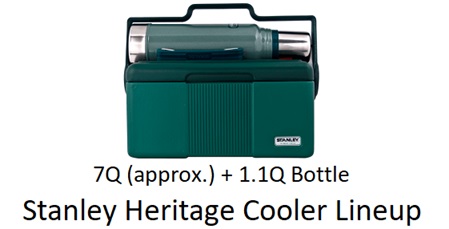 The second series offered up by Stanley is their Heritage line.  This series is limited to a single model: a cooler with around 7 quarts.  But what makes the Heritage Cooler stand out from the Adventure Series coolers is that it comes with a 1.1-quart Stanley vacuum bottle that is locked onto the lid (more on this feature later).  The "2 in 1" combo has helped to make the Stanley Heritage Cooler extremely popular as a lunch or work cooler.
---
Stanley Cooler Features
A glance at a Stanley Cooler and it is easy to tell that it is has a unique and easy-to-identify design.  Going along with this, some features help Stanley to stand out from much of its competition.
The primary goal with these ice chests is convenience.  Stanley isn't trying to break any records when it comes to ice retention or to have incredible storage capacity.  Instead, their goal is to make a simple and mobile cooler that can meet the needs of an individual or a small group for a relatively short period.
First, let's talk about the walls.  Don't let its small stature fool you: Stanley Coolers come with surprisingly thick foam walls.  Stanley states that their coolers can have up to twice the thickness of their competition.  This not only helps with ice life but also adds to the overall toughness.
Specifically, Stanley uses what they call "double wall" foam.  As the name suggests, there are two walls instead of one.  This is also a side-effect of not being a roto-molded design but Stanley has seemed to make the most of it.  You will also find a healthy dose of foam insulation in the lid of these coolers.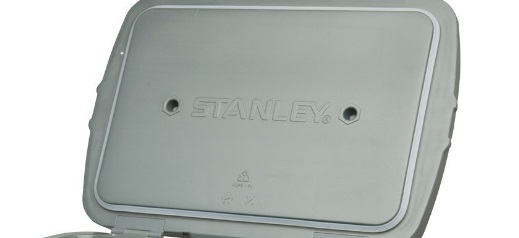 Going along with these thick walls is a rubber gasket.  Having a rubber gasket is a common practice in larger, premium coolers but it is sort of a rarity when it comes to smaller coolers.  This gasket helps to ensure a tight seal which helps in keeping unwanted moisture out but also helps to prolong ice life.  Many smaller coolers don't come with a rubber gasket so we are glad that Stanley decided to include one.

And to make the most of this gasket, Stanley has its intuitive latch system.  Many coolers utilize a traditional rubber T-latch design.  While these latches are quite effective, they don't give off the level of quality of a snap latch.  They are also more prone to cracks and tears.  Stanley has decided to go with a snap-latch design which looks great and is very resilient.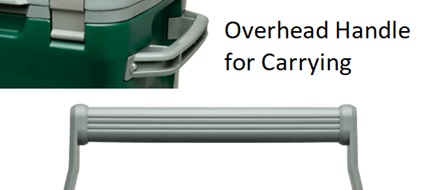 Since these are smaller coolers, the method for carrying them is limited to an overhead rotating handle.  You won't find side handles like you are used to seeing on larger coolers.  We don't find a huge deal with this but it may be a negative for some people who like to partner up when carrying a full ice chest.
Easily the most recognized and desired feature on Stanley Coolers has to do with how they incorporate their popular thermoses and bottles into the design.  The 7 and 16-Quart Stanley Adventure Series Coolers come equipped with a bungee cord on the lid.  These cords are designed to hold a Stanley Thermos in place.  And while the 30-Quart model doesn't utilize this feature, it is specially designed to be tall enough to stand 2-liters upright and also double as a step steel thanks to the tough construction.
The discussion up to this point has mostly been about the Stanley Adventure Coolers.  But the Stanley Heritage Cooler has some tricks up its sleeve as well.

The Stanley Heritage Cooler is designed to be the ultimate lunch-goers storage solution.  Not only does it have a place on the top for carrying a Stanley bottle, but it comes with one!   The specially designed lid has a groove that will lock the bottle in place (therefore not requiring bungee cords).  Also, the handle is specially designed to have a notch in the middle of it that allows you to easily carry it even with the bottle attached.
In addition to this, the inside is compartmentalized to allow for easier storage.  You can put all of the chilled items that you want touching the ice/ice packs on one side and the items that you would prefer to stay dry on the other side.
You do give up some of the ice-retaining features found in the Adventure Series, however.  Gone are the rubber gasket and the walls are also a bit thinner.  But most people using this for a lunch box won't need the added ice life anyways.
It is worth noting that Stanley Coolers do utilize plastic components whereas many other models utilize steel.  This does help to drive down the cost but it does mean somewhat less resilient construction.  We will discuss if this impacts performance in our full review at the bottom.  The difference in the quality of material may not matter to some, depending on the type of application they plan to use their Stanley Cooler for.
---
Stanley Cooler Ice Life
Even on smaller coolers such as these, maximizing ice life is very important.  And Stanley seems to feel that their ice chests perform quite well in this regard!  Specifically, they state that their 7-Quart Heritage Cooler will keep items cool for 24 hours, and their 7, 16, and 30-Quart Adventure Models will keep items cool for 27, 36, and 96 hours, respectively.  These are pretty large numbers for what is considered small coolers.  But are they accurate?
To test this, we put these coolers through our in-house analysis.  We filled them up around 1/3 way with ice, left them outside in the heat, and occasionally opened them.  The results of our testing can be seen in the chart below: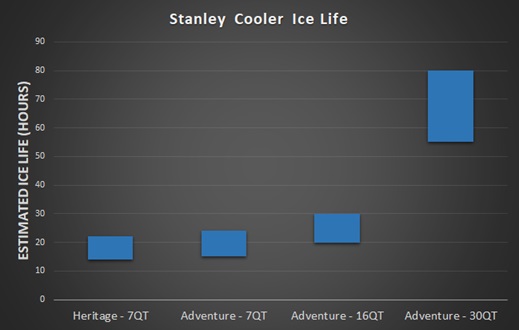 Overall, these numbers are quite good.  And equally important, the real-world results align quite closely with what Stanley stated.  While we weren't quite able to achieve the maximum numbers, they were close enough to be more or less negligible.
Digging deeper into the data, you will see that no matter which sized cooler you go with, you should see ice performance that will last at least most of the day.  And in the case of the largest size (the 30 Quart), this ice life is bumped up to 2 days or more.
This type of ice performance makes the Stanley Coolers great for lunch applications, small picnics, and even weekend outings.  You won't see the week-long ice life that much larger premium coolers can offer.  But that is no fault of Stanley: simply put, larger coolers will almost always out-perform smaller coolers.
Finally, the inclusion of the thicker insulation and rubber gasket did give a small boost to the 7 Quart Adventure Series Cooler when compared with the 7 Quart Heritage Cooler.  But the differences are very small.
---
Stanley Cooler Aesthetics
Stanley has made a name for itself thanks to its fantastic lineup of jugs, bottles, thermoses, and more.  And these products have a very identifiable look to them that just about everybody will quickly recognize.  The "Stanley Green", as we like to call it, has been a staple in most Stanley products.  And sure enough, this has carried over to their coolers as well.
And while we like the green color, we always hope to see more color choices.  And Stanley delivers, offering up to 4 colors for certain models.
Specifically, you will find green, blue, white, and red color options in the 7-Quart and 16-Quart models.  The 30-Quart Adventure Cooler and 7-Quart Heritage Cooler are only available in green.
And the overall styling of these ice chests is quite nice as well.  We like the grooved silver handle and the bungee cord on the lid set it off.  And for those who prefer traditional, the Stanley Heritage Cooler sticks to its roots and offers up the old-school Stanley design that has been around for decades.
And if you do decide to take advantage of combining a Stanley Bottle with one of these Stanley Coolers, the combination comes together nicely.  It doesn't look cluttered or forced and you will be sure to get plenty of compliments from people that see you carrying it.
It is worth mentioning that Stanley doesn't have anything in the way of custom colors or decals that we could find.  This isn't a huge issue but for those who like to enjoy custom-colored coolers, you will be out of luck here.
---
Stanley Cooler Price
Stanley Coolers promises good performance and decent build quality, but how does that align with their price? 
Unfortunately, they are quite expensive for their size. Since we like to judge ice chests on a "dollar per quart" basis, Stanley Coolers tend to fall into the premium price range.  You will find that they are similarly priced to some of the other premium coolers we have reviewed.  And while they won't creep up to the price range of, say, a Yeti or Orca, they may still be a bit too rich for some people who are after a simple lunch cooler.
---
Stanley Cooler vs. Yeti
Stanley Coolers have certainly made a name for themselves, but how do they compare to Yeti? 
Yeti has been the go-to name in premium coolers for over a decade now.  And they promise excellent ice retention, great build quality, and the Yeti reputation.
Stanley is one of the few brands that can say that they have a longer production history than Yeti.  And being able to be successful for many years does mean that they have some tricks up their sleeves.
But from a performance and ice retention standpoint, Stanley won't be able to hang with most Yeti Coolers.  This is partially due to their small size but also due to not utilizing rotomolded construction, having a smaller gasket and thinner walls, etc.
But Stanley Coolers are great for what they are intended to do: be an effective lunch cooler.  And you will be able to enjoy one for much less than a Yeti.
---
Stanley Cooler Review
Pros: Good ice life for the size, Very portable
Cons:  Plastic hardware, Lid can be a bit stubborn, Limited Sizes
Features: Double wall foam insulation, Rubber gasket, Snap latches, Overhead carrying handle, Bungee cords for holding the bottle (certain models), Sectioned interior (Heritage Series only), included Stanley bottle (Heritage Series only)
Stanley has been in the bottle and thermos industry for many years and they have taken what they learned in that industry and applied it to their small but popular cooler lineup.  There are two series to choose from: the Adventure Series and the Heritage Series.  And while both series focus on smaller coolers, they implement many of the features and components that we are used to seeing on much larger premium coolers in the industry.
Insulation Ability – 
While on the small side, Stanley Coolers hold ice quite well.  This is thanks to a combination of their relatively thick double-insulated walls, snap latches, and rubber gasket.  The rubber gasket was a welcome surprise to us as most smaller coolers don't offer them.
In terms of ice life, you will enjoy anywhere from around half a day up to an impressive nearly 3 days of ice retention depending on which models you go with.  As is the norm, the larger models will typically offer longer ice life than the smaller models.  But no matter which size you go with, you will have a capable cooler that can handle a lunch or small picnic with ease.
Mobility and Durability – 
Build quality is quite good in regards to most aspects of Stanley Coolers.  The hardware, while plastic, is of good quality and should hold up to typical wear and tear.  We do prefer metal hardware (especially at this price point), but it shouldn't affect most people.  The construction and plastic used are thick and you can tell that Stanley has ironed out most of the kinks.
We have heard quite a few complaints about the lid and latch system not playing nicely.  Specifically, the lid doesn't always close flush and the latches can be prone to be misaligned.  We didn't experience either of these things in our testing but it was worth mentioning them.
As for mobility, this is where Stanley excels.  These coolers are extremely mobile and easy to use thanks to their ergonomic handle and small stature.  And we love the bungee cords on the lid that allow for easy and secure placement of a Stanley bottle.  And for those who want an "all-in-one" package, the Stanley Heritage Cooler includes a 1.1 Quart bottle that snaps directly onto the lid.  Talk about convenience!
Visual Appeal – 
Stanley takes a proven and safe approach in its styling.  We will see many similarities between the Stanley Cooler and the various Stanley bottles.  Specifically, the popular "Stanley Green" color is prevalent in all models.
They do open things up some by providing a few more color options on certain models but overall, color choices are a bit lacking. That being said, we must admit that the combination of the ice chest with a Stanley bottle on the top is an eye-catcher.
Cost – 
Stanley Coolers do offer up some good performance and ice life, but they aren't cheap.  While you won't see quite the sticker shock of some of the larger premium coolers on the market, the asking price (when looking at a dollar per quart basis) does creep up into the premium price range.  This can make these a pricey option for those who are looking for a simple lunch container.  But you will enjoy superior ice life compared to most of the "budget" options out there that are this size.
Overall Rating – 
The small lineup of Stanley Coolers (the Adventure and Heritage Series) stays true to the storied reputation of Stanley.  The ice life is quite good and the build quality (outside of some potential issues with the lid and latch system) is above average.  And for those who want to incorporate your Stanley Bottle into your lunch ice chest, these are the perfect solution.  But they will cost a bit more than most lunch-oriented ice chests on the market.