All Picnic Plus Cooler Reviews
Last Updated by Brandon F. on January 6, 2022
This is a listing of all Picnic Plus coolers for sale that have been reviewed and we also list what we think are the best Picnic Plus coolers with our internal ranking system. Picnic Plus is a company that focuses primarily on picnic-related items, many of which aren't designed or intended for storing chilled items.  
However, they do have a few choices that do have insulation to the point that they can store cold items for a little while.  It is important to note that these coolers are only meant for a small lunch or picnic and if you are looking for something more resilient or long-term then you might want to check out some other reviews.  However, if you do decide to go for a Picnic Plus product you will get to enjoy the huge array of colors and patterns to choose from.  
There are several picnic-oriented cooler companies on the market so if you are looking for one of these types of items we also encourage you to check out our reviews of Picnic at Ascot coolers and Picnic Time coolers.
Our Top Rated Picnic Plus Coolers
| | Picnic Plus Tremont Picnic Backpack | Picnic Plus Savoy Insulated Lunch Tote |
| --- | --- | --- |
| | | |
| Our Rating | | |
| Price by Volume (Amazon) | $$$ | $$$ |
| Ice Life | 4-6 hours | 2-3 hours |
| Our Full Review | Link | Link |
Good Mobility
Since most picnics require a certain level of mobility to be viable, many of Picnic Plus' products have this in mind in their design.  They are oftentimes relatively lightweight, quite small, and designed in a way that makes them very easy to carry.  This even translates over to their all-in-one picnic sets which can contain quite a few items. 
Not optimally designing this could result in a huge amount of items that have to be carried, not even including the food and drinks themselves!  Also, most of their products can have multiple carrying methods, typically including at minimum padded shoulder straps and an overhead handle.  This allows for more flexibility in how you transport the cooler to and from the picnic area.
Huge Array of Patterns and Colors
Since looks matter a lot to Picnic Plus, many of their items have a wide range of selections in regards to colors and patterns.  They range from dull solid colors to bright, vivid patterns and everything in between.  They can incorporate these various colors into their products in a way that makes them very attractive while still encouraging originality and thinking "outside of the box". This means that no matter what your preferred style or look is, there is likely a Picnic Plus product that will agree with you.
A Surprising Amount of Storage Space
Don't let the small size of some of their products fool you.  There oftentimes are a rather impressive number of compartments, zippered pockets, and storage areas for your items located all over Picnic Plus coolers.  Because of this, you are sure to find somewhere to put everything you would need for your next picnic, which reduces how many things you have to carry outside of the cooler bag or tote.  
This is especially noticeable on their all-in-one products, which manage to fit all sorts of items while still having additional storage space for those extra items that you need.
General Product Information
Products reviewed: Picnic Plus Tremont Picnic Backpack, Picnic Plus Savoy Insulated Lunch Tote
Range of storage sizes: 13 to 45 quarts
Range of estimated ice life: Up to 8 hours
Materials used: Plastic, metal, fabric, and rubber
Price range: Intermediate
Wheeled options? No
Company Website: http://www.picnic-plus.com/16/home.htm
Picnic Plus Tremont Picnic Backpack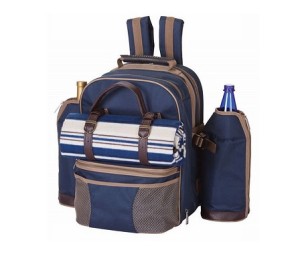 Our Rating:

A nice "all-in-one" package, the Tremont Picnic Backpack has everything that you would need for a picnic.  Plus, it comes together to look very nice.  And it doesn't hurt that the cooling performance is not half bad.  But all of those extra items do result in a reduced amount of storage space.  Also, people may not be interested in paying the increased asking price for all of the items when they don't need them.
Pros: Great package of assorted picnic items, looks great, the cooling area is serviceable enough
Cons: Very heavy for the size, might struggle to store all of your chilled items, the container may fall apart over time
Picnic Plus Savoy Insulated Lunch Tote
Our Rating:

A convenient lunch tote, it has enough room to store most normal lunches for a single person.  There are also tons of different color and patterns options to pick from.  But it is severely lacking in how well it does at keeping chilled items cold and only a portion of the available storage volume is designed to even hold chilled items.
Pros: Quite roomy for being a lunch tote, plenty of storage areas, great color and pattern selection
Cons: Struggles with cold retention, not a lot of room specifically for chilled items